Lamb Milanese with Lamb's Quarters and Pickled Ramp Aioli
A Milanese cutlet sounds fancy, but is nothing more than a thin piece of meat, breaded and fried. As the name implies, the original dish is said to have come from Milan in Northern Italy, but it's so popular (and delicious) that it's served around the world. In Latin America, where it's also very popular, the cutlets are known as a "Milanesa".
While the original was probably made with tender slices of veal, a lamb, goat, or mutton leg as I use here works just as well, and is a great way to stretch a leg into a meal that can feed a crowd, without the roasting and slicing that most will think of when they picture cooking a leg of lamb.
It's also a classic summertime dish, and might be served with nothing more than a simple salad (arugula is often used) and a slice of lemon. The version here is a playful example I might make during the summer when fresh, tender wild salad greens like lamb's quarters and chickweed are coming out of the garden.
I serve it with an aioli made with pickled ramps, but you could serve it with all kinds of things-even just a slice of lemon will be great. The high quality meat from Shepherd Song is really the star here.
Cutting a leg of lamb or goat into roasts
If you're not familiar with how to cut up a leg of lamb or goat into roasts as I use here, take a look at our post that describes the process.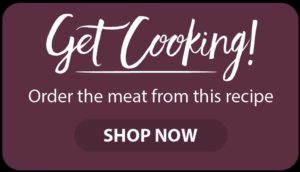 This recipe is by Chef Alan Bergo, the Forager Chef. A chef from Minnesota, Alan is a culinary industry veteran, former executive chef of acclaimed Lucia's Restaurant, and the Salt Cellar. Author of The Forager Chef's Book of Flora, he's one of the most respected voices in the world of foraging and wild food. He's best known as the founder of Forager Chef, his website focused on wild ingredients that reaches millions of readers each year. Learn more about Chef Alan and his hunt for mushrooms, wild and obscure foods at foragerchef.com. 
Looking to buy lamb or goat online? Shepherd Song Farm: Grass to table. We raise lambs & goats traditionally, humanely and sustainably. 100% Grass Fed, Pasture Raised, Never Confined, no Hormones, Grains or Animal Byproducts. Born, raised and processed in the U.S.A. Good for you and good for the environment.
Print Recipe
Lamb Milanese with Pickled Ramp Aioli and Lambs Quarters Salad
Tender lamb or mutton cutlets with a tart, herby aioli and a salad of wild lamb's quarters.
Ingredients
Cutlets
Kosher salt and fresh ground black pepper

2

cups

panko breadcrumbs

3

eggs

beaten with a splash of water

2

all purpose flour

Cooking oil

as needed
Salad
5

oz

salad greens

5 generous handfuls washed and cleaned

Wildflowers

to garnish, optional

½

tablespoon

extra virgin olive oil or another oil

like hickory nut

1

teaspoon

maple syrup

2

teaspoons

apple cider vinegar

or to taste
Aioli
1

cup

mayonnaise

homemade or your favorite brand

¼

cup

chopped pickled ramps

or your favorite pickle

¼

cup

chopped cilantro

2

tablespoons

other soft herbs you like

such as dill, mint, tarragon, etc

Zest and juice of one lemon
Instructions
Aioli
Mix the mayonnaise with the herbs and remaining ingredients. Taste and adjust the seasoning for more herbs, salt, or lemon until it tastes good to you. Adding a splash of pickle brine can be nice too.
Cutlets
Trim the roast of fat if desired. Slice the leg at a ½ inch thickness *almost* down to the bottom, but do not cut completely down. Make another cut completely through the meat to make a butterflied slice. Refer to the video and image if this seems unclear to you. Repeat with the rest of the roast. Pound the slices of mutton with a mallet until thin, being careful not to tear them.

Season the leg slices with salt and pepper on one side only and reserve.

Season the flour with a generous pinch of salt and pepper and mix.

One at a time, toss the slices of mutton in flour to coat, tap off the excess, then dip in the egg, and finally the breadcrumbs, pressing on the crumbs to help them adhere.

Fry the cutlets in a ¼ inch of oil until browned on both sides.
Salad
Meanwhile, season the greens with the oil, vinegar, salt, pepper and maple syrup. Taste and adjust the seasoning until it tastes good to you.

Spoon 1/3 cup or more of the aioli onto each plate, pushing it out to the sides as to not make the coating of the cutlets soggy. Put a cutlet in the middle of each plate, garnish with a handful of the salad greens off-center, garnish with some of the wildflowers, and serve.
Video
Notes
Making in advance. This can be a nice thing to make ahead of time. After the cutlets are breaded, put them on a tray and freeze them solid, then wrap in cling film or put in a container and keep in the freezer until needed. They should cooked directly from frozen.