Goat or Lamb Tongue Salad with Salsa Verde
After cooking, lamb and goat tongues get very tender and are great in places where you would use cooked meat like ham: especially in things like salads and sandwiches. Here Chef simmers them in a fragrant vegetable stock before slicing and laying on a bed of fresh greens with a tangy herb salsa verde dressing and a colorful garnish of fresh wildflowers.
TFor the salad, chef uses a blend of tender, young wild greens goats might like to eat, like chickweed, ground elder, and watercress, along with a few leaves of wild mint. The greens and herbs can be whatever you have available, but a mix of tender young salad-ready leaves like lettuces, watercress, or others are just fine.
The salsa verde is a tart, herby sauce made from herbs, garlic, lemon juice and olive oil. Chef uses some wild oregano (Bergamot / Monarda fistulosa) but oregano or cilantro will work just fine too. As it's hard to make less than about 2 cups of salsa verde, know that the leftover sauce doubles as a great condiment for grilled meats and vegetables, and just about anything else you'd like to put it on.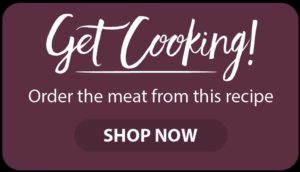 This recipe is by Chef Alan Bergo, the Forager Chef. A chef from Minnesota, Alan is a culinary industry veteran, former executive chef of acclaimed Lucia's Restaurant, and the Salt Cellar. Author of The Forager Chef's Book of Flora, he's one of the most respected voices in the world of foraging and wild food. He's best known as the founder of Forager Chef, his website focused on wild ingredients that reaches millions of readers each year. Learn more about Chef Alan and his hunt for mushrooms, wild and obscure foods at foragerchef.com. 
Looking to buy lamb or goat online? Shepherd Song Farm: Grass to table. We raise lambs & goats traditionally, humanely and sustainably. 100% Grass Fed, Pasture Raised, Never Confined, no Hormones, Grains or Animal Byproducts. Born, raised and processed in the U.S.A. Good for you and good for the environment.
Print Recipe
Goat Tongue Salad with Herb Salsa Verde
Tender cooked goat or lamb tongues with a tangy herb sauce makes for a nice light entree or lunch.
Ingredients
Tongues
½

cup

dry white wine

Aromatic vegetables

1

small carrot

1/2

a small onion

1

rib celery

A few slices of fresh ginger

1

large clove garlic

8

cups

of water

separated in half
Salad and herbs
6

oz

salad greens *

see note

Fresh soft herbs

like mint, cilantro, basil, chives, etc

1

recipe wild oregano sauce *

see recipe or just olive oil and lemon juice

Wildflowers

to garnish, optional

Fresh ground black pepper

to taste, optional

Fresh lemon wedges

for serving

Sumac

to garnish, optional
Instructions
Cook the tongues
Put the tongues in a small pot, cover with half the water, bring to a boil, then discard the water, add the vegetables and wine, along with the remaining water, cover bring to a brisk simmer and cook, covered for 2 hours, or until the tongues are tender when pierced with a knife.
Peel the tongues
Remove the tongues to a bowl, rinse with warm water until you can handle them, then transfer to a cutting board and peel. After peeling, cut the tongues into ¼ inch slices and reserve.
Assembling and serving
To assemble the salad, mix the greens and herbs together in a bowl, then arrange between large dinner plates. Divide the slices of tongue equally between the plates, sprinkle each slices lightly with salt, sumac and pepper, then spoon some of the herb sauce over everything. Garnish with the wildflowers if using and serve.
Video
Wild Oregano Salsa Verde
A tangy, herby sauce made from wild oregano or another herb like cilantro or fresh oregano. Makes about 1.5 cups
Ingredients
1

oz

1 packed cup flat leaf parsley, leaves only

1

oz

1 packed cup bergamot, (fresh oregano can be substituted) leaves only

1

large clove of garlic

1/2

cup

mild oil like grapeseed or canola

1/4

Cup

virgin sunflower or olive oil

¼

cup

water

¼

cup

fresh lemon juice

Zest from one large lemon

½

teaspoon

salt

Pinch

crushed red pepper flakes
Instructions
Mix the two oils together.

Bring a quart of two of water to a boil, add the bergamot and parsley, and cook for 5 seconds. Remove the herbs with a hand strainer or slotted spoon and place in cold water to refresh them.

Drain the herbs and squeeze out any residual water, then chop coarse.

Put all the ingredients except the oil in a blender. Begin pureeing the mixture, drizzling in the oils until the sauce is pureed and very smooth.

Double check the seasoning for salt and pepper, adjust as needed, then transfer to a container and refrigerate. It will last for a few days.