Grilled Goat Shanks with Mushrooms, Green Garlic, and Nettles
Most of the time when we think of slow-cooked meats, cold weather might come to mind. Chef Alan Bergo often serves braises like shanks and stews in the spring and summer, starting them on the grill for a great smoky flavor. But, instead of pairing them with heavy starches as might be done in the winter, he might serve them with a generous serving of his favorite leafy greens growing at the moment, in this case, some freshly picked nettle tops. Feel free to use your favorite leafy greens to help soak up the pan juices.
Think of this an example of a simple braise you could make with goat or lamb shanks with a few handfuls of mushrooms and stock that could be adapted lots of different ways depending on what's in season where you are. Here Chef harvests some fresh pheasant back mushrooms and green garlic, but you could substitute some fresh shiitake mushrooms a combination of garlic and scallions, or black trumpet mushrooms, garlic and leeks, for example. Feel free to use whatever you have available.
Green Garlic
Green garlic is garlic harvested while green and tender, before the scapes (flowers) start to form. It tastes like a delicious, garlicky scallion.
Pheasant back mushrooms can often be found growing on dying elm and boxelder trees in the Midwest and across the country. They start to show themselves during mid-spring, and can be found sporadically after that throughout the summer.
Spring is the best time to harvest these mushrooms though, as they get tough fast as they grow and mature. To find the best mushrooms for eating, you want to make sure the pore surface on the underside is tightly compacted without large visible pores. Thinly slice off the tender edges of the mushroom for the best result.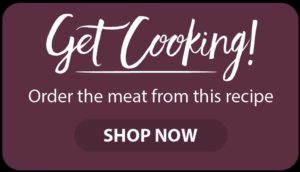 This recipe is by Chef Alan Bergo, the Forager Chef. A chef from Minnesota, Alan is a culinary industry veteran, former executive chef of acclaimed Lucia's Restaurant, and the Salt Cellar. Author of The Forager Chef's Book of Flora, he's one of the most respected voices in the world of foraging and wild food. He's best known as the founder of Forager Chef, his website focused on wild ingredients that reaches millions of readers each year. Learn more about Chef Alan and his hunt for mushrooms, wild and obscure foods at foragerchef.com. 
Looking to buy lamb or goat online? Shepherd Song Farm: Grass to table. We raise lambs & goats traditionally, humanely and sustainably. 100% Grass Fed, Pasture Raised, Never Confined, no Hormones, Grains or Animal Byproducts. Born, raised and processed in the U.S.A. Good for you and good for the environment.
Print Recipe
Grilled Goat Shanks with Mushrooms, Green Garlic and Nettles
Tender goat shanks braised with wild pheasant back mushrooms and green garlic served with freshly cooked nettles makes for a delicious summer or fall meal.
Ingredients
Shanks and mushrooms
2

goat shanks or lamb foreshanks

you want shanks on the small side here, but large ones can work if you have a large appetite or want leftovers

Kosher salt and fresh ground black pepper

2

oz

goat bacon

optional

8

oz

wild mushrooms

3

oz

generous half cup green garlic or a combination of scallions and garlic

you might use one bunches of sliced scallions and 2 large cloves of garlic as a substitute

3

cups

goat or vegetable stock

½

cup

dry white wine

1

tablespoon

all purpose flour or equivalent

2

tablespoons

tomato paste

1

tablespoon

ramp spice

optional
Nettles
4

oz

fresh tender nettle tops

or another leafy green you like

1

tablespoon

unsalted butter

for spreading on the nettles at the table, optional

Fresh cut chives, for finishing, optional
Instructions
Season the goat shanks with salt and pepper and allow to rest overnight, uncovered. The next day, smoke the shanks over a wood fire, or in a smoker at 300 F for 30 minutes.

Sweat the bacon until the fat has released in a Dutch oven or oven-safe pot large enough to accommodate the shanks. Add the mushrooms and green garlic, sweat for a few minutes, push them to the side, add the tomato paste and flour, then mix to combine with the mushrooms.

Add the wine to the pan and cook for a minute, then add the shanks, stock and ramp spice if using, cover the pot and cook a gentle simmer for 1.5 hours or until the shanks are tender.
Nettles
Wash the nettles, then steam for 4-5 minutes until they're tender and taste good to you.

Double check the seasoning of the shank liquid for salt and pepper, adjust as needed.
Serving
To serve, put the nettles off-center in a deep bowl or plate with a rim to catch the pan juices, put a shank beside each pile of nettles, spoon the mushrooms and pan juices over each one, garnish with the chives and serve immediately. If you like, drizzle the nettles with olive oil or spread with soft butter at the table.
Video