Sous Vide Lamb Shanks
Shanks are one of the finest cuts of meat on a lamb or goat, but it can be tricky to cook lamb shanks fall off the bone tender without overcooking them, which makes them fall apart. This sous vide lamb shanks recipe will give you perfect results every time. It takes a small amount of planning, but most of the cooking is hands-off. If you like cooking sous vide it's something you have to try, and the same method works with goat shanks too. Here's how to make it, and how to serve it.
How to Make Sous Vide Lamb Shanks
First the shanks are dried off and brined overnight. The next day you pat them dry, rub with oil, and roast them in a hot oven until browned. You can also brown them in a pan. With many sous vide recipes you brown the meat after cooking, but here I brown them first which allows you to skip the browning after they're cooked and serve them right away. After the shanks are browned they're vacuum sealed with a clove of garlic, a handful of thyme, and a few tablespoons of unsalted butter and cooked for 3 hours at 195F, or until they're soft when pressed.
From here the lamb shanks can be refrigerated and reheated, or served right away. To finish cooking and served as pictured, a remove the shanks from the water bath, cut the bag with a scissors and put the shanks and their juices into a wide pan. I add red wine, a handful of finely chopped black trumpet mushrooms, and some stock, bring the mixture to a simmer and thicken it with cornstarch as I would gravy. The pictures below illustrate the process from start to finish.
Other ways to serve
Reheat the shanks and their juices with your favorite tomato sauce, or just pureed, canned whole peeled tomatoes. Add some fresh oregano and a handful of kalamata olives for a Mediterranean version.
Add a paste of roasted garlic to the pan with the shanks, cook down with a little white wine, then finish the sauce with heavy cream for a creamy garlic sauce.
Instead of stock, you can use all red wine when you reheat the shanks for a stronger red wine reduction. Adding a splash of balsamic vinegar as I do with red wine glazed lamb shanks is really good. See a video of how to do that below.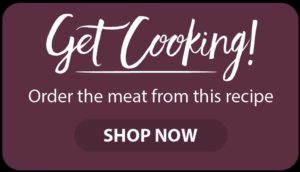 This recipe is by James Beard award-winning Chef Alan Bergo, the Forager Chef. A chef from Minnesota, Alan is a culinary industry veteran, former chef of acclaimed Lucia's Restaurant and the Salt Cellar. Author of The Forager Chef's Book of Flora, he's one of the most respected voices in the world of foraging and wild food. He's best known as the founder of Forager Chef, his website focused on wild ingredients that reaches millions of readers each year. Learn more about Chef Alan and his hunt for mushrooms, wild and obscure foods at foragerchef.com. 
Looking to buy lamb or goat online? Shepherd Song Farm: Grass to table. We raise lambs & goats traditionally, humanely and sustainably. 100% Grass Fed, Pasture Raised, Never Confined, no Hormones, Grains or Animal Byproducts. Born, raised and processed in the U.S.A. Good for you and good for the environment.
Commonly Asked Questions
How long to sous vide lamb shanks?
While some recipes call for 24-48 hours, only 3-5 hours is needed at 195 F. Cooking longer can result in soft, mushy meat.
How to finish sous vide lamb shanks? 
Remove the shanks from the bag and simmer them with red wine and lamb stock. Thicken the pan sauce with cornstarch and serve with mashed potatoes, rich or your favorite starch.
How to cook lamb shank sous vide? 
First, brine the lamb shanks overnight for even-seasoning. Rub the shanks with oil, roast in the oven to brown them, then vacuum seal and cook 195 F for 3-5 hours or until tender when pressed.
More Lamb Shank Recipes
Lamb Shanks with White Wine-Garlic Sauce
Lamb Shank Osso Bucco with Onions
Print Recipe
Sous Vide Lamb Shanks
Spoon-tender lamb shanks sous vide come out perfect every time without falling apart.
Equipment
Sous vide machine (I use the Annova brand)

Stock pot or polycarbonate container, for the water bath

Wide 10 inch pan, for finishing

1 gal size vacuum bag.
Ingredients
Brine
2

quarts

water

1

tablespoons

salt

2

teaspoons

cooking oil
Sous Vide
2

tablespoons

unsalted butter

Small handful fresh thyme leaves

1

small crushed clove of garlic

Sauce
Serving as pictured
1

cup

lamb stock

1/2

cup

red wine

5

grams

dried mushrooms

2

teaspoon

cornstarch

Salt and pepper

to taste
Instructions
Brine the lamb shanks
Mix the water and salt for the brine until dissolved. Soak the lamb shanks in brine overnight.
Brown the lamb shanks
Dry the shanks very well on paper towels, then rub with light olive oil or cooking oil. Brown the shanks on a grill, in a heavy cast iron pan, or by roasting in the oven for 30-45 minutes at 450 F.

When the shanks are browned, cool them, cover the end of the bone with a piece of parchment and tie to prevent ripping the bag. Add the garlic, thyme and butter, then vacuum seal the bags.
Sous vide the lamb shanks
Meanwhile preheat the water bath to 195 F. You'll want a pot or container that can hold two gallons of water. Add the vacuum sealed lamb and cook the lamb shanks for 3 hours, or until the shanks are tender and yield when pressed through the bag.

From here the shanks can be chilled in cold water and refrigerated overnight for the best texture and flavor, or served right away.
To serve as pictured with a simple pan sauce
Soak the dried mushrooms if using in the stock and wine for 10 minutes. Agitate the mushrooms to remove grit, remove, squeeze dry, and chop fine.

Strain the liquid, add the cornstarch to it and beat with a fork to dissolve.

Add the wine-stock mixture to a wide (10 inch) pan with a lid, making sure to avoid any grit left at the bottom. Finely chop the mushrooms and add to the pan.

Add the shanks and cook on medium-high heat until hot throughout, covered. Double check the seasoning of the sauce for salt and pepper, remove the lid and reduce the sauce until it looks and tastes good to you.

Spoon the sauce over the shanks as they cook. then serve with something soft for soaking up the juices like mashed potatoes, rice, or bread.
Notes
Some recipes may call for cooking times as long as 48 hours. This is unnecessary and will result in soft, mushy meat. Depending on your personal preference for how tender you like your slow cooked meat, anywhere from 3-5 hours at 195 F is plenty of time.
Nutrition
Serving:
1
shank
|
Calories:
466
kcal
|
Carbohydrates:
4
g
|
Protein:
41
g
|
Fat:
26
g
|
Saturated Fat:
12
g
|
Polyunsaturated Fat:
2
g
|
Monounsaturated Fat:
9
g
|
Trans Fat:
1
g
|
Cholesterol:
168
mg
|
Sodium:
600
mg
|
Potassium:
558
mg
|
Fiber:
0.3
g
|
Sugar:
0.4
g
|
Vitamin A:
476
IU
|
Vitamin C:
0.1
mg
|
Calcium:
57
mg
|
Iron:
4
mg