Greek Lamb Shanks
A whole braised lamb shank is one of the most satisfying things I know of to eat, and Greek braised lamb or goat shanks are a great recipe to keep around if you want a new recipe to try.
This recipe comes from the greek side of my girlfriend's family and has been passed down through the family over the years. It was originally found in an old Greek Orthodox church cookbook. Whenever we harvest lamb on the farm, it's a tradition to save all the shanks to give to my girlfriend's sister just so she can make her greek lamb shanks. It's a meal that the whole family looks forward to every year.
It's a really simple recipe: all you need is a large braising or baking dish, a good can of tomatoes, a stick or two of cinnamon, and, like most shank recipes, a good amount of time set aside to slowly cook the shanks into a tender, delicious meal. The recipe makes a generous amount of rich, tomato gravy, and reheats very well.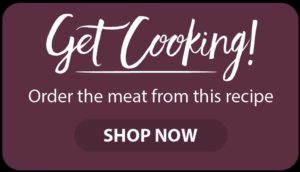 This recipe is by chef Alan Bergo. A chef from Minnesota, Alan is a culinary industry veteran, former executive chef of acclaimed Lucia's Restaurant, and the Salt Cellar. Founder of the website Forager Chef, he's best known as a respected authority on Midwestern foraging. Learn more about chef Alan and his hunt for mushrooms, wild and obscure foods at Forager Chef®. 
Shepherd Song Farm: Grass to table. We raise lambs & goats traditionally, humanely and sustainably. 100% Grass Fed, Pasture Raised, Never Confined, no Hormones, Grains or Animal Byproducts. Born, raised and processed in the U.S.A. Good for you and good for the environment.
Print Recipe
Greek Lamb Shanks
A simple recipe for greek lamb shanks passed down in our family.
Ingredients
Shanks
1.5

Tablespoons

minced fresh garlic

½

Tablespoon

minced fresh ginger

2

cups

lamb or chicken stock

or water

2 1

inch

strips of orange zest

bruised

1 2

inch

piece of cinnamon

1

small onion

coarsely chopped

2

cups

diced tomatoes

or 1 15 oz can

1

cup

dry red wine

Kosher salt and fresh ground black pepper to taste

3

tablespoons

lamb lard or cooking oil
Serving
Steamed rice and wilted greens

for serving (optional)
Instructions
Trim the shanks
First, trim the top 2 inches of the shanks by cutting around the bone with a paring knife. Remove the meat to expose the bone, which makes for a nice presentation. This step is optional.
Season the shanks
Season the lamb shanks aggressively with salt and pepper and allow to sit overnight.
Braising
Brown the lamb shanks very well in 2 tablespoons of the lard or oil a heavy pan, such as a cast iron skillet, then transfer to a baking dish. Pour off any dark fat from the pan, then add remaining tablespoon of fat and sweat the garlic until deep golden, then quickly add the onion and ginger, stir to halt the garlic cooking, and cook for 5-10 minutes more.

Add the wine, scrape up any browned bits, and pour the mixture over the shanks, along with the, zest, stock, cinnamon and tomatoes. If you have a deep pan, or are cooking a smaller number of shanks, you could brown and cook the shanks in the same pot, instead of transferring them to a baking dish. Cover the shanks with a lid or parchment and then aluminum foil if using a large baking dish, then bake in a preheated oven at 325 for exactly 1.5 hours, or until the meat just gives when pierced with a fork.

The meat should not fall off the bone, which would mean the shanks are over-cooked. Skim as much fat as you can from the sauce.

Remove the zest and discard, then transfer the liquid to a blender and pulse, or buzz gently with a hand-blender. (If you want, you can also serve the sauce as is if you like it) Reduce the sauce a bit to thicken it to a loose gravy, taste and correct the seasoning for salt, then serve alongside the lamb shanks at the table, with steamed rice and wilted greens on the side.