Lamb Shanks with White Wine-Garlic Sauce
Tender lamb or goat shanks with a creamy sauce made from slowly cooked whole cloves of garlic and a splash of heavy cream is a restaurant quality dish you can make with lamb or goat shanks that's relatively simple to prepare.
A recipe for garlic lovers
The sauce is made almost exclusively of whole garlic cloves, so, if you like garlic, you'll love this recipe. It's very similar to the popular "Chicken with 40 Cloves of Garlic" recipe that many people will have heard of where the garlic is mellowed by the slow cooking, turning creamy and soft at the end, which means that even if you're not a big fan of garlic (especially raw garlic) this is worth giving a try. There's some prep work in peeling a few bulbs of garlic for the dish, but once the shanks are cooked and tender, all you have to do is puree the pan juices into a sauce and it's ready to serve.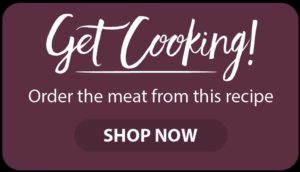 This recipe is by Chef Alan Bergo, the Forager Chef. A chef from Minnesota, Alan is a culinary industry veteran, former executive chef of acclaimed Lucia's Restaurant, and the Salt Cellar. Author of The Forager Chef's Book of Flora, he's one of the most respected voices in the world of foraging and wild food. He's best known as the founder of Forager Chef, his website focused on wild ingredients that reaches millions of readers each year. Learn more about Chef Alan and his hunt for mushrooms, wild and obscure foods at foragerchef.com. 
Looking to buy lamb or goat online? Shepherd Song Farm: Grass to table. We raise lambs & goats traditionally, humanely and sustainably. 100% Grass Fed, Pasture Raised, Never Confined, no Hormones, Grains or Animal Byproducts. Born, raised and processed in the U.S.A. Good for you and good for the environment.

Print Recipe
Lamb Shanks with Garlic Sauce
Lamb shanks cooked with a sauce made of many garlic cloves, white wine, and herbs. Serves 2 with leftovers
Ingredients
Shanks
2

lbs

lamb or goat shanks

1

teaspoon

anchovy paste

1/2

cup

dry white wine

1/2

cup

lamb stock, chicken stock, or water

6

oz

peeled garlic cloves

ends trimmed (roughly 3-4 bulbs of garlic)

1

sprig fresh rosemary

gently bruises with the back of a knife
Instructions
Cooking the shanks
Put the lamb shanks into a pot they can fit snugly. Add the remaining ingredients, cover with a piece of parchment, then cook at 250 F for 3 hours or until the lamb is tender and the meat gives when pierced. Discard the rosemary. Remove the pot to cool completely, then refrigerate overnight.

The next day, remove the fat that congeals on top and discard. Heat the pot to melt the liquid, then remove the shanks and set aside.
Heating and finishing the sauce
Transfer the cooking liquid and garlic cloves to a blender, puree until smooth, then transfer back to the pot, along with the heavy cream. Add the shanks to the pot, cook on medium to heat through, tasting and adjusting the seasoning of the sauce for salt until it tastes good to you.

The sauce should be smooth and slightly thickened like gravy.
Serving
To plate and serve, remove the shanks to a plates, then, if needed, adjust the consistency of the sauce by cooking on high heat to evaporate liquid and thicken it, or add a splash of water to loosen it.

Serve with rice or potatoes and seasonal vegetables. Pictured is seared Brussels sprouts and mashed potatoes seasoned with cooked , chopped scallions, fresh parsley and dill.