Lamb or Goat Shoulder Pastrami
I love cured and smoked meats of all kinds, but, alongside homemade bacon, which is the king, pastrami is probably next in line. There's just something about how the smoked meat combines with the brine, and the crunchy, slightly spicy coating of coriander and black pepper on the outside that just makes it so irresistible. Fresh from the smoker, still warm and dripping delicious juices, I'd be hard pressed to tell you there isn't a better smell in the world.
Pastrami is typically made from beef brisket, and you could also make it from the same cut on a lamb or goat, which is the breast. A leg will also work, and contains more meat. Doing a pastrami from the shoulder makes for a slightly more challenging piece of meat to slice, but cooking it on the bone keeps the meat tender and juicy, just like a bone-in ham-even more so as more of the meat on the shoulder directly contacts the bone. Whatever cut of lamb or goat you choose (venison is good too), the proportions in my recipe and knowledge of the basic preparation will give you a good starting point.
Just like corned beef (or corned lamb) you start out making pastrami by boiling a brine. After the brine is cooled, you immerse the lamb shoulder in it, and allow it to sit for 5 whole days. After curing, you take the shoulder from the brine, coat it completely in crushed peppercorns and coriander, and smoke it nice and slow. After it's smoked, I like to chill the pastrami before slicing, but there's nothing wrong with cutting a few slices off hot from the grill, and I recommend it as there's something really special about meat straight out of the smoker-still warm.
You can do all kinds of things with a smoked lamb pastrami, but as it's a special product, I like it the best simply by itself, warmed up and added to things like breakfast, although it does make a killer sandwich.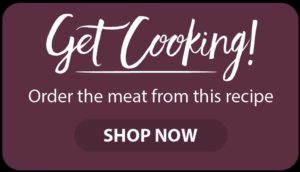 This recipe is by Chef Alan Bergo, the Forager Chef. A chef from Minnesota, Alan is a culinary industry veteran, former executive chef of acclaimed Lucia's Restaurant, and the Salt Cellar. Author of The Forager Chef's Book of Flora, he's one of the most respected voices in the world of foraging and wild food. He's best known as the founder of Forager Chef, his website focused on wild ingredients that reaches millions of readers each year. Learn more about Chef Alan and his hunt for mushrooms, wild and obscure foods at foragerchef.com. 
Looking to buy lamb or goat online? Shepherd Song Farm: Grass to table. We raise lambs & goats traditionally, humanely and sustainably. 100% Grass Fed, Pasture Raised, Never Confined, no Hormones, Grains or Animal Byproducts. Born, raised and processed in the U.S.A. Good for you and good for the environment.
Print Recipe
Lamb or Goat Shoulder Pastrami
Delicious smoked pastrami made from grass fed lamb or goat shoulder.
Ingredients
For the brine
3

quarts

water

260

grams

salt

roughly 1 cup + 2 tablespoons

1

oz

pink curing salt

sodium nitrite

3

Tablespoons

pickling spice

2

cups

dark brown sugar

1

large yellow onion

sliced

3

dried bay leaves

1

bulb garlic

halved horizontally
Spice coating
1/4

cup

coriander seeds

1/4

cup

whole black peppercorns
Instructions
Brining
Combine the ingredients for the brine and bring to a simmer in a stock pot. After the mix boils, chill completely, then immerse the lamb in the brine and weight it down in a container large enough to fit the ham. Keep the shoulder in the brine for 5 days, then remove.
Smoking
Transfer the lamb to a 250F smoker for 2-2.5 hours or until it reaches an internal temperature of 150F. From here, the ham can be chilled until the day it will be served, and will keep refrigerated for 5 days.

To make slicing easier, cut the whole muscles off the bone.

To serve the ham, using a sharp, long knife, cut thin slices of the pastrami. Heat the pastrami in a pan for sandwiches, serving alongside eggs, or whatever else you like.
Notes
Lamb or goat shoulder can be smoked just like a ham, but will have slightly more fat.