Black Pepper-Rosemary Crusted Lamb or Goat Loin
Lamb loins crusted with black pepper and fresh rosemary are an old favorite of mine, and a throw-back to my time as sous chef to celebrity chef Lenny Russo. Once in a while, chef would come up to us on the line and hand us a printed out recipe he wanted for a special dinner coming up, or just a special on the menu. Typically we would use this combination on pork, but it's also wonderful with lamb and goat loins, as well as loin t-bone and rib chops.
The big things to know are all about the ingredients: only fresh chopped rosemary will do, and you'll also want to use freshly ground black peppercorns.
Most people have worked with fresh rosemary before, but cracking peppercorns can be a bit of a learned skill. For the best flavor and texture, you want to coarsely grind the peppercorns in a mortar and pestle (some of my line cooks used to use the back of a heavy saute pan) to get the corns nice and evenly cracked. Part of the appeal here is the crunchy texture of the corns, which is why you won't want to use a peppermill, or grind them in a spice grinder.
Other than that, the dish couldn't be easier! Season the lamb or goat loins with salt and rosemary all over, then press one side in peppercorns to completely cover it, sear it in a pan until it's medium to medium-rare, rest for a few minutes for it to tenderize and distribute the juices, slice (or not) and serve alongside some seasonal vegetables. Pictured are some sauteed delicata squash, a slaw made from shaved Brussels sprouts, and morel mushrooms cooked in lamb demi-glace. Feel free to use whatever you have on hand.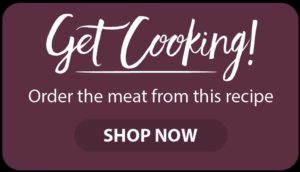 This recipe is by Chef Alan Bergo, the Forager Chef. A chef from Minnesota, Alan is a culinary industry veteran, former executive chef of acclaimed Lucia's Restaurant, and the Salt Cellar. Author of The Forager Chef's Book of Flora, he's one of the most respected voices in the world of foraging and wild food. He's best known as the founder of Forager Chef, his website focused on wild ingredients that reaches millions of readers each year. Learn more about Chef Alan and his hunt for mushrooms, wild and obscure foods at foragerchef.com. 
Looking to buy lamb or goat online? Shepherd Song Farm: Grass to table. We raise lambs & goats traditionally, humanely and sustainably. 100% Grass Fed, Pasture Raised, Never Confined, no Hormones, Grains or Animal Byproducts. Born, raised and processed in the U.S.A. Good for you and good for the environment.
Print Recipe
Black Pepper and Rosemary Crusted Lamb or Goat Loins
Tender lamb or goat loins crusted with rosemary and black pepper.
Ingredients
8

oz

lamb or goat loin filet

½

teaspoon

kosher salt

plus more for finishing

1

teaspoon

chopped fresh rosemary

1.5

tablespoons

coarsely ground black peppercorns

High heat cooking oil

such as lamb tallow or grapeseed oil, as needed, about a tablespoon

Seasonal vegetables

for serving
Instructions
Cut the lamb loin in half into 4 ounce pieces.

Season the lamb loins with the salt and rosemary all over, then press one side into the crushed peppercorns very well to make them adhere. From here the loins can be wrapped in cling film and refrigerated until needed, 24-48 hours.

To cook the loins, heat the oil in a heavy skillet such as a ten inch cast iron pan until lightly smoking. Add the loins pepper-side down and cook on medium-high heat until browned, a few minutes. Turn the meat over and brown the other side, turning it over as needed to brown all the sides, cooking until the meat is medium to medium-rare.

Transfer the cooked loins to a paper towel and allow to rest in a warm place for a few minutes, then carve into thick slices and serve alongside some seasonal vegetables.