Smoked Lamb Neck Roast

Lamb neck is one of the most tender cuts on the whole animal, and one that I used to snatch up from suppliers like Shepherd Song whenever I saw it, since it's a cut you can stretch and be creative with in so many ways. Knowing how to smoke and braise a whole lamb neck roast is a good trick you should keep around, especially if you and your guests or family like tender, pulled meat like shredded pork barbecue sandwiches, or tacos and burritos made with beef barbacoa.
Necks can be tricky if you aren't used to cooking them, and putting them in a smoker for long periods of time could make them dry out. To make things fool-proof for you here, I'm recommending that you smoke the neck for a couple hours on low heat, and then finish it in the oven with some liquid, which will keep it moist and give you that fall-off-the-bone meat that everyone loves.
Smoking necks and freezing
Another good trick to mention here is that I often smoke lamb, goat, and venison necks beforehand and freeze them. When I butcher, I will have access to lots of different cuts, and smoking things like bacon, shanks, bones, and necks beforehand and putting them in the freezer is like having a secret stash of culinary gold to pull from whenever I feel like it. There's rarely a soup or stew that wouldn't benefit from slowly simmering with a smoked neck.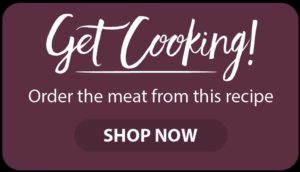 This recipe is by Chef Alan Bergo. A chef from Minnesota, Alan is a culinary industry veteran, former executive chef of acclaimed Lucia's Restaurant, and the Salt Cellar. Founder of the website Forager Chef, he's best known as a respected authority on Midwestern foraging. Learn more about chef Alan and his hunt for mushrooms, wild and obscure foods at Forager Chef®. 
Shepherd Song Farm: Grass to table. We raise lambs & goats traditionally, humanely and sustainably. 100% Grass Fed, Pasture Raised, Never Confined, no Hormones, Grains or Animal Byproducts. Born, raised and processed in the U.S.A. Good for you and good for the environment.
More Ideas
If you like this dish, make sure to check out: How to Cook Lamb or Goat Neck, with Recipes for more delicious meals you can make with Shepherd Song Lamb and Goat Necks.
Smoke, braise, pull and serve
First you season and smoke the necks, then, if you want to serve them right away, you'd cook them slowly with some liquid until the meat falls from the bone, season, and serve. If you season your meat with a dry rub, and it tastes good to you with nothing else done to it after braising—great! Depending on what I'm making, I may serve the meat plain with a sauce on the side, or I might season it with a little something afterword like barbecue sauce, or spicy tomatillo salsa verde, which is pictured here. I'm sure you can use your instincts and come up with something delicious.
Print Recipe
Smoked Lamb Neck Roast
Tender, juicy smoked, braised and pulled lamb or goat neck. Great for tacos, barbecue sandwiches, or anywhere you'd like.
Ingredients
Lamb Neck
1/2

teaspoon

kosher salt

¼

teaspoon

fresh ground black pepper
Other seasoning ideas (use your favorite)
Fresh herbs

like chopped rosemary or thyme

Dry rub of your choice
Instructions
Dry-brine the neck
Season the meat and refrigerate overnight, covered. Seasoning the meat beforehand is nice, but if you're short on time feel free to just let it sit, seasoned, for an hour or so before smoking.
Smoking
Smoke the lamb neck at 250F for two hours. From here the neck can be smoked ahead of time and stored for a few days, or frozen.
Braising
To cook the neck, put the neck in a tall pan that it can fit snugly in, then add an inch of water, cover with a piece of parchment, cover with a lid or wrap tightly with foil and bake for 2 hours at 300, or until fork-tender and falling off the bone.
Pulling
Cool the neck until you can handle it, pick the meat off, discarding and trimming off fat (look for the tendon near the spine, which is chewy) to your taste.
Serving
Mix the pulled neck with the braising juice, heat, and serve. For an alternate version as pictured in this post, see the other recipe where the pulled meat is mixed with tomatillo salsa verde.