Lamb or Goat Head Posole
From Chef Alan Bergo:
"Lamb and goat heads might as well have been created to make soup, and a rich, comforting bowl of Mexican posole with hominy, avocado, and meltingly tender pieces of lamb or goat meat is one of the best recipes I've made with them."
"In my world, the best meat soups and broths are made not from only bones, or only meat, but a combination of the two—something I learned when I tried to use only cheap marrow bones for stock back in the day at my first restaurant The Salt Cellar. Typical bones, even roasted for hours on low heat will still give a pallid stock that's rich with gelatin, but lacking the dark cast created by caramelized proteins found in muscle. Meat makes umami. A stock made from bones and meat is the best of both worlds, and lamb heads have that in spades, especially if you take the time to simmer them nice and slow overnight. Oh, and a lamb or sheep head, especially sawed in half, will fit just fine into a cheap pasta pot, whereas a pig head will need a much, much larger cooking vessel, as well as a larger surface to clean them on.
"Posole, the traditional Mexican soup based on hominy, chilis, and pork (usually a head) is a great thing you can make with a lamb or goat head, and, after you puree some guajillos chilis and vegetables into the broth and simmer it with dried hominy and herbs, no one is going to think for a second that they're eating anything but a fine bowl of Mexican comfort food. Besides the rich, aromatic broth packed with natural gelatin, serving the dish is a lot of fun, and using an array of garnishes allows guests to compose their bowl however they'd like."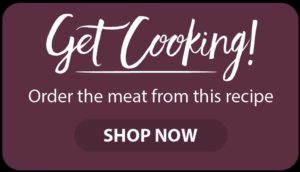 This recipe is by chef Alan Bergo. A chef from Minnesota, Alan is a culinary industry veteran, former executive chef of acclaimed Lucia's Restaurant, and the Salt Cellar. Founder of the website Forager Chef, he's best known as a respected authority on Midwestern foraging. Learn more about Alan and his hunt for mushrooms, wild and obscure foods at Forager Chef. 
Shepherd Song Farm: Grass to table. We raise lambs & goats traditionally, humanely and sustainably. 100% Grass Fed, Pasture Raised, Never Confined, no Hormones, Grains or Animal Byproducts. Born, raised and processed in the U.S.A. Good for you and good for the environment.
Print Recipe
Lamb or Goat Head Posole
Traditional Mexican stew made with hominy and the rich broth from a lamb or goat head. Makes about 3 quarts.
Ingredients
Soup
1.5

cup

(8 oz) dried Mexican white hominy

1

lamb or goat head

preferably with the tongue

1

lb

lamb or goat stew meat

or a neck, meat cut off the bone and diced for stew

1

large yellow onion

diced ¼ inch, about 3 cups

3

large cloves fresh garlic

minced, about 1 tablespoon

10

cups

water

2

teaspoons

fresh ground cumin

2

tablespoons

cooking oil or lard

Kosher salt

to taste

3

oz

dried guajillo chilis

3

dried bay leaves

2

teaspoon

dried Mexican oregano
Garnishes
Fresh chopped cilantro

to taste

Shredded cabbage

Fresh lime wedges

Sliced radishes

Diced avocado

Crumbled queso fresco cheese
Instructions
Season the head lightly with salt and pepper and roast in a 350 F oven for 45 minutes. In a stock pot large or wide enough to fit the head, sweat the onion and garlic for 5 minutes until translucent. Add the head, hominy, stew meat, bay leaves, dried oregano, water, cover and bring the mixture to a low simmer, then cover and cook for 3-4 hours.

The head will not be completely covered with water, so you'll need to turn it occasionally to ensure even cooking.*

Put the chilis in a blender or food processor with 1.5 cups hot stock from the posole, and puree until smooth, then add back to the pot.

When the meat is tender and the hominy has started to pop, remove the head and cool on a cutting board. Using gloves, remove the meat from the head when cool, including the tongue, and chop coarsely, peeling the tongue beforehand.

Add the chopped meat back to the soup, season to taste with salt, then serve, garnished with lime, avocado, cilantro and radishes.
Notes
*

Cooking in a crock pot, depending on the size, would be great too, and could require less liquid to cover the head as the shape of the cooking vessel is similar to the head. Meanwhile, toast the chilis in a cast iron skillet in the oven at 300 for 15 minutes, then cool, break open, and discard the seeds.