Lamb or Goat Ragu with Olives
Penne pasta tossed with a ragu of our grass fed ground goat simmered slowly with tomatoes, olives and herbs is a simple recipe you can make on a weeknight or in advance and easily reheat for a restaurant quality meal at the drop of a hat. This is a simple recipe, and example of what Chef Bergo might throw together for a quick dinner when he's short on time.
Chef Alan Bergo worked under a number of different chefs from Italy, and those experiences deeply influenced his cooking. This recipe draws specifically on Sicilian influences of goat meat, pecorino cheese, a touch of hot chili, and Sicilian Castelvetrano olives, which are a bit milder than other popular olives like the purple kalamata.
Anchovies: a secret Italian pasta ingredient
You start out the recipe by slowly building a rich base of flavor with garlic slices cooked until they just begin to brown, along with a secret ingredient you might not expect: anchovies. Anchovies get a bad rap for being overly fishy and an acquired taste, but they're a secret to some excellent pasta sauces, and they add a special flavor and umami-quality to the finished pasta sauce you can't get anywhere else. You can omit them, of course, but it won't be quite the same. Anchovy is part of what make the dish. As an aside, Chef says that after the first evening, his girlfriend requested the goat ragu on a regular basis.
Since we use a small amount of anchovies in this dish, Chef recommends using anchovy paste, since you can screw the lid back on the tube and keep the rest in the fridge for later, instead of having to use half of a tin, and deal with disposing of the oil. Castelvetrano olives, fresh marjoram (oregano can be substituted) and grated pecorino (a salty sheep milk cheese) are the other special ingredients that give the dish a Sicilian touch. Most of them can be found at your local supermarket.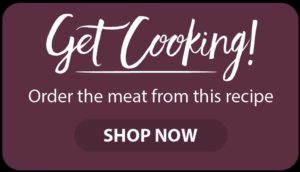 This recipe is by chef Alan Bergo. A chef from Minnesota, Alan is a culinary industry veteran, former executive chef of acclaimed Lucia's Restaurant, and the Salt Cellar. Founder of the website Forager Chef, he's best known as a respected authority on Midwestern foraging. Learn more about Alan and his hunt for mushrooms, wild and obscure foods at Forager Chef. 
Looking for grass-fed lamb and goat online? Shepherd Song Farm: Grass to table. We raise lambs & goats traditionally, humanely and sustainably. 100% Grass Fed, Pasture Raised, Never Confined, no Hormones, Grains or Animal Byproducts. Born, raised and processed in the U.S.A. Good for you and good for the environment.
Print Recipe
Sicilian Goat Ragu with Olives and Fresh Oregano
Sicilian-inspired goat ragu made with tomatoes, olives, fresh marjoram or oregano and pecorino cheese. Serves 4
Ingredients
Goat Ragu
1

cup

cracked Castelvetrano olives

pits removed, halved

1/2

tablespoon

anchovy paste

or 5 filets, minced

2

large cloves of garlic

thinly sliced

1

small onion

grated, pureed, or finely minced

½

teaspoon

kosher salt

¼

teaspoon

crushed red pepper flakes

or more to taste

¼

cup

rendered goat fat or virgin olive oil

1 28

oz

can whole peeled tomatoes

1

cup

meat stock

preferably goat (water can be substituted)

½

cup

dry white wine

8

oz

dried penne or ziti pasta

2

Tablespoons

fresh marjoram

oregano, or ½ teaspoon dried oregano, rubbed between your fingers
For reheating and serving (optional)
2

Tablespoons

unsalted butter

¼

cup

tomato juice or puree

¼

cup

fresh grated pecorino cheese

plus more for serving
Instructions
Goat Ragu
Puree the tomatoes in a blender, then pass through a strainer or food mill to remove the seeds (optional).

Sweat the garlic in the fat on medium-low until lightly browned and aromatic. Add the anchovy and stir until it melts into the oil.

Add the onions and wine and cook until the pan is nearly dry.

Add the meat, stock, chili, oregano, salt, and tomatoes and bring the mixture to a simmer, then cook with a lid ajar for 1 hour on low heat.

Cool the sauce and reserve (it will taste better the next day) or serve with pasta.
Plating and serving
To plate the pasta and ragu, cook the pasta drain, and combine in a wide pan with the sauce, adding the butter, and tomato juice or puree if the pan looks dry.

Double check the seasoning for salt and adjust as needed, but remember the pecorino cheese and olives are both salty ingredients, so go light.

Stir in the ¼ cup of pecorino off the heat, divide the mixture between 4 pasta bowls, and serve. Pass more pecorino at the table.