Indian Style Lamb or Goat Ribs (Tabak Maaz)
Tabak maaz is a traditional lamb or goat rib recipe served at Kashmiri celebrations, and one of the most famous dishes in the Wazwan feast, a decadent meal featuring not one or two, or even five courses of lamb, goat, and other meats, but 36! The celebratory feast is seen as an art form, and chefs take a special pride in preparing the dishes.
The secret: Tumeric Milk and Spices
The secret to the recipe is that the ribs are cooked differently than most lamb or goat rib recipes you may have seen. Instead of cooking and covering with barbecue sauce, a dry rub, or something that we'd be familiar with in America, the riblets are first soaked overnight  in a spiced tumeric milk, then simmered until tender and browned in ghee until crisp. They're rich and light at the same time, subtly perfumed with spices, and make a great appetizer or a main dish if you like, especially browned crisp and delicious in ghee.
Some of the spices can be a little tricky to track down, but most of them are relatively common. Black cardamom is probably the most obscure, but it can be found at your local Asian grocery store in the spice section, or purchased online. Unlike green cardamom, which has a rich, floral taste and aroma, black cardamom is rich, dark and smoky. Try to find some if you want to attempt the real deal!
A main dish, or an appetizer
Our grass fed lamb and goat ribs are very rich, especially if some fat isn't trimmed beforehand. With the proportions listed here in our recipe, you'll be able to serve 4 people as an entree, or, chill the riblets after cooking, then cut them into single-bone servings and they'll serve 6-8 as an exotic appetizer.
Trimming the fat from lamb or goat ribs
Lamb and goat ribs are very rich. Some people may like them served as-is, but Chef Bergo recommends giving them a light trim to remove some of the fat. See our post on how to cook lamb or goat ribs for a demonstration of how Chef trims his ribs.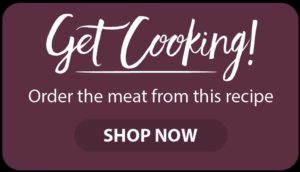 This recipe is by chef Alan Bergo. A chef from Minnesota, Alan is a culinary industry veteran, former executive chef of acclaimed Lucia's Restaurant, and the Salt Cellar. Founder of the website Forager Chef, he's best known as a respected authority on Midwestern foraging. Learn more about Alan and his hunt for mushrooms, wild and obscure foods at Forager Chef. 
Looking for grass-fed lamb and goat online? Shepherd Song Farm: Grass to table. We raise lambs & goats traditionally, humanely and sustainably. 100% Grass Fed, Pasture Raised, Never Confined, no Hormones, Grains or Animal Byproducts. Born, raised and processed in the U.S.A. Good for you and good for the environment.
Print Recipe
Lamb or Goat Ribs "Tabak Maaz" style
Kashmiri-style lamb or goat ribs simmered in spiced tumeric milk and browned crisp in ghee. Serves 6-8 as an appetizer or 4 as a main dish.
Ingredients
Ribs and tumeric milk
3

lbs

lamb or goat ribs

4

qts water

1

qt

whole milk

30

grams

8 large cloves fresh garlic

30

grams

or 2 each 1in x 3 inch rectangles fresh ginger, peeled

1

small onion

halved

2

Tablespoons

ground turmeric

Tiny pinch saffron

optional

6

dried bay leaves

75

grams

1/4 cup plus 1 Tablespoon kosher salt
Spice Blend
3 3

inch

cinnamon sticks

20

grams

whole black cardamom

roughly 6 medium-sized pods

10

whole green cardamom

2

tablespoons

fennel seed

2

tablespoons

cumin seed

2

Tablespoons

black peppercorns
Serving and finishing
¼

cup

ghee

Fresh cilantro

Finishing salt

optional
Instructions
Spices
Lightly toast the toast the ingredients for the spice blend, then roughly crush in a mortar and pestle, or by pulsing in a spice grinder. Just break the spices up a bit to release their aroma—don't make them into powder. Combine the spices, onion, garlic, ginger, bay leaves and salt with the water in a soup pot, bring to a simmer, then turn off the heat and cool.
Marinating the ribs
Add the ribs and milk to the liquid and refrigerate overnight (optional). If, for some reason, the ribs aren't barely covered with liquid, add a little extra water to barely cover them.

Bring the ribs to a simmer, turn the heat to low, and cook for an hour on the lowest heat possible. Do not allow the ribs to boil or they could fall apart.

Test to see if the ribs are done by wiggling a bone-it should move freely, but they should not be falling apart. Allow the ribs to cool in the still-hot liquid for 45 minutes.

Remove the ribs and dry very well. From here the ribs can be prepared days ahead of time.
Browning and serving
Brown the ribs crisp in the ghee on both sides and serve the hot garnished with cilantro and finishing salt.