How to Make a Lamb Saratoga Roll / Roulade
The lamb saratoga, also known as lamb forerib roast is one of my favorite cuts, as well as one of the most popular cuts ordered by chefs Shepherd Song supplies. It's a little known cut, not often mentioned or sold by other purveyors, but it's worth trying, especially if you like slow-cooked, tender meat. The cut is a hybrid, located around the shoulder and neck, and including some of the last bones of the loin, it's kind of similar to a pork shoulder, and can be cooked in the same way.
At Lucia's Restaurant, I would order saratoga rib roasts to make rolled roulades, or lamb saratoga rolls, and I think they're one of the most elegant recipes this cut can become. They'll take a bit of time with a paring knife to trim the meat off the bone, but the result is a juicy, tender roast that you can cook in a number of different ways. If deboning the lamb saratoga sounds like a lot of work, you can always just cook them in a crock pot too–they'll work great for your favorite crock pot-pulled lamb recipes too, as will necks.
Serving a crowd? Use a lamb neck instead
Each saratoga will serve 2 people, or 4 small appetizer portions so they're the perfect thing for a date night or special occasion, especially since they don't need to be pampered—there's no worry about overcooking. If you want to serve a similar dish like this to a crowd, you can order multiple saratoga roasts and de-bone them, or, you can also debone and filet a lamb or goat neck, which will give a little more meat and save on some prep time. Using one of our rolled breasts as we show in this video, is also a good alternative.
The stuffing
With the stuffing, less is more. Chef Bergo suggests using your imagination, but keep it simple: a sprinkle of breadcrumbs, a scattering of toasted nuts, and a small handful of chopped parsley is all you need, too many ingredients can make it difficult to make the rolls and get clean, attractive slices as pictured. Chef stuffed the roast pictured with black walnuts—a special treat, but any nut, or no nuts, are fine.
Deboning to make the saratoga roll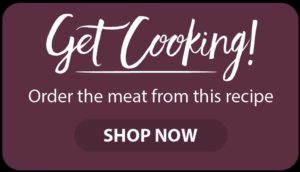 This recipe is by chef Alan Bergo. A chef from Minnesota, Alan is a culinary industry veteran, former executive chef of acclaimed Lucia's Restaurant, and the Salt Cellar. Founder of the website Forager Chef, he's best known as a respected authority on Midwestern foraging. Learn more about Alan and his hunt for mushrooms, wild and obscure foods at Forager Chef. 
Looking for grass-fed lamb and goat online? Shepherd Song Farm: Grass to table. We raise lambs & goats traditionally, humanely and sustainably. 100% Grass Fed, Pasture Raised, Never Confined, no Hormones, Grains or Animal Byproducts. Born, raised and processed in the U.S.A. Good for you and good for the environment.
Similar Cuts
Lamb or goat breast and lamb neck are very similar in the ways they can be rolled and stuffed like this. If you want more examples of how you can use those cuts, and the saratoga, take a look at the following:
Print Recipe
Stuffed Lamb or Goat Saratoga Roll
Rich, tender roulades of lamb or goat with a light stuffing of black walnuts and breadcrumbs.
Ingredients
10

grams

parsley / 2 tablespoons

1

teaspoon

finely diced or minced lemon zest

1

teaspoon

grated or smashed garlic

20

grams

/ 2 tablespoons black walnuts

3

tablespoons

breadcrumbs

Kosher salt and pepper

to taste
Instructions
Debone the saratoga
Using a sharp paring knife, de-bone the Saratoga (1/2 a neck can be substituted), then pound with a tenderizing mallet to even out the shape and flatten it a bit—don't beat it too hard, you just want to help it form an even rectangle that will show off the stuffing in the finished product. Another way to do this is to make a cut in the fat part of the roast to help it open up like a book (see image gallery above).
Stuff and tie
Season well with salt and pepper, then mix the ingredients for the stuffing, apply and press down firmly, then tie up into a jelly roll.
Cooking
Brown the roast in oil on all sides, then transfer to a covered baking dish with 2 cups of water and bake for 1.5 hours at 300, or until tender.
Chill for perfect slices
Cool the lamb completely before slicing.
Serving
To serve, cut the lamb into thick, even slices with a sharp knife, oil and roast until hot in an oven, or brown the slices on one side until hot throughout and serve.