Stuffed Lamb or Goat Breast (Brisket)
If you love grass-fed lamb and goat like we do, stuffed lamb or goat breast is sure to be one of your new favorites. After getting valuable feedback, we started cutting breasts whole, off the bone as pictured below, and we're so excited for you to try them! Of course, the first thing we did was send a few to Chef Alan so he could make some stuffed breasts. To order the whole, boneless breasts as pictured below, choose the "boneless" option when purchasing.
Stuffed breasts are a traditional recipe in Britain and Europe, but not so much in America. Here, Chef Bergo uses a simple stuffing based on traditional ones made with a few simple ingredients like ham, breadcrumbs, and parsley. After stuffing, the breast is rolled up like a jelly roll, tied, browned, and baked with an inch or two of water until fork-tender. After that, you cool the rolled breast and chill overnight in the refrigerator to firm it up and help it hold it's shape–a good chef trick. The chilled breasts cut easily into thick slices, where freshly cooked breast straight from the oven would fall apart.
After chilling and slicing, the breasts are browned in a pan, and served with whatever vegetables accompaniment you like. Pictured are wilted greens with shallots, and sautéed chanterelle mushrooms. The leftover cooking juice makes a fine gravy or sauce, and the fat from rendering can be used to flavor roasted vegetables or crispy potatoes.
More Ideas
Want more recipe ideas? See How to Cook Lamb Breast / Brisket + Recipes.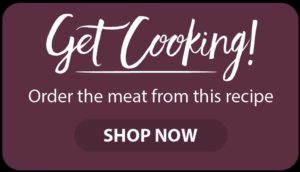 This recipe is by chef Alan Bergo. A chef from Minnesota, Alan is a culinary industry veteran, former executive chef of acclaimed Lucia's Restaurant, and the Salt Cellar. Founder of the website Forager Chef, he's best known as a respected authority on Midwestern foraging. Learn more about Alan and his hunt for mushrooms, wild and obscure foods at Forager Chef. 
Shepherd Song Farm: Grass to table. We raise lambs & goats traditionally, humanely and sustainably. 100% Grass Fed, Pasture Raised, Never Confined, no Hormones, Grains or Animal Byproducts. Born, raised and processed in the U.S.A. Good for you and good for the environment.
Print Recipe
Stuffed Rolled Lamb or Goat Breast
Stuffed and rolled lamb or goat breasts are a delicious way to use the often overlooked cut. Serves 2-4
Ingredients
Kosher salt

to taste

Fresh ground black pepper

1

teaspoon

chopped fresh rosemary

Zest of half a lemon

2

tablespoons

chopped fresh Italian parsley

3

tablespoons

breadcrumbs

3-4

thin slices of prosciutto

pancetta, or salami

2

tablespoons

chopped shallots
Instructions
Mix the lemon zest with the parsley.

Season the breast on one side with salt and pepper, then sprinkle on the rosemary, parsley and zest, breadcrumbs, and finally lay down a few slices of prosciutto.

Tightly roll the breast into a log the long way, then tie with butchers twine and brown on all sides in a large skillet on medium high heat, or on a grill. Reserve the fat for roasting potatoes or vegetables.

Put the browned breast roll in a pan with 2 inches of water and cook, covered with foil or a lid at 300 F for 2.5-3 hours or until fork tender.

Cool the breast, then wrap in cling film and refrigerate to firm.

Meanwhile reserve the cooking juices and add some roux (or another thickener) to make gravy, if desired, season to taste and reserve.

Cut the chilled breasts into thick slices, then brown in a pan with a spoon of the reserved fat until hot, and serve with seasonal vegetables. Pictured are wilted lambsquarters with shallots and chanterelle mushrooms.