Lamb Fat Crispy Potatoes
There's just about nothing more satisfying that a bowl of crispy potatoes, and I should know, I've sold thousands of pounds of them in restaurants over the course of my career. One of the keys chefs have for making the most delicious crispy potatoes possible is animal fat, in this case rendered lamb or goat tallow.
Contrary to what modern media would have us believe, rendered, all-natural animal fats are good for us, and can make up an important part of a healthy diet. Fat from grass fed animals should be higher in healthy omega-3 fatty acids too, which make it even better.
Tallow is delicious
Animal fat is also great to cook with since it can withstand high heat, for example, did you know that for many years, the famous McDonald's French Fries were deep-fried in beef tallow? They were, and they were delicious, so delicious that I used to buy 80 lbs of beef fat every week to cook the French Fries I served at my first restaurant.
Chefs have also used duck and goose fat for a very long time. Lamb and goat tallow are more similar to beef as they have a higher melting point, but all that really means is you cut chunks off of the fat or have it melted and pour it into the pan, whereas poultry fat like duck or goose can be spooned out at room temperature.
Secrets for the crispiest potatoes
The lamb tallow is just a seasoning though, the real key to making the most delicious, golden-brown, crispy fried potatoes is in the technique of how you cook them. The biggest secret to know is that the potatoes are always pre-cooked (sometimes multiple times in nice restaurants) before they're tossed into the pan with the fat.
There's a few different ways you can pre-cook your potatoes, and I briefly go over two of them in the video for this recipe. The biggest thing to know here, is that water is the enemy of crisp foods, so, if you boil them it's helpful to leave the skins on the potatoes and cook them whole to help them absorb as little liquid as possible. After par-cooking, the rest is pretty easy: just put the potatoes in a hot pan with the fat, season them up, toss them in the oven for a bit, and serve.
I also add some minced garlic and parsley or persillade (a traditional seasoning for mushrooms with garlic and parsley, too) which is delicious, but optional. I can guarantee you, follow my directions here, and you'll learn how to cook some of the best potatoes you've ever had!
Render your own tallow or purchase?
If you want to buy pre-rendered lamb tallow ready to cook, we occasionally carry it. If we're out, you will want to buy some fresh-frozen lamb fat and render your own, which is a great skill to have! Both regular fat and caul fat will work well.
Buy fresh-frozen lamb fat or caul fat for rendering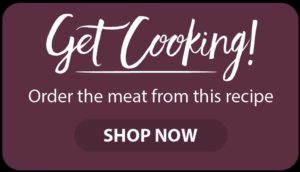 This recipe is by Chef Alan Bergo, the Forager Chef. A chef from Minnesota, Alan is a culinary industry veteran, former executive chef of acclaimed Lucia's Restaurant, and the Salt Cellar. Author of The Forager Chef's Book of Flora, he's one of the most respected voices in the world of foraging and wild food. He's best known as the founder of Forager Chef, his website focused on wild ingredients that reaches millions of readers each year. Learn more about Chef Alan and his hunt for mushrooms, wild and obscure foods at foragerchef.com. 
Looking to buy lamb or goat online? Shepherd Song Farm: Grass to table. We raise lambs & goats traditionally, humanely and sustainably. 100% Grass Fed, Pasture Raised, Never Confined, no Hormones, Grains or Animal Byproducts. Born, raised and processed in the U.S.A. Good for you and good for the environment.
Print Recipe
Lamb Fat Crispy Potatoes
Crispy potatoes cooked in rendered lamb tallow with garlic and parsley will be a hit at your dinner table. Feel free to scale the recipe as needed depending on the size of your pan.
Ingredients
1.5

lbs

russet potatoes

3 tablespoons

cup

rendered lamb tallow

with another tablespoon or two as needed if the pan gets dry.

1/2

teaspoon

kosher salt

For finishing

1

small clove garlic

1

small handful Italian parsley
Instructions
Persillade (optional)
Mince the parsley and garlic together (refer to the video) and reserve.
Par cooking the potatoes
Steam the potatoes or bake them wrapped in foil until thoroughly cooked through as for baked potatoes (using leftover potatoes is great here). Make sure the potatoes are overcooked a bit, as undercooked potatoes may not get as crisp.
Option #1 Cooking in a pan
Cool the potatoes, then peel with a paring knife and toss with the salt. Meanwhile, preheat the oven to 400F.

In a large skillet, such as a 12 inch cast iron, heat the oil until lightly smoking, then add the potatoes in a single layer and cook on high, stirring occasionally, until starting to brown.

Transfer the pan to the oven and cook for 15 minutes, tossing once or twice to coat with the fat. When the potatoes are crisp, golden brown and delicious, remove the pan from the oven.

From here, if needed, you can put the pan back on the heat to give them even more color. When the potatoes are ready, toss them with the minced parsley and garlic off the heat, sprinkle with a little extra salt if desired, and serve.
Option #2 Roasting in the oven
To roast the potatoes, toss the cut, cooled potatoes with the fat, 2 teaspoons of chopped rosemary, a couple cloves of garlic crushed with the back of a knife, along with a few small rosemary sprigs.

Lay the potatoes out on a non-stick baking surface and bake at 400 for 30 minutes, turning them once or twice during the process, until golden. Baking is a good way to do large batches of these, or if you don't have a heavy skillet.