Perfect Roast Lamb or Goat
A whole leg of lamb or goat is a great piece of meat to cook, but there's a lot more that you can do with it than cooking the whole chunk of meat. In our post on breaking down a whole leg of lamb or goat, I showed you how I cut up a leg into individual muscles that can be cooked as small roasts to serve a few people. Cutting up a leg into muscles is how I served roasted lamb at my restaurants, and it is a great thing to know how to do (it's easy, too).
Once you have your leg cut into trimmed muscles, I have a few more tips and tricks for getting the best result out of them. The video that accompanies this post will show you a visual demo, but here's the big takeaways for getting a perfectly cooked roast.
Chefs tips for a perfect roast
Season the meat overnight with salt, pepper, and other seasonings
This is called "dry-brining" and is important for developing flavor, and helping to get a really good crust on the meat. All you do is season the meat ahead of time and allow it to rest, uncovered in the fridge overnight. Leaving the meat uncovered helps it to dehydrate and dry out a bit, and you will notice a much richer, deeper crust and browning on your meat, which equals better flavor.
Elevate the meat from the pan
Once the meat is seared, you put it in the oven, but if the meat is in contact with a hot pan, the bottom will cook faster than the top. In a restaurant, I always used baking racks to elevate the meat away from the metal surface, but as you'll see in the video, there's a lot of different ways you can elevate the meat so it doesn't touch the pan.
A chunk of bread, some vegetables–you can use just about anything you have in a pinch, and it will make a difference, although a baking rack is the best.
Low and slow
Years ago now, when I worked a busy saute station, I started playing around with the temperatures I would cook my roasts at. I used a lower temperature to cook the roasts on my station, since I might be cooking 20 pounds of roasts a day, and many of them were varying sizes.
At a higher temperature like 350 F, I found it difficult to pin point the perfect moment the roasts of varying sizes were perfectly done, so I decreased the heat to 250 F. What this does is give you a more even doneness, and a blush, pink center.
Let the meat rest (Ten min/lb)
Lastly, it's also very important to let the meat rest for at least 10 minutes per pound. Do not worry about the meat cooling off—if you touch the roast when you're ready to slice and find it cooled a bit too much, simply pop it back in the oven at 250 for 10 minutes or so before slicing. Two other chef tricks are to put the finished slices onto hot vegetables on a plate, and to make sure you've warmed up your plates for a moment in the oven or microwave before serving.
If these tips don't help you make the best roast lamb or goat you've ever had, let us know!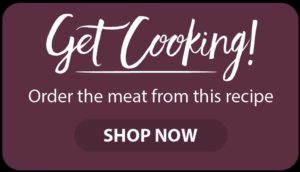 This recipe is by Chef Alan Bergo, the Forager Chef. A chef from Minnesota, Alan is a culinary industry veteran, former executive chef of acclaimed Lucia's Restaurant, and the Salt Cellar. Author of The Forager Chef's Book of Flora, he's one of the most respected voices in the world of foraging and wild food. He's best known as the founder of Forager Chef, his website focused on wild ingredients that reaches millions of readers each year. Learn more about Chef Alan and his hunt for mushrooms, wild and obscure foods at foragerchef.com. 
Looking to buy lamb or goat online? Shepherd Song Farm: Grass to table. We raise lambs & goats traditionally, humanely and sustainably. 100% Grass Fed, Pasture Raised, Never Confined, no Hormones, Grains or Animal Byproducts. Born, raised and processed in the U.S.A. Good for you and good for the environment.
Print Recipe
Perfect Rosemary Lamb Roast
A simple method for making perfect roast lamb or goat. Cooking times are approximate and will vary on the size of your roast.
Ingredients
1

lamb leg roast

1-2 lb

Kosher salt and fresh ground black pepper

Chopped fresh rosemary

optional

2

tablespoons

rendered lamb tallow

for searing

A few slices of dried bread or something else to elevate the roast while it cooks

such as a baking sheet
Instructions
Season the lamb all over with salt and pepper, then sprinkle on the rosemary. Allow the meat to marinate overnight, uncovered in the fridge. The next day, allow the lamb to come to room temperature for 30 minutes before cooking.

Preheat the oven to 250F. Heat the tallow in a heavy skillet, then brown the lamb deeply. Put the crusts of bread, some vegetables or something else in the pan to elevate the roast so the bottom of the pan doesn't over cook the bottom of the roast. Alternately, cook the roast on a baking sheet lined with a roasting rack, which is ideal, and my preference for restaurant work.

Cook the roast for 30 minutes, or until a thermometer reads 125-130F. This temperature may seem rare, but trust me, it will be good. Cooking at a lower temperature means you get a perfect rose center, edge to edge.

Allow the roast to rest for at least 20 minutes, then reheat gently in the oven before slicing (always against the grain here) preferably putting the slices of meat on top of piping hot vegetables or something else on a plate to help them stay warm—a chefs plating trick. You will notice when slicing that the roast doesn't bleed over the cutting board, and it's perfectly pink and juicy.