Harissa Lamb or Goat Shoulder

Lamb and goat shoulders are a fantastic cut of meat to work with that's very forgiving. They can be intimidating for people to cook at home as they may look fatty, but that extra fat, both on the outside and inside of the meat, makes for some of the most tender meat you'll ever have.
This recipe is a fun example of one way you might cook them: cut into pieces and marinated in a mildly spicy chili paste called harissa overnight, then cooked low and slow until fork-tender.
As the pieces of shoulder cook, the fat renders out, keeping the meat juicy while it cooks. The bonus is, after you make the recipe, you'll have leftover lamb fat flavored with the harissa paste to use in all kinds of dishes, like the optional chickpea ragu that I suggest later in the post.
The dish is really easy to prepare, and most of the cooking is unattended. Just cut the shoulder into pieces, mix with the spice paste, allow to rest and marinate overnight, then bake at a low temperature in a covered pan in the oven.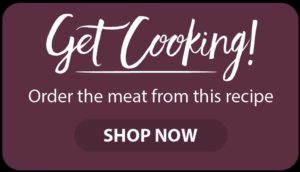 This recipe is by Chef Alan Bergo, the Forager Chef. A chef from Minnesota, Alan is a culinary industry veteran, former executive chef of acclaimed Lucia's Restaurant, and the Salt Cellar. Author of The Forager Chef's Book of Flora, he's one of the most respected voices in the world of foraging and wild food. He's best known as the founder of Forager Chef, his website focused on wild ingredients that reaches millions of readers each year. Learn more about Chef Alan and his hunt for mushrooms, wild and obscure foods at foragerchef.com. 
Looking to buy lamb or goat online? Shepherd Song Farm: Grass to table. We raise lambs & goats traditionally, humanely and sustainably. 100% Grass Fed, Pasture Raised, Never Confined, no Hormones, Grains or Animal Byproducts. Born, raised and processed in the U.S.A. Good for you and good for the environment.
The side dish of stewed chickpeas is optional here, but the combination of ingredients are complimentary and traditional in Moroccan lamb dishes where harissa is used, so I definitely recommend you give it a try. I really like a good handful of bitter greens in mine, like sochan/cutleaf coneflower greens, but you could use any green you like-arugula or mustard greens are nice.
Print Recipe
Harissa Lamb or Goat Shoulder
Tender pieces of lamb or goat shoulder marinated in harissa spice paste. You can serve this just as easily without the chickpeas tomatoes and greens, if you do, toss the meat with some chopped cilantro or parsley when it's finished to liven it up and make it attractive.
Ingredients
Lamb Shoulder
2

lb

lamb or goat shoulder

cut into 1 oz pieces

1

teaspoon

salt

4

Tablespoons

harissa paste

see recipe

Chopped fresh cilantro or parsley

to garnish (optional)
Stewed Chickpeas
4

oz

bitter greens

such as dandelions or mustard greens

¼

teaspoon

kosher salt

2

cans chickpeas

or roughly 3 cups cooked, with 1 cup of their liquid

6

ripe roma tomatoes

roughly 10 oz

3

Tablespoons

reserved fat from the lamb shoulder

3-4

sliced fresh mint leaves

optional

2

oz

2 small finely chopped shallot

1

medium clove of garlic

minced or grated
Instructions
Lamb shoulder
Combine the lamb or goat pieces with the salt and harissa paste and mix to coat, then transfer to a container with a tight fitting lid and refrigerate overnight.

The next day, preheat the oven to 275F, arrange the lamb chunks in a 10 inch cast iron pan or baking dish, cover with a sheet of parchment, then a lid, and bake for 2 hours, or until the meat is fork tender. From here, the meat can be refrigerated for up to 3 days and reheated as you like. There will be a decent amount of delicious red-colored fat in the pan, save this for cooking vegetables or another purpose.
Stewed chickpeas
For the chickpeas, take 3 tablespoons of chickpeas and puree them in a blender with 1 cup of the liquid from their can, or their cooking liquid if you prefer to use dried chickpeas. Reserve the chickpea liquid.

In a 10 inch pan or similar, cook the shallot and garlic on medium heat in the 3 Tablespoons of fat for 2-3 minutes, until aromatic.

Add the chickpeas, the pureed chickpea liquid and tomatoes, bring the mixture to a brisk simmer, then add the greens, cover, cook for a minute, then remove the lid and stir to help the greens wilt.

Cook the mixture with the lid off the pan for a few minutes to reduce the juices in the pan. The mixture should be a bit soupy and juicy.
Serving
Meanwhile, gently brown the pieces of lamb shoulder in the reserved fat in a separate pan.

Add the mint to the pan with the chickpeas, then double check the seasoning for salt and pepper, adjust until it tastes good to you, then serve. Spoon the juicy chickpea mixture into bowls or deep plates with a rim, arrange a few pieces of the lamb shoulder on top of each, drizzle over some olive oil, and serve.
Print Recipe
Quick Harissa
Ingredients
1

large red bell pepper

3

large cloves garlic

¼

cup

rendered lamb fat

or substitute flavorless cooking oil

1

teaspoon

ground cumin

1/2

Tablespoon

cayenne pepper

1 1/2

Tablespoon

Smoked paprika
Instructions
Roast the bell pepper on a burner until charred all over, then put in a plastic bag, seal and allow to cool, then peel, de-seed, and coarsely chop. Combine the pepper with the garlic, oil, cumin, cayenne and the smoked paprika in a blender or food processor and puree until very smooth.

Transfer the puree to a small pan and cook on medium heat, stirring constantly for 15 minutes, or until the mixture is deeply caramelized, it's orange color will change to a deep red. Alternately, the pepper paste can be baked in a 350 degree oven for 20-30 minutes being stirred occasionally, until deeply colored.

Reserve the harissa, you should have about 3 tablespoons of paste. Meanwhile, put the lamb in the freezer for 15 minutes while you allow the paste to cool. The harissa can be made ahead of time and refrigerated.