Braised Lamb Neck with Chickpeas and Harissa
Braised lamb neck is one of my favorite cuts of lamb to serve, but cooking a whole neck can be a little intimidating if you've never cooked on before. With that in mind, Shepherd Song Farm has been processing necks in a new way that makes them easy for anyone to cook at home. Instead of only whole lamb necks, you can now order them sliced into individual portions, which makes them cook faster, and means no pulling meat off the bone.
I was excited to share an example of a fun way to cook these, and a simple simmer with tomatoes, chickpeas and spicy harissa paste inspired by Moroccan flavors is really nice. Homemade harissa (recipe below) is very good, and lets you control the heat level a bit more than store-bought versions, that can be very spicy.
If you don't feel like making your own harissa, that's fine, but do be careful adding store-bought versions since most are spicier than the recipe I share below.
The necks cook up so tender you can cut them with a spoon, and the cooking liquid soaks into the tomatoes and chickpeas making for a delicious, simple meal. Serve it with some wilted greens or rice on the side. And don't forget the yogurt!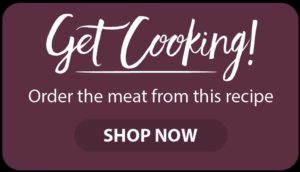 This recipe is by James Beard-Award-winning Chef and author Alan Bergo, the Forager Chef. Alan is chef from Minnesota, and former executive chef of acclaimed Lucia's Restaurant, and the Salt Cellar. Author of The Forager Chef's Book of Flora, he's one of the most respected voices in the world of foraging and wild food. He's best known as the founder of Forager Chef, his website focused on wild ingredients that reaches millions of readers each year. Learn more about Chef Alan and his hunt for mushrooms, wild and obscure foods at foragerchef.com. 
Looking to buy lamb or goat online? Shepherd Song Farm: Grass to table. We raise lambs & goats traditionally, humanely and sustainably. 100% Grass Fed, Pasture Raised, Never Confined, no Hormones, Grains or Animal Byproducts. Born, raised and processed in the U.S.A. Good for you and good for the environment.
More
If you like this dish, make sure to check out: How to Cook Lamb or Goat Neck, with Recipes and Venison Neck Roast with Mushroom Sauce (you can substitute lamb or goat here).
Print Recipe
Braised Lamb Neck with Chickpeas and Tomato
A simple braise of sliced lamb or goat neck with tomato, chickpeas, and harissa paste inspired by the flavors of Morocco. Serves 4
Ingredients
4

slices

lamb neck

2

tablespoons

rendered lamb fat or cooking oil

Kosher salt

1

medium

8 oz yellow onion

¼

teaspoon

dried thyme

1

dried bay leaf

2

tablepoons quick harissa paste

(see recipe)

1

tablespoon

tomato paste

1 15

oz

can whole peeled tomatoes

1

cup

cooked chickpeas

3

cups

lamb stock

1

tablespoon

finely sliced fresh mint

optional

Thick Greek yogurt

loosened with a splash of cream or milk, for serving (optional)
Instructions
Tomatoes
Squeeze the seeds out of the tomatoes, then roughly mince them-a little texture is ok.
Dry brine the lamb
Season the lamb neck slices on both sides with salt and pepper and allow to rest overnight or for at least a few hours before braising.
Browning the meat
In a dutch oven or braising pot large enough to accommodate the neck slices, heat the fat on high until lightly smoking, then brown the neck slices well on both sides, working in batches if needed.

When the neck slices are browned, remove them, add the onion, turn the heat down to medium and cook for 2 minutes, then add the harissa and tomato paste, cook for a minute more, then add the tomatoes and their juice along with the stock and chickpeas.
Braising
Tuck the slices of lamb neck under the liquid, then cook, uncovered in a 275 F oven for 2 hours or until fork tender.

From here the neck can be cooled to room temperature and refrigerated and will improve in flavor if made the day beforehand, but can be served straight-away if needed.
Chilling and de-fatting
After chilling, scrape the excess fat from the top of the pot and discard, or save for cooking some leafy greens to accompany the dish. Alternately, tilt the pan to the side as I do in the video and spoon off most of the fat.
Serving
To serve, Reduce the sauce until the consistency is to your liking, adding a little water if it seems dry, or reducing a bit if it seems loose. Adjust the seasoning for salt until it tastes good to you, then, right before serving, stir in the shredded mint if using.

Put a slice of lamb neck on each of four preheated dinner plates, spoon the pan juices and chickpeas over the top of each, garnish with a dollop of yogurt, and serve.
Video
Print Recipe
Quick Harissa
Ingredients
1

large red bell pepper

3

large cloves garlic

¼

cup

rendered lamb fat

or substitute flavorless cooking oil

1

teaspoon

ground cumin

1/2

Tablespoon

cayenne pepper

1 1/2

Tablespoon

Smoked paprika
Instructions
Roast the bell pepper on a burner until charred all over, then put in a plastic bag, seal and allow to cool, then peel, de-seed, and coarsely chop. Combine the pepper with the garlic, oil, cumin, cayenne and the smoked paprika in a blender or food processor and puree until very smooth.

Transfer the puree to a small pan and cook on medium heat, stirring constantly for 15 minutes, or until the mixture is deeply caramelized, it's orange color will change to a deep red. Alternately, the pepper paste can be baked in a 350 degree oven for 20-30 minutes being stirred occasionally, until deeply colored.

Reserve the harissa, you should have about 3 tablespoons of paste. Meanwhile, put the lamb in the freezer for 15 minutes while you allow the paste to cool. The harissa can be made ahead of time and refrigerated.