Goat Shank Rice and Beans
One of the best parts of my job working with Judy and Larry from Shepherd Song Farm is getting to speak with customers. I handle all kinds of questions: cutting up meat, how to cook specific cuts, troubleshooting, and, of course, details about the recipes on this website.
One thing you may not know is that all of us here at Shepherd Song Farm love to see and hear about how you enjoy your grass fed lamb and goat. Customers often send in images and descriptions of what they make, and, when we can, we love to share customer favorite recipes and traditional family dishes with you. Goat shank rice and beans is one of those dishes, slightly modified from a few notes that our friend XXXXX emailed us.
This is a pretty simple, delicious dish, and a great one you can make ahead of time and reheat. Rice and beans are a sustaining combination, so it's also a good way to stretch a couple precious goat shanks to feed more people than they would eating one shank per person alone, which can be a little much for some people (my girlfriend can never finish a whole shank!). 
To make the dish, you brown some goat shanks or one large lamb shank, simmer it in a garlicky-tomato broth, then simmer your rice in the cooking liquid from the shank, then toss it with some beans and the reserved fat from cooking the shank. The most delicious part comes at the end: sauteeing the chunks of cooked shank meat in lamb fat until golden brown, crisp and delicious, and piling them on top.
Big thank you to John for sending in this delicious, approachable meal!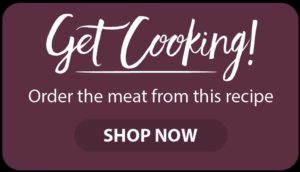 This recipe is by Chef Alan Bergo, the Forager Chef. A chef from Minnesota, Alan is a culinary industry veteran, former executive chef of acclaimed Lucia's Restaurant, and the Salt Cellar. Author of The Forager Chef's Book of Flora, he's one of the most respected voices in the world of foraging and wild food. He's best known as the founder of Forager Chef, his website focused on wild ingredients that reaches millions of readers each year. Learn more about Chef Alan and his hunt for mushrooms, wild and obscure foods at foragerchef.com. 
Looking to buy lamb or goat online? Shepherd Song Farm: Grass to table. We raise lambs & goats traditionally, humanely and sustainably. 100% Grass Fed, Pasture Raised, Never Confined, no Hormones, Grains or Animal Byproducts. Born, raised and processed in the U.S.A. Good for you and good for the environment.
Print Recipe
Goat Shank Rice and Beans
Rice cooked in lamb shank broth with red beans topped with sauteed lamb or goat shanks makes for a filling, delicious meal. Serves 4.
Ingredients
Shank
2

goat shanks (or 1 large lamb shank)

about 1.5 lbs

1

teaspoon

kosher salt

plus more to taste

3

tablespoons lamb fat

separated

3

large cloves garlic

finely minced or grated

2

Tablespoons

tomato paste

2.75

cups

lamb stock

¼

cup

dry white wine

¼

teaspoon

dried thyme

Tiny pinch

1/8 teaspoon cayenne (optional)
Beans and Rice
1

dried bay leaf

¾

cup

long-grain rice

1 15

oz

can kidney beans

rinsed

Vegetable garnish

optional

¼

cup

finely chopped red bell pepper

¼

cup

finely chopped yellow onion

¼

cup

finely chopped celery
Serving
1

small handful chopped parsley and/or chives

(a garnish, optional)
Instructions
Cook the shanks
Season the shank with the salt and allow to dry-brine overnight, uncovered in the fridge. The next day, in a dutch oven or pot that can fit the meat, brown the shank well in a tablespoon of lamb fat.

Drain the fat off and discard, then add another tablespoon of lamb fat, along with the garlic, pushing it to one side of the pan, stir, and cook for 30 seconds.

Add the tomato paste and cook for a minute more, stirring to spread the paste out. Add the wine and deglaze, scraping up the browned bits, then add the stock, thyme and cayenne if using, cover with a sheet of parchment, top with a tight fitting lid, and cook in a preheated 275 F oven for 1.5 hours, or until fork-tender.
Picking the meat
Allow the shanks to cool in their liquid, then remove, pick the meat off and cut into 1 inch pieces and reserve, discarding the bone. Skim as much of the fat from the top of the cooking liquid as you can and reserve to mix with the rice at the end.
Rice
Toast the rice in a 350 F oven for 20-25 minutes or until aromatic and lightly browned, then remove, cool and reserve.

Pour the shank cooking liquid into a container and measure it's volume-you need 1.5 cups to cook the rice. If you have too much liquid, cook it down for a few minutes, if you have too little, add water or stock to make up the difference. Taste the cooking liquid and adjust the seasoning for salt if needed—it should be well-seasoned.

Put the liquid and cooled, toasted rice in a 1 quart saucepot with a lid, bring to a simmer, turn the heat to as low as possible, cover, and cook for 20 minutes, or until tender.

Allow the rice to rest for 5-10 minutes.
Rice and beans
Fluff the rice with a fork and add to a bowl with the beans, along with the reserved fat to taste (melt it to make it easy to pour) along with the parsley and chives if using, mixing gently so as not to break up the rice. Put the meat into a serving dish, cover with foil and keep warm in an oven while you saute the shank meat.
Saute the shank and serve
Heat a tablespoon of lamb fat in an 10 inch cast iron skillet or similar-sized saute pan until almost smoking, quickly saute and brown the pieces of shank, season with a pinch of salt and arrange in the middle of the rice and beans, garnish with the parsley or chives if using, and serve.