Lamb or Goat Osso Bucco with Caramelized Onions
Our special cuts of halved lamb and goat shanks are a great way to enjoy the rich taste of shanks in a smaller portion size. In Italian cuisine, slow-cooked shanks are known as osso bucco or "bone with a mouth" referring to the marrow bone in the center. Our version is a slightly different take on the classic Osso Bucco Milanese, where tender veal shanks are served with a risotto colored with saffron.
In this variation, Chef Bergo simmers the shanks with a generous amount of sweet, tender, caramelized onions, spooning them and the tender shanks on top of a simple, creamy white risotto to finish–which is optional. They take a bit of time to cook, but once you get the onions and lamb in the pot and put it in the oven, the dish mostly cooks itself.
While the shanks are cooking, you can put together the rice and gremolata garnish, which, while optional, make the dish feel like a luxurious, special occasion treat. But, if you want, you could just make the shanks in a crock pot and serve them with some mashed potatoes for a simpler meal. Whatever way you choose, we know you'll love our grass fed lamb and goat shanks!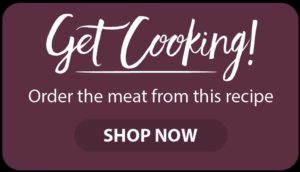 This recipe is by chef Alan Bergo. A chef from Minnesota, Alan is a culinary industry veteran, former executive chef of acclaimed Lucia's Restaurant, and the Salt Cellar. Founder of the website Forager Chef, he's best known as a respected authority on Midwestern foraging. Learn more about Alan and his hunt for mushrooms, wild and obscure foods at Forager Chef. 
Shepherd Song Farm: Grass to table. We raise lambs & goats traditionally, humanely and sustainably. 100% Grass Fed, Pasture Raised, Never Confined, no Hormones, Grains or Animal Byproducts. Born, raised and processed in the U.S.A. Good for you and good for the environment.
Print Recipe
Lamb Osso Bucco with Caramelized Onions and Lamb Bacon
A rich dish of tender braised lamb shanks with sweet caramelized onions. Serves 2 as an entrée, with leftovers.
Ingredients
For the Shanks
1

pack lamb osso bucco

2 shanks cut into 3 pieces each

1.25

lbs

sweet yellow onions

finely sliced

2

ounces

lamb bacon

diced small

1

tablespoon

lamb fat or cooking oil

1

teaspoon

garlic

1

teaspoon

ginger

1

inch

stick of cinnamon

1

large bay leaf

Kosher salt and fresh ground black pepper

to taste

2.5

cups

lamb or chicken stock
For the Gremolata (optional)
1.5

tablespoons

toasted nuts

like pine nuts, sunflower seeds, or hazelnuts

1/3

cup

Italian Parsley

½

Tablespoon

lemon zest
For the White Risotto (optional)
½

cup

risotto rice

¼

cup

white wine

Lamb

chicken, or vegetable stock, as needed, a few cups

½

cup

grated parmesan cheese

2

Tablespoons

unsalted butter

2

tablespoons

finely diced yellow onion

2

teaspoons

lard or cooking oil
Instructions
Osso Bucco
Separate the shank pieces with a heavy knife if needed or still attached to each other. Season the shanks with salt and pepper. In a braising dish, render the bacon in a tablespoon of the fat or oil until crisp, then reserve, keeping the fat in the pan. Add the shanks to the pan and brown, then remove.

Add onions to the pan and cook for 30 min, stirring and deglazing with some stock occasionally if they threaten to burn, until the onions are browned and nicely caramelized.

Add the garlic, ginger, bacon, bay leaf, remaining stock, cinnamon stick and shank pieces back to the pan, cover with parchment, then a lid, and bake at 300 F for 1.5-2 hours, or until the shank meat moves freely from the bone. It's important to keep an eye on the shanks and not overcook them, as they shouldn't fall apart.

Chill the pot completely, skim off the fat and reserve. The shanks will taste better the second day. To serve the shanks, reheat them gently, stirring and adding spoonfuls of stock to create a natural jus.

When the shanks are hot throughout, double check the seasoning, then divide some of the risotto between two heated bowls, spoon 2 shank pieces on top of each, spoon some of the onions and sauce over each one, garnish with a sprinkle of the gremolata, and serve immediately.
Gremolata
Toast the nuts and cool. Very finely dice or grate the citrus zest. Chop the parsley and the nuts together roughly, then mix with the citrus zest and reserve.
White risotto
Sweat the onion in the oil for a few minutes, but do not color. Add the rice and cook for a few minutes more, then deglaze with the wine, cook down, add a ¼ cup of stock at a time and cook, stirring constantly, until the rice is cooked. When the rice is just done, add the butter and cheese and stir vigorously with a wooden spoon, then double check the seasoning, adjust as needed, and serve immediately.