Lamb Meatballs Stew with Greens and Mint
Lamb or goat meatball stew with young onions and greens is a great way to celebrate spring or early summer, when those ingredients are at their peak. The late spring and early summer are Chef Alan Bergo's favorite time of year for harvesting greens, and he was inspired by our foraging lambs and goats while making this recipe, using wild onions, mushrooms, and campion greens from nearby Wisconsin fields.
Starting with your favorite meatballs mix (or using the simple recipe Chef provides) brown a few meatballs, then cook some young onions in the drippings. Add a few wild mushrooms (chef uses pheasant backs in the video), or just shiitakes, a few dried beans and some stock, then cook for a quick 30 to 45 minutes. At the end, the finish the stew with wilted greens and fresh mint to wake up the flavors. By itself, the stew will serve 2-4, but, like many good stews, you may want to double it to ensure leftovers to eat throughout the week!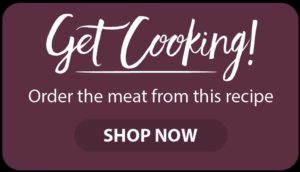 This recipe is by chef Alan Bergo. A chef from Minnesota, Alan is a culinary industry veteran, former executive chef of acclaimed Lucia's Restaurant, and the Salt Cellar. Founder of the website Forager Chef, he's best known as a respected authority on Midwestern foraging. Learn more about Alan and his hunt for mushrooms, wild and obscure foods at Forager Chef. 
Shepherd Song Farm: Grass to table. We raise lambs & goats traditionally, humanely and sustainably. 100% Grass Fed, Pasture Raised, Never Confined, no Hormones, Grains or Animal Byproducts. Born, raised and processed in the U.S.A. Good for you and good for the environment.
Print Recipe
Lamb Meatball Stew with Greens, Fava Beans and Mint
A stew of grassfed lamb or goat meatballs with dried fava beans and mint. Serves 2-4.
Ingredients
Meatballs (or use 1 lb of your favorite recipe)
1

lb

ground lamb

¼

cup

breadcrumbs

1

large egg

¼

lb

lamb bacon

optional you can use our lamb bacon, or your favorite

¼

teaspoon

salt

1/8

teaspoon

crushed red pepper flakes

½

teaspoon

ground black pepper

½

cup

chopped onion or shallot
Stew
6

oz

spring onion

green garlic, ramp bulbs or similar

4

oz

2 cups chopped wild mushrooms

3

cups

meat stock

4

oz

2 packed cups fresh greens, like spinach, nettles, etc

¾

cup

dried fava beans or 2 cups cooked beans or your choice

Fresh mint

for serving

2

tablespoons

cooking oil

Wild flowers

to garnish (optional)
Instructions
Soak the dried fava beans if using in twice their volume of water to cover.

For the meatballs, pulse the bacon in a food processor with the onion or shallot until smooth-ish. Mix the bacon mixture and remaining meatball ingredients, then form into small meatballs.

For the stew, heat the oil in a stew pot or dutch oven, then brown the meatballs. When the meatballs are browned, remove, then add the onions, sweat for a minute, then push to the side and add the mushrooms. Season to taste with salt and pepper.

Add the meat stock, meatballs and soaked fava beans, cover, and cook for 30-45 minutes, or until the beans are tender. Stir in the greens, just to wilt, double check the seasoning for salt and pepper, adjust as needed, and serve garnished with the fresh mint and wildflowers if using.
Video