Chinese Lamb Soup with Watercress
I love adapting traditional recipes for lamb and goat, and Sai Yeung Choy Tong, a Chinese watercress soup with pork ribs has been on my list.
This is a good, minimalist way to enjoy lamb or goat, especially if you're looking for a lighter dish. A big warm bowl of soup is perfect for when it's cool outside, especially the spring, with it's warm days and cold nights, which is when watercress is at it's peak. I harvested my own watercress from the spring where I live, but it isn't difficult to find. You can substitute mustard greens for the watercress, but if you check your local Asian grocer, they probably have lots of watercress, and it's usually very cheap.
Dried mushrooms
Dried mushrooms are helpful for making a rich broth. I used some dried hen of the woods / maitake, but dried shiitake are fine too, or you can omit them, as some traditional recipes seem to do.
Blanching meat for a clear broth
The key to simple soups like this is to build a great tasting broth, and for the best result here, you use a special technique: blanching the meat in water for a minute to keep the broth crystal clear. Cooking meat in water might sound crazy at first, but the depth of flavor comes from long, slow cooking. Cooking the meat in water first doesn't remove flavor, but it does remove impurities that will give you a cloudy broth. After your broth is made it's easy: warm up the broth, add some fresh watercress or mustard greens, along with your favorite noodles, and eat.
Cuts to use
There's a number of cuts you can use here, but for the best flavor and texture, you want to make sure to use a slow-cooking cut. Shoulder or neck is my first choice, but shanks will work too. Don't use meat from the leg, which will get dry.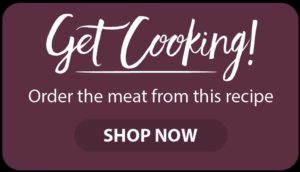 This recipe is by Chef Alan Bergo, the Forager Chef. A chef from Minnesota, Alan is a culinary industry veteran, former executive chef of acclaimed Lucia's Restaurant, and the Salt Cellar. Author of The Forager Chef's Book of Flora, he's one of the most respected voices in the world of foraging and wild food. He's best known as the founder of Forager Chef, his website focused on wild ingredients that reaches millions of readers each year. Learn more about Chef Alan and his hunt for mushrooms, wild and obscure foods at foragerchef.com. 
Looking to buy lamb or goat online? Shepherd Song Farm: Grass to table. We raise lambs & goats traditionally, humanely and sustainably. 100% Grass Fed, Pasture Raised, Never Confined, no Hormones, Grains or Animal Byproducts. Born, raised and processed in the U.S.A. Good for you and good for the environment.
Print Recipe
Lamb Broth with Watercress and Mushrooms
Lamb and watercress soup inspired by the traditional Chinese version using pork ribs.
Ingredients
Soup
1

lb

lamb or goat shoulder or use bone-in lamb or shanks

6

cup

water, for blanching the lamb

2

oz

fresh ginger

cut into ¼ inch slices and whacked with the back of a knife to release the aroma

¼

oz

fresh lemongrass

whacked with the back of a knife and finely diced or minced

.5 oz dried wild mushrooms

such as hen of the woods, shiitake or porcini

1

Tablespoon

finely minced garlic

4

oz

washed and cleaned watercress

you can use more watercress, depending on how much you like greens in your broth

Kosher salt

to taste (start with 1.5 teaspoons and move up from there until it tastes good.
Serving
1/4

cup

soy sauce

or more, for serving

Rice noodles

softened in warm water, for serving (optional)

Sliced scallions

for serving

Toasted sesame oil

for serving (optional)

8

cups

vegetable stock or water
Instructions
Bring 6 cups of water to a simmer. Add the lamb to the water, cover the pot, bring to a boil, turn the heat to a simmer and cook for 2 minutes, then drain and rinse the lamb. Discard the liquid or save for another purpose.

Put the lamb shank and remaining broth ingredients into a pot, cover, bring to a simmer, then cook on low heat for 2 hours, or until the meat is tender.

Season the soup to taste with salt until you like the flavor, then add the watercress and scallions, cook for a minute more to wilt them (or longer if you like the watercress very tender, as some do) then ladle the soup into bowls on top of hot, tender rice noodles, drizzle with some of the sesame oil, and serve. Pass small dishes of soy sauce alongside, to dip the meat in as you eat.