Stuffed Lamb Hearts
Lamb and goat hearts are probably the easiest offal (organ meat) to serve that I know of. Unlike kidneys or liver, hearts are a muscle, so they have a much more mild flavor and meaty texture. Stuffing and braising hearts is a great way to serve them, and something special as lamb and goat hearts are one of the only hearts that are the perfect size for stuffing (pork and beef are too large for a single serving, although they can work as a larger dish.
To stuff the hearts, I used some lamb Italian sausage I made, but you could use whatever you have on hand. Some recipes will use a mixture of breadcrumbs, herbs and cheese, but sausage really helps fill out the shape of the hearts and plump them up, so I recommend trying it first.
There's a few things to know here. The hearts shown in the video are some that I took from an ewe I butchered myself, and they may look different than hearts you purchase in that they still have the outer covering of fat on them, and they're whole. Lamb and goat hearts from Shepherd Song farm will have had the fatty covering removed, and will also be split before sale, which means you'll probably need to secure the hearts with toothpicks if you want to stuff them as I do in this recipe.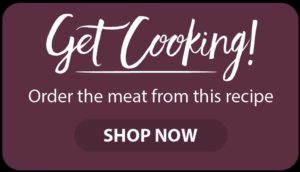 This recipe is by Chef Alan Bergo, the Forager Chef. A chef from Minnesota, Alan is a culinary industry veteran, former executive chef of acclaimed Lucia's Restaurant, and the Salt Cellar. Author of The Forager Chef's Book of Flora, he's one of the most respected voices in the world of foraging and wild food. He's best known as the founder of Forager Chef, his website focused on wild ingredients that reaches millions of readers each year. Learn more about Chef Alan and his hunt for mushrooms, wild and obscure foods at foragerchef.com. 
Looking to buy lamb or goat online? Shepherd Song Farm: Grass to table. We raise lambs & goats traditionally, humanely and sustainably. 100% Grass Fed, Pasture Raised, Never Confined, no Hormones, Grains or Animal Byproducts. Born, raised and processed in the U.S.A. Good for you and good for the environment.
Print Recipe
Stuffed Lamb or Goat Hearts
Lamb or goat hearts stuffed with sausage and braised with tomato and wine is a delicious way to serve hearts anyone will enjoy. Serves 2 with leftovers
Ingredients
2

lamb or goat hearts

4

oz

lamb or goat sausage, or your favorite sausage

This is an approximate amount and may vary depending on the size of your hearts.

1

tablespoon

lamb fat or cooking oil

2

oz

finely chopped yellow onion

1

large clove of garlic

grated or finely chopped

1

cup

tomato sauce or pureed canned peeled tomatoes, strained of their seeds

1

cup

lamb or goat stock

or water in a pinch

¼

cup

dry white wine

Kosher salt and fresh ground black pepper
Serving
Mashed potatoes or your favorite starch

Wilted greens like spinach or kale

Fresh cut chives to garnish, optional
Instructions
Cut half an inch off the top of each heart to expose the chambers that will be filled. Inspect the lamb or goat hearts and rinse the inside with cool water if needed. Stuff the chambers of each heart with small nuggets of sausage until you've filled it as much as you can.

Season the hearts with salt and pepper, then, in an oven-safe pot they will fit in snugly (roughly 2 qt capacity) brown the hearts gently in the oil for a few minutes, turning once or twice. Add the onion and garlic, cook for 5 minutes more or until translucent, then add the wine and reduce by half. Add the tomato puree and stock, bring to a simmer, then cover and bake for 3 hours at 325 or until the hearts are very tender. From here, the hearts can be served straight-away, but they'll benefit from resting overnight. Before serving, skim off as much fat as you can from the braising liquid (this is easier to do after it's chilled as it will solidify slightly).

Assess the consistency of the braising liquid, it should be slightly thickened like gravy, if it looks loose to you, cook the pot with the lid off for 10-15 minutes at a brisk simmer to reduce and concentrate it until it looks good to you.

To serve, remove the hearts from their liquid, carefully slice into ½ inch thick pieces with a sharp knife. In wide plates or entrée bowls that can accommodate sauce, put down a spoonful of mashed potatoes
Video