Smoked Lamb Stew with Sauerkraut
A stew of smoked lamb shanks, sausage and tomatoes with sauerkraut, or the "Butcher's Stew", as I've come to call it, is one of my favorite recipes for feeding a crowd on a cold day.
One evening, after a long day of filming an episode of Daniel Vitalis's TV show Wild Fed, I realized that I was going to have about 10 people over for dinner I wasn't expecting. I only had about two hours to prepare, and not much in the way of fresh ingredients. I didn't have much, but I did have some pieces of smoked meat, a couple sausages, and a can of tomatoes. I cooked everything up to make a quick stew to serve with wild rice, and I was reminded of the German and Eastern European technique of adding sauerkraut to soup-a perfect compliment to smoked meat.
When the guests arrived for dinner and smelled the aromas of smoked meat, spices and tomatoes in the air, they asked what we were eating. I told them it was butcher's stew. People liked it so much I saw one person eat at least 3 servings, and after it was done I'm pretty sure I sent them home with some too. Not too bad for something quick I threw together in a hurry! I liked the recipe so much I decided to write it down so I could make it again. Now, I'm sharing it with you.
Adapting the recipe
This is a good thing to make with leftover meat, especially if you have a smoker. But, if you don't have a smoker, you can add a little bacon and some leftover roasted meat and sausage and it'll be fine too. For the best version, do try to use multiple kinds of meat, as this is supposed to be a rich, meaty dish. Here's a few ideas of meat combinations you might try.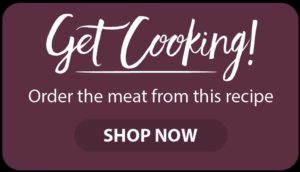 This recipe is by Chef Alan Bergo, the Forager Chef. A chef from Minnesota, Alan is a culinary industry veteran, former chef of acclaimed Lucia's Restaurant, and the Salt Cellar. Author of The Forager Chef's Book of Flora, he's one of the most respected voices in the world of foraging and wild food. He's best known as the founder of Forager Chef, his website focused on wild ingredients that reaches millions of readers each year. Learn more about Chef Alan and his hunt for mushrooms, wild and obscure foods at foragerchef.com. 
Looking to buy lamb or goat online? Shepherd Song Farm: Grass to table. We raise lambs & goats traditionally, humanely and sustainably. 100% Grass Fed, Pasture Raised, Never Confined, no Hormones, Grains or Animal Byproducts. Born, raised and processed in the U.S.A. Good for you and good for the environment.
Print Recipe
Smoked Lamb Stew with Sauerkraut (Butcher's Stew)
A rich, hearty stew made with smoked lamb shanks, sausages, roasted peppers and sauerkraut.
Ingredients
1

large red bell pepper

8

oz

lamb sausage

roughly 2 large sausages

1

lb

lamb shanks

4

oz

lamb bacon

optional-you can omit it and substitute 2 tablespoons of cooking oil or lamb tallow for cooking the onion

1

tablespoon

cooking oil or lamb fat

6

oz

(1 large) yellow sweet onion

1

tablespoon

minced garlic

32

oz

(1 large can) whole peeled tomatoes

1

tablespoon

sweet paprika

5

cups

lamb stock

or water in a pinch

6

oz

sauerkraut

preferably homemade

Kosher salt

to taste

Wild rice

white rice, noodles, or your favorite starch, for serving
Instructions
Peppers
Roast the pepper over a burner until charred all over, then transfer to a bowl, cover with cling film and allow to cool. Rinse the pepper, discarding the skin and seeds, dice the flesh into 1 inch cubes and reserve.
Smoked lamb shanks and sausage
Season the lamb shanks with salt and pepper, then smoke at 250 F for 2 hours. Remove the shanks from the smoker, cut the meat from the bones and dice into chunks for soup. Reserve the meat and the bones.

Cut the sausage into ½ inch coins (this is easier to do with pre-cooked or leftover sausage)
Building the stew
Cook the bacon in the oil in a large soup pot with a roughly 1 gallon capacity until the fat has started to release and it's becoming crisp. Add the onion and garlic and cook for 2-3 minutes, or until translucent, then add the shank meat and sausage, along with the roasted pepper and remaining ingredients.

Cover the pot and cook for 1.5 hours or until the meat is fork-tender.
Serving
Double check the seasoning for salt and pepper, adjust until it tastes good to you, then serve in bowls with wild rice or your favorite starch such as mashed potatoes, white rice, or noodles. Garnish with the sour cream with parley or dill and serve.