Rosemary Lamb Shoulder
Slow-roasted, fall-off-the-bone lamb shoulder is a beautiful thing.
Inspired by Italian recipes for lamb that often include making cuts in the meat and inserting slivers of garlic, I take a different approach here with the same flavors by piercing the meat all over with a paring knife and rubbing the marinade onto the meat, resting overnight before roasting in the oven. The next day, the lamb shoulder cooks low and slow at 250F for five hours until it's fork tender and the meat is falling from the bone. After that, you carve pieces off and serve it like a roast.
Cooking in parchment
A little tip for roasting hidden in this recipe is using parchment to cook large pieces of lamb. There's a number of recipes on this site that cook large pieces of lamb in the oven wrapped in parchment, for a reason.
Wrapping in parchment is almost magical: the meat cooks is cooked by steam trapped inside of the paper, gently cooking the meat to tender fall-off-the-bone perfection. But, unlike methods of cooking like cooking in a covered pot or pan, the meat will brown and crisp through the paper as it steams.
The finished shoulder makes a great centerpiece for a meal, especially for people who like their meat well-done. When I make them, I'm usually feeding 2 people, which means there's some leftover for sandwiches the next day. To bring back the tender texture, warm up leftover slices of shoulder before eating.
Variations
I use a wet marinade with oil here, but other seasoning mixtures can work too. Here's a few ideas.
Marinate the meat in seasoned buttermilk using 3 tablespoons of salt for every 4 cups of buttermilk
Add grated orange zest or citrus to the basic rosemary marinade after crushing in the mortar and pestle
Use your favorite dry rub
Brine the lamb using the brine from our smoked lamb ham 
Other cuts you can use
This is a great thing to do with lots of the larger cuts from a lamb or goat. Here's some other options. Ideally, you want a piece of meat on the bone. If you want something easier to carve, try the rolled breast–even though it doesn't have a bone it works well too. Shepherd Song sells all of the cuts below.
Neck
Racks
Whole legs
Rolled breast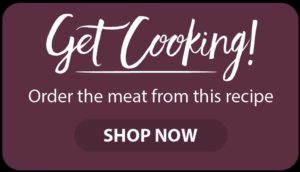 This recipe is by Chef Alan Bergo, the Forager Chef. A chef from Minnesota, Alan is a culinary industry veteran, former chef of acclaimed Lucia's Restaurant, and the Salt Cellar. Author of The Forager Chef's Book of Flora, he's one of the most respected voices in the world of foraging and wild food. He's best known as the founder of Forager Chef, his website focused on wild ingredients that reaches millions of readers each year. Learn more about Chef Alan and his hunt for mushrooms, wild and obscure foods at foragerchef.com. 
Looking to buy lamb or goat online? Shepherd Song Farm: Grass to table. We raise lambs & goats traditionally, humanely and sustainably. 100% Grass Fed, Pasture Raised, Never Confined, no Hormones, Grains or Animal Byproducts. Born, raised and processed in the U.S.A. Good for you and good for the environment.
Print Recipe
Rosemary Lamb Shoulder
Lamb or goat shoulder seasoned with rosemary and slow-roasted to fall-off-the-bone perfection.
Ingredients
1

whole lamb or goat shoulder

2

Tablespoons

chopped fresh rosemary

3

large cloves garlic

2

tablespoons

oil

1

teaspoon

black pepper

¼

teaspoon

red pepper flakes

1.5

teaspoons

salt
Instructions
Combine all ingredients except the lamb shoulder and oil in a mortar and pestle or a food processor. Grind/pulse the mixture to break it up, then add the oil, one tablespoon at a time, mashing to make a loose paste.

Pierce the lamb all over with a paring knife, rub with the marinade, then vacuum seal or put in a bag and allow to marinate overnight.

The next day, wrap the lamb shoulder in parchment paper and bake for 2 hours at hours at 250 F. Increase the heat to 275 F and bake for 2 more hours, or until the meat feels soft when you push on it through the paper. Most lamb or goat shoulders should be tender at the 4 hour mark, but if they aren't, turn the heat down to 250F and cook for another hour. Remove the lamb from the oven allow to rest for a few minutes before serving, then cut open the paper and carve.
Video