Lamb Head Demi-Glace
Demi-glace, a sort of heavily reduced meat stock, is one of the building blocks of classic French cuisine, and is usually seen as unapproachable or too much work for making at home, requiring many hours of simmering, large amounts of bones, and massive stock pots. While it's difficult to recreate the same glace I used I was taught to make exactly, you can make an approximation at home with a lamb head and a crock pot that comes pretty close, and by close, I mean good enough to fool plenty of chefs.
I worked in restaurants where whole animals were used, and we would often have demi-glace made from a couple different animals at a time, depending on what we'd been ordering. While it's not commonly known, pork, beef, chicken, goat, lamb and venison bones can all be used to make glace, and are basically interchangeable for cooking purposes.
While traditionalists might say you need veal knuckle or other specific bones, I can tell you after years of making glace from all kinds of bones of different animals, the most important thing for making a decent demi is just having some good bones, and a long cooking time. You don't get a lot of bones from a lamb or goat compared to a cow, but, unlike a cow, lamb and goat heads are of a manageable size, and can fit in a large crockpot or pasta pot most people will have in their home kitchens.
How to make it
Glace is more of a technique than an actual recipe. Technically speaking, demi-glace will be stock reduced to half of its volume, and in a professional kitchen where a batch of stock can include 20 lbs of bones or more, the half reduction will work for most applications. But, for the richest product, you want true glace, which is a further reduction of demi-glace, typically arriving at around 20-30% of the starting volume of stock, or less depending on the bones you start with and the collagen they contain, at least from my experience. The home recipe I'm outlining here is only reduced to 30%, but I hardly ever measure it. The most important part is that the reduction has achieved a rich, dark color and silky body. See below for how far I reduced this lamb glace I made at home.
Tips
The easiest way to make this is in a crock pot, but for larger batches, I use a stock pot.
A crock pot will gradually evaporate liquid, so there usually isn't a need for reducing the glace further after 48 hours of cooking, but the exact amount of liquid left after cooking can vary a bit.
Glace is precious and will eventually go bad in the fridge, so I like to freeze it. For easy portioning, I pour the finished sauce into ice cube trays and freeze in a re-sealable vacuum bag, pulling out cubes of it as I need it.
How to use
Demi-glace by itself isn't something you're going to use as a sauce. Think of it as a sort of meat essence you can add to sauces. Traditionally, a spoonful is added to things like peppercorn sauce, and many others. One of my favorite versions of glace is made from pureeing roasted, peeled, seeded tomatoes with it, which ends up tasting a bit like super-meaty tomato gravy. It can also be added to soups for a little color and extra flavor like you would a bouillon cube.
Using glace to make sauces
In professional kitchens, demi-glace is used as a building block to make lots of different sauces. Here's some of my favorites.
Fruit glace
Adding fresh or dried fruit like blueberries with red wine vinegar and a touch of sugar, reducing down and whisking in a little butter to finish is a great, sweet-sour sauce for roasted and grilled meats.
Mushroom glace
Sweat some mushrooms in oil with a little shallot until they mushrooms have evaporated their liquid. Add a couple glugs of red wine and reduce it down by half. Add some glace-just enough to keep everything juicy, and whisk in a little unsalted butter, swirling and stirring the pan to thicken it. At restaurants, I would often make this with mushroom duxelles.
Mustard glace
Add some whole-grain mustard and a splash of heavy cream to your glace, whisking in a nob or two of unsalted butter and simmering to thicken the sauce.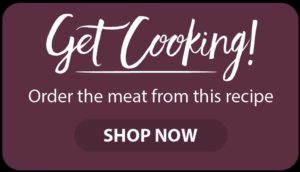 This recipe is by Chef Alan Bergo, the Forager Chef. A chef from Minnesota, Alan is a culinary industry veteran, former chef of acclaimed Lucia's Restaurant, and the Salt Cellar. Author of The Forager Chef's Book of Flora, he's one of the most respected voices in the world of foraging and wild food. He's best known as the founder of Forager Chef, his website focused on wild ingredients that reaches millions of readers each year. Learn more about Chef Alan and his hunt for mushrooms, wild and obscure foods at foragerchef.com. 
Looking to buy lamb or goat online? Shepherd Song Farm: Grass to table. We raise lambs & goats traditionally, humanely and sustainably. 100% Grass Fed, Pasture Raised, Never Confined, no Hormones, Grains or Animal Byproducts. Born, raised and processed in the U.S.A. Good for you and good for the environment.
Print Recipe
Lamb Head Demi-Glace
Demi glace made at home using a crock pot and a lamb or goat head. Makes about 2 cups.
Ingredients
3.5

lbs

bones

or a lamb head and a few handfuls of trim or meaty bones

2

tablespoons

tomato paste

1

cup

red wine

1

small onion roughly chopped

1

medium carrot roughly chopped

1

rib celery roughly chopped

A few sprigs of fresh thyme

10 peppercorns, and 1 dried bay leaf, wrapped in cheesecloth and tied for easy removal.

Water

as needed, about 5 cups
Instructions
Roast the head at 350 F for 45 minutes or until browned, then put into an 8 qt slow cooker with the remaining ingredients. Cook on low for 48 hours, then strain.

Chill the glace, skimming any fat that rises to the surface and discarding. Inspect the glace and it's set-it should be very firm like jello. If it isn't firmly set, you can reduce it in a small pan to concentrate it, just keep an eye on it.

After the glace is done, t can be refrigerated for up to a week. I like to freeze it in ice cub trays, vacuum-sealed and kept in the freezer to use as needed.