Brined Leg of Lamb
Bringing a whole leg of lamb, just like you would a turkey, is a delicious way to prepare a larger cut of meat for holidays or crowds. After the leg is brined, it can be roasted, or smoked. The leftovers are one of my favorites for sandwiches.
I would often brine meats before cooking to ensure that all of the seasoning was even and dependable. Having the meat pre-seasoned meant that I knew the meat was seasoned exactly how I wanted it, which helped to decrease the margin of error with having line cooks season things. At home it's a trusty way to cook a roast, and ensure a juicy, perfectly seasoned result.
Exactly what sort of brine should be used to meat can be a confusing topic. Here's some quick tips I've learned over the years from using many different kinds of brines.
Should you put sugar in a brine?
Not with this recipe. I don't put sugar in brines unless I want the result to taste like ham. Sugar can make somethings taste good (ham and bacon) but if you use it on meats with skin (poultry) it will prevent you from having crisp skin, making it rubbery after it's cooked. Sugar also speeds up the browning process, and can make it easier for things to burn instead of brown.
How long to brine the meat
The time you brine the meat can be a little flexible, but I don't recommend having the meat in the brine for longer than 24 hours, with 12 hours is the least amount of time. Leaving the meat in the brine for over 24 hours can over-season it.
Cooking and finishing
After the meat's brined, you have a couple options for cooking. As sizes and weights vary, as well as oven temperature calibrations, I recommend using a thermometer to check the temperature rather than relying on a specific length of time. For cooking, I recommend one of two methods: smoking, and slow roasting.
Smoking
Smoking is my favorite here, and it's very easy. After the meat's brined, you remove it and pat-dry, rub with oil, and smoke at 250F until the meat is 137-140F (roughly 2.5 hours) which will give you a medium to medium well result after the meat has rested.
Roasting
To roast the leg, you'll put it on a hot oven 450F for 15 minutes, then turn the heat down to 250, then finish cooking to your desired temperature as above.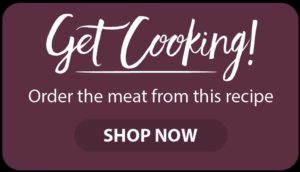 This recipe is by Chef Alan Bergo, the Forager Chef. A chef from Minnesota, Alan is a culinary industry veteran, former chef of acclaimed Lucia's Restaurant, and the Salt Cellar. Author of The Forager Chef's Book of Flora, he's one of the most respected voices in the world of foraging and wild food. He's best known as the founder of Forager Chef, his website focused on wild ingredients that reaches millions of readers each year. Learn more about Chef Alan and his hunt for mushrooms, wild and obscure foods at foragerchef.com. 
Looking to buy lamb or goat online? Shepherd Song Farm: Grass to table. We raise lambs & goats traditionally, humanely and sustainably. 100% Grass Fed, Pasture Raised, Never Confined, no Hormones, Grains or Animal Byproducts. Born, raised and processed in the U.S.A. Good for you and good for the environment.
Print Recipe
Brined Leg of Lamb
Brining a leg of lamb is a delicious way to prepare a whole leg. After it's brined it can be smoked or roasted. Serves 4-6
Ingredients
One whole leg of lamb

about 3-4 lbs

2

dried bay leaves

8

tablespoons

salt

2

qt

water

1

small onion

chopped

2

large cloves garlic

crushed with the back of a knife

1

teaspoon

black pepper corns

1

rib celery

chopped

1

carrot

chopped

A few sprigs of fresh rosemary or thyme

optional, use a good pinch of dried if you don't have fresh
Instructions
Bring the brine ingredients to a boil then cool completely. Submerge the leg of lamb in the brine in a small pot or similar container (or a thick plastic bag set into a flat tray or Tupperware to prevent spills) where it will fit snugly. Refrigerate the roast for at least 12 and up to 24 hours.

Remove the roast, pat dry, and coat with 2-3 teaspoons of vegetable oil.
Smoking
Smoke the roast at 250F until a thermometer entered in the center reads 137-140F. This should take roughly 2-3 hours depending on the temperature outside around the smoker.
Roasting
To roast the brined leg, preheat an oven to 450F. Put the lamb on a baking sheet lined with a roasting rack, roast for 15 minutes, then turn the heat down to 250F and cook until 137-140F in the center.

Remove the roast from the oven or smoker and allow to rest in a warm place for 20 minutes. You can put it in a warm oven to reheat for a bit before serving if you want.

Carve the lamb with a long sharp knife, and serve on heated plates with seasonal vegetables or your favorite accompaniments.