Grilled Lamb Leg Steaks with Serviceberry Sauce
Nothing says summer like outdoor cooking, and lamb leg steaks from Shepherds Song are great choice for the grill. Lamb leg steaks are a cross-cut of the leg, which gives them an appearance similar to a ham steak. They can be tricky to cook in a pan as they can curl occasionally and the bone may not want to lay flat, so open fire-cooking is my first choice for them.
In the summer I work with a lot of different fruits. Serviceberries, a berry from a shrub that tastes like an almond crossed with a blueberry are one of my favorites, and although they make a great pie, they also make a great sauce for grilled meats. If you don't have access to serviceberries or they don't grow near you, frozen wild blueberries are available in many grocery stores and make a great substitute.
It's easy to make. You take a couple handfuls of berries and cook them with shallots, red wine, a splash of vinegar and a pinch of sugar, and simmer them until the sauce is rich and has a beautiful color. At the end you stir in a knob of unsalted butter to thicken it, and spoon all of the berries and their juices over the grilled meat.
For a fun summer vegetable side I serve these with squash or pumpkin shoots. These are one of my favorite edible parts of the plant, and they're enjoyed around the world in different cuisines. They're worth searching for if you haven't tried them. If you don't have any squash plants growing, just serve them with your favorite wilted greens or some steamed broccoli. If you think squash shoots sound like fun, you also might be interested to know that you can cook with unripe green squash and pumpkins too-they cook up a little like zucchini.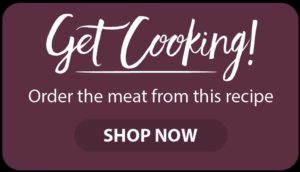 This recipe is by James Beard award-winning Chef Alan Bergo, the Forager Chef. A chef from Minnesota, Alan is a culinary industry veteran, former chef of acclaimed Lucia's Restaurant, and the Salt Cellar. Author of The Forager Chef's Book of Flora, he's one of the most respected voices in the world of foraging and wild food. He's best known as the founder of Forager Chef, his website focused on wild ingredients that reaches millions of readers each year. Learn more about Chef Alan and his hunt for mushrooms, wild and obscure foods at foragerchef.com. 
Looking to buy lamb or goat online? Shepherd Song Farm: Grass to table. We raise lambs & goats traditionally, humanely and sustainably. 100% Grass Fed, Pasture Raised, Never Confined, no Hormones, Grains or Animal Byproducts. Born, raised and processed in the U.S.A. Good for you and good for the environment.
Print Recipe
Grilled Lamb Steaks with Serviceberry Sauce
Grilled lamb leg steaks with a tangy sauce made from serviceberries or wild blueberries. Serves 2
Ingredients
Lamb
2

lamb leg steaks

Kosher salt and fresh ground black pepper

2

teaspoons

cooking oil

such as grapeseed

8

squash shoots

or a mix of shoots and flowers, or your favorite green vegetable
Serviceberry Sauce
1.5

cups

fresh serviceberries

divided (frozen wild blueberries or huckleberries can be substituted)

2

Tabespoons

demi glace

optional, you can substitute ½ cup chicken stock and reduce it until saucy in a pinch

2

oz

finely diced or chopped shallot

1

teaspoons

minced ginger

¼

cup

dry red wine

1/4

cup

homemade vinegar made from berries

you can substitute red wine vinegar or rice wine vinegar

2

teaspoons

maple syrup

or a pinch of sugar, to taste

3

tablespoons

unsalted butter

Squeeze of fresh lemon juice

to taste
Instructions
Sauce
Heat the shallot, ginger and half of the butter in an 8 inch saute pan. Season with a pinch of salt and pepper and cook for 4-5 minutes, or until translucent. Add 2 cups of the serviceberries and cook, mashing the berries up with a spoon a bit.

Cook until the berries are hot throughout and have started giving up their juice. Add the red wine, spruce syrup and demi glace and simmer for a few minutes.

Season the sauce to taste with a pinch of salt. The sauce should be hot and juicy, if it looks loose, reduce it a bit and mash the berries up a bit more. Demi-glace helps make an instant sauce, so if you substitute chicken stock your sauce will be a little lighter, it's fine. Think of this less like lamb steaks with berry sauce and more like steaks with a pile of juicy berries.

Double check the seasoning of the sauce. It should be just barely sweet, with a little sour from the vinegar. If you set the pan aside to rest while you prepare the other ingredients and it looks dry, add a splash of water and reheat it gently before serving.
Squash Shoots
Bring a pot of lightly salted water to a boil. Blanch the squash shoots for 10 seconds, then remove them to a pan with a drizzle of oil and a pinch of salt and cook for a minute or two until they're tender and taste good to you.
Lamb Steaks
Season the lamb steaks with salt and pepper and allow to rest for an hour or two (and up to overnight for the best flavor). Lightly oil the steaks and cook over a wood fire or on a grill until nicely browned and 140F (medium) in the center. Remove the steaks from the grill to rest for 3-4 minutes before you serve.
Serving
Lay a lamb steak on each of two dinner plates. Divide the sauce evenly between the steaks, piling the berries on top. Arrange the squash shoots next to the steaks, and serve.