Smoked Lamb Shoulder
If you want irresistibly juicy and tender pulled lamb, a great option is a smoked lamb shoulder. Both lamb and goat shoulders are perfect cuts for smoking as they have lots of intermuscular fat and require long-cooking to be tender enough to slice or shred. This smoked lamb shoulder recipe is one I make regularly, and is very similar to how I cook pork butt, or pork shoulder to make pulled pork. Here's how to make it, and what to do with it when it's done.
How to Make Smoked Lamb Shoulder
With smoked meats and barbecue, one of the most important things I do is season the meat overnight before cooking. Also known as dry-brining, this helps the salt penetrate the meat, and can be the difference between an ok barbecue, and an incredible one. I season the meat with salt, wrap it in cling film and allow it to rest overnight. The next day season the meat with a dry-cure, you can use your favorite barbecue seasoning or use the rub I describe in the recipe.
After the meat is seasoned, you smoke it at 250 F for 3 hours, then remove and wrap the lamb in parchment butcher paper to finish in the oven for another 2 hours. Wrapping the meat in paper allows to cook gently and steam, and prevents the meat from drying out. If you don't have parchment paper, you can wrap in aluminum foil. It's a great technique to know and can be used for many different cuts of meat, like slow cooked leg of lamb, or racks of lamb.
When the meat is tender, it can be sliced, or shredded to make pulled meat for sandwiches or as part of a barbecue platter. Make sure to save the smoked bone to make soup too! Once you see how tender wrapping meat in parchment is, if you're like me, you might start using the technique on many other slow-cooking cuts too.
How to Serve Smoked Lamb Shoulder
A whole smoked shoulder is very versatile and can be used for lots of different things. If you shred the meat, make sure to season it with salt and pepper to taste, along with some oil to keep it moist, such as grapeseed oil or melted lamb fat. Depending on how you're feeling you can serve this with your favorite barbecue side dishes like collard greens, coleslaw, and cornbread, or with other seasonal accompaniments. It's great anytime of the year.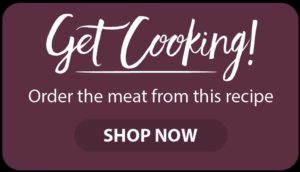 This recipe is by James Beard award-winning Chef Alan Bergo, the Forager Chef. A chef from Minnesota, Alan is a culinary industry veteran, former chef of acclaimed Lucia's Restaurant and the Salt Cellar. Author of The Forager Chef's Book of Flora, he's one of the most respected voices in the world of foraging and wild food. He's best known as the founder of Forager Chef, his website focused on wild ingredients that reaches millions of readers each year. Learn more about Chef Alan and his hunt for mushrooms, wild and obscure foods at foragerchef.com. 
Looking to buy lamb or goat online? Shepherd Song Farm: Grass to table. We raise lambs & goats traditionally, humanely and sustainably. 100% Grass Fed, Pasture Raised, Never Confined, no Hormones, Grains or Animal Byproducts. Born, raised and processed in the U.S.A. Good for you and good for the environment.
Print Recipe
Smoked Lamb Shoulder
Fork-tender smoked lamb shoulder perfect for a barbecue plate, salads and sandwiches.
Equipment
1 smoker

Parchment paper

Baking sheet or baking pan
Ingredients
1 3

lb

lamb shoulder

A drizzle

1.5 teaspoons cooking oil, like grapeseed or canola

1

teaspoon

kosher salt

2

tablespoons

dry rub

recipe follows
Dry Rub
2

teaspoons

whole all spice

1.5

teaspoons

coriander seed

1.5

teaspoons

cumin seed

2

teaspoons

cayenne pepper

2

Tablespoons

brown sugar

1/4

cup

sweet paprika

2

Tablespoons

onion powder

1

Tablespoon

garlic powder
Instructions
Grind the whole spices, then combine with the rest of the spices in a bowl and mix well. You'll have some cure leftover for making other smoked meats.

Inspect the lamb shoulder and gauge how much fat there is. If I see large pockets of fat 1 inch or more deep I like to trim them down with a knife. I usually discard the trim or use it as a dog treat.

Season the lamb shoulder with the salt all over on each side-this will take about 1.5-2 Tablespoons of cure. Wrap the shoulder in cling film and allow to rest in the fridge overnight.

On a baking sheet, rub the lamb shoulder with the oil. Wipe your hands dry, then season the lamb all over with about 2 tablespoons of the dry rub.

Place the lamb in a smoker and cook at 250 F for 3 hours, then wrap in parchment paper like a present and cook for at another two hours, or until the meat is tender when pierced and shreds when pierced with a fork.

Remove the shoulder from the oven and allow to rest for 10 minutes, then slice with a knife, or pull the meat from the shoulder blade and shred with two forks.
Shredding for pulled meat
Shred the meat and season with salt, pepper, and oil to taste, mixing well and adjusting the seasoning until it tastes good to you. Serve hot with toasted buns and coleslaw for a great smoked lamb barbecue sandwich.
Slicing as a roast
Slice the meat and serve as you would roast lamb with seasonal vegetables. Sometimes I like to add horseradish sauce on the side.
Notes
Wrapping in parchment 
Wrapping in parchment is optional, if you don't have any parchment, put the shoulder in a baking dish with a lid and enough water to barely cover the bottom of the dish. Put the lid on and cook, covered until the meat is fork-tender. Or you can wrap the lamb in aluminum foil. 
Internal temperature 
Some recipes may call for cooking to a specific temperature. I don't advise this as it can be tough. 
Nutrition
Serving:
4
oz
|
Calories:
383
kcal
|
Carbohydrates:
1
g
|
Protein:
57
g
|
Fat:
15
g
|
Saturated Fat:
5
g
|
Polyunsaturated Fat:
1
g
|
Monounsaturated Fat:
6
g
|
Cholesterol:
183
mg
|
Sodium:
779
mg
|
Potassium:
834
mg
|
Fiber:
0.2
g
|
Sugar:
0.1
g
|
Vitamin A:
53
IU
|
Vitamin C:
0.2
mg
|
Calcium:
55
mg
|
Iron:
6
mg