Goat Belly Taco Bowls
Costa Rican chifrijo, a sort of small taco bowl, are a famous boca (appetizer) popular in the country. It's a simple mixture of things you might see on a plate of food in the region like rice, beans, avocado, and pork, but the way it's presented makes it a novel, delicious snack to seek our if you're wandering the area in search of great local food, or if you're looking to take a quick vacation from your home, wherever you live.
Chef Bergo loves to travel and eat, and on a trip to Costa Rica to visit family, chifrijo was one of the foods on his list he'd been meaning to try. The simple appetizer became his favorite dish of the whole trip, and one that he added to his canon of favorite Latin American recipes to recreate back home in the United States.
Similar to a nacho or salsa bowl, but also it's own, unique thing, chifrijo is a blend of techniques. The bowl starts off with a mix of rice and beans, topped with fresh tomatoes or pico de gallo, and crisp fried chicharrones, avocado, and corn chips for scooping, but, curiously, the bowls are always served very juicy, by adding some of the cooking liquid from beans or meat along with everything else. The broth, meat, rice and beans, combined with chips may look like a small snack, but it it's like a meal!
Traditionally, culantro is used widely in Costa Rica, so that's what chef uses here, but using some cilantro is just fine too. If you have an Asian market in your area, look for culantro there, or, just skip it. Another thing to know about the ingredients that might surprise you is that in Costa Rica, food is not served spicy. If you like a little heat, adding some chopped or pickled jalapenos to your taco bowl is great, just don't tell your Costa Rican friends we said so!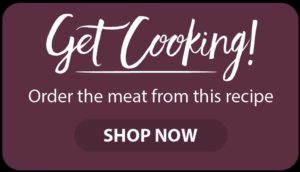 This recipe is by chef Alan Bergo. A chef from Minnesota, Alan is a culinary industry veteran, former executive chef of acclaimed Lucia's Restaurant, and the Salt Cellar. Founder of the website Forager Chef, he's best known as a respected authority on Midwestern foraging. Learn more about Alan and his hunt for mushrooms, wild and obscure foods at Forager Chef. 
Shepherd Song Farm: Grass to table. We raise lambs & goats traditionally, humanely and sustainably. 100% Grass Fed, Pasture Raised, Never Confined, no Hormones, Grains or Animal Byproducts. Born, raised and processed in the U.S.A. Good for you and good for the environment.
Print Recipe
Goat or Lamb Belly Chifrijo
Serves 3 as an appetizer or light lunch
Ingredients
Pico de gallo
1

medium tomato

diced

1

small jalapeno

seeds removed, diced small

1

tablespoon

chopped onion

Pinch

of salt and fresh ground black pepper

Cilantro or culantro

to taste

Dash of lime juice

Sliced fresh avocado

for serving

Fresh lime wedges

for serving

High quality tortilla chips

for serving
Rice and beans
1.5

cups

cooked beans

or 1 15 oz can with some reserved cooking liquid or use dried beans

½

cup

long grain rice or substitute 1.5 cups cooked
Goat or lamb belly
1

lb

Lamb or goat belly

Small chunk of yellow onion

2-3

dried bay leaves

1

teaspoon

salt

4

cups

water

Handful of garlic cloves

whole

Generous pinch cumin
Instructions
Cut the goat or lamb belly into 5 oz pieces about the size of a closed fist, then brown in a small pot you can braise them in. As the fat renders, add the onion and garlic cloves and brown lightly. Add the water, cumin, salt, bay, cover, and simmer on low or bake at 300 for 2 hours.

Remove the pot from the oven, cool until you can handle it, then inspect the goat pieces for any visible sinew (see video) and remove. Chop the goat belly into cubes and reserve. Reserve 1 cup of the cooking liquid for finishing the chifrijo and 1 cup for cooking the rice.

Meanwhile, toast the rice in a 350 F oven for 20 minutes or until light golden, then combine with a pinch of salt and 1 cup of the reserved goat liquid, bring to a simmer, turn the heat to low, cover and cook for 15 minutes, then turn the heat off and allow to steam and finish cooking.

Combine the beans with the reserved 1 cup of goat stock, adding any juice from the can if using canned beans. If you use dried beans, you can cook them in the goat stock. Season the beans to taste lightly with salt and pepper if needed.

Combine the ingredients for the pico de gallo, season to taste and reserve.

Bake the goat pieces in a heavy skillet at 350F until the fat is rendered and the goat is crisp. Spoon off the fat as it cooks for cooking more beans, potatoes, or other dishes if desired. Keep the goat pieces hot.

To finish the chifrijo, heat the rice, and heat the beans along with their liquid. In small soup bowls, put ½ cup each rice, followed by the beans, and about ¼ cup of cooking liquid. Garnish with the pico de gallo and crispy hot goat belly, avocado, and tortilla chips for scooping.