Braised Lamb or Goat Sausages
Slow cooked sausages are delicious. If you like sausages like I do, you might find it interesting to know that you can take just about any sausage you like, and, instead of cooking until they're just done, you can simmer them with some liquid (or tomato as I do here in this version inspired by one I made at an Italian restaurant in St. Paul) and cook them until they're very tender. If you like slow-cooked meat and things like pot roast, you'll love trying your hand at braising some sausages. Here I'm using the same recipe for fennel sausage made from goat shoulder I shared in our post on lamb fennel sausage as it's a traditional flavor, but many different types and flavors of sausage would work fine.
At the restaurant, we would cook two whole 4 ounce pork sausages slowly with wine and tomato sauce until they were nearly falling apart, then we'd put two of them inside of a sort of flat pocket bread with peppers, onions and cheese and bake it. It was a massive portion any way you look at it, and I don't think I know anyone besides the owner of the restaurant who could eat a whole one. In the recipe below, I recommend tossing the sausages and their sauce with some pasta, but serving the sausages and their sauce over polenta would be great too. If you've only ever cooked sausages quickly in the oven or on the grill, I think you'll really love this variation.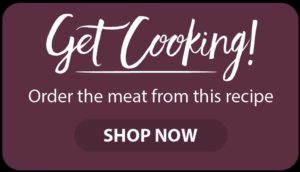 This recipe is by Chef Alan Bergo, the Forager Chef. A chef from Minnesota, Alan is a culinary industry veteran, former executive chef of acclaimed Lucia's Restaurant, and the Salt Cellar. Author of The Forager Chef's Book of Flora, he's one of the most respected voices in the world of foraging and wild food. He's best known as the founder of Forager Chef, his website focused on wild ingredients that reaches millions of readers each year. Learn more about Chef Alan and his hunt for mushrooms, wild and obscure foods at foragerchef.com. 
Looking to buy lamb or goat online? Shepherd Song Farm: Grass to table. We raise lambs & goats traditionally, humanely and sustainably. 100% Grass Fed, Pasture Raised, Never Confined, no Hormones, Grains or Animal Byproducts. Born, raised and processed in the U.S.A. Good for you and good for the environment.
Print Recipe
Braised Lamb Or Goat Italian Sausages
Lamb or goat sausages braised fork-tender with onions, tomato, wine and herbs are great tossed with pasta or served over soft polenta. Serves 4-6
Ingredients
1

lb

lamb or goat Italian sausages

1 32

oz

can whole peeled tomatoes

2

oz

yellow onion

2

large cloves garlic

½

cup

lamb or chicken stock

½

cup

dry red wine

¼

teaspoon

kosher salt

Pinch

of crushed red pepper flakes

2

teaspoons

cooking oil
Finishing and serving
1

lb

cooked pasta, such as penne

1

tablespoon

unsalted butter

Grated parmesan cheese, for serving

Small handful of chopped Italian parsley, to garnish, optional
Instructions
Heat a 3 quart sauce pot with the cooking oil until hot. Add the sausages and allow to cook for a few minutes on medium heat until lightly browned on both sides.

Meanwhile, finely chop the garlic and onion together and add to the pan with the sausages and cook for 3-4 minutes or until softened. Add the red wine, along with the tomato puree, bring to a simmer, cover and cook in the oven for 2 hours at 275 F.

Remove the pan from the oven carefully, remove the lid, and tilt the pan, spooning off excess oil and discarding. Remove the sausages from the pan, add the pasta, which should be hot, stir to mix with the sauce, adding the parsley and butter and mixing.

Double check the seasoning of the sauce for salt and hot pepper and adjust until it tastes good to you. Add the sausages back to the pan, along with the pasta if using, simmer for a few minutes to mix the flavors and help the pasta absorb the sauce, and serve. Pass parmesan at the table.
Notes
Skimming fat from the finished dish 
After your sausages are done cooking, you may notice some oil on the top, which is natural. I suggest pouring some of it off before serving. If your sauce looks too thick or dry after cooking, add a little water and stir, bring it to a simmer to adjust the consistency until you like it.