Thai-Inspired Goat Curry
Lamb and goat are very traditional meats in curries around the world, and this one, loosely inspired by the flavors of Thai red curries, is one of my favorites. It's creamy and rich, spicy, and pairs perfectly with some freshly cooked rice.
I've put a number of different curries on this website, and all of them are unique. The ingredients here are a little different from the classic curry we have in this post, as well as Jamaican goat curry, and you'll taste the difference. If you really want to go the extra mile, you'll want some of the following on hand, but the most important is the curry paste. If you don't have access to galangal, lime leaves or lemongrass, I'd still give this a shot-it will still be great!
Galangal
Galangal is a rhyzome that resembles large ginger. You can find it fresh or frozen at your local Asian market.
Thai red curry paste
There's many versions of Thai red curry paste, but, as my great uncle lived in Thailand and used to bring me back ingredients to cook with, I'm partial to the curry paste in a small can. There are jarred versions that may be more economical as they can be resealed, but I'm hooked on the cans. Feel free to use whatever type you like, just remember that curry paste is often quite salty.
Lime leaves
Kaffir lime leaves can be found in the fresh or frozen section of your local Asian market. Just a few add a great flavor to coconut curries and they can be frozen until you need them.
Lemongrass
Most people will know lemongrass. It can be found in the fresh or frozen section of your local Asian market, but I also see it at most of the coops and nicer grocery stores now.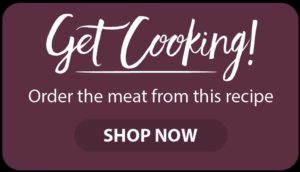 This recipe is by Chef Alan Bergo, the Forager Chef. A chef from Minnesota, Alan is a culinary industry veteran, former executive chef of acclaimed Lucia's Restaurant, and the Salt Cellar. Author of The Forager Chef's Book of Flora, he's one of the most respected voices in the world of foraging and wild food. He's best known as the founder of Forager Chef, his website focused on wild ingredients that reaches millions of readers each year. Learn more about Chef Alan and his hunt for mushrooms, wild and obscure foods at foragerchef.com. 
Looking to buy lamb or goat online? Shepherd Song Farm: Grass to table. We raise lambs & goats traditionally, humanely and sustainably. 100% Grass Fed, Pasture Raised, Never Confined, no Hormones, Grains or Animal Byproducts. Born, raised and processed in the U.S.A. Good for you and good for the environment.
I like to fit in as many fresh vegetables as possible to things, so, although it probably isn't traditional, I add some watercress to the curry at the end. If you don't have watercress, you could substitute fresh spinach, or skip it. 
Print Recipe
Thai Goat Curry with Watercress
A simple Thai-inspired red curry with goat shoulder, vegetables, coconut milk, dried mushrooms and watercress. Serves 4
Ingredients
Curry
1

lb

goat or lamb shoulder

2

tablespoons

cooking oil

such as grapeseed

1

can regular coconut milk

high fat

½

oz

small handful dried mushrooms (optional)

1 15

oz

can chickpeas

you can add one large bell pepper cut into the same shape as the carrots instead if you want more vegetables

2

tablespoon

minced lemongrass

1 ½

inch

slice galangal

whacked with the back of a knife

3

cups

meat stock

1

large

8 oz yellow onion

1

large

6oz carrot

8

oz

fresh watercress

2

tablespoons

Thai red curry paste

or more to taste

Dash of fish sauce
Serving
Fresh mint

to garnish

Freshly cooked rice

for serving

Sprigs of fresh watercress

to garnish, optional

Sliced scallions

to garnish, optional
Instructions
Cut the meat into 1 inch cubes, then season with salt and pepper. In a dutch oven or similar, heat the oil until hot and brown the meat.

Meanwhile, square off the carrot so it resembles a long rectangle, then cut it into 2 inch julienne strips.

Add the onion to the pot, stir, and cook for 5 minutes more. Add the remaining ingredients except the watercress, then turn the heat to low and cook for 1 hour or until the meat is tender. Meanwhile, wash and dry the watercress, then chop into 2 inch lengths.

Add the water cress to the pot, cover, and cook until tender. If the curry threatens to get dry, adjust the consistency by adding some water until it looks good to you.

Double check the seasoning for salt and curry paste (keep in mind most curry paste is salty) adjust until it tastes good to you, and serve with freshly cooked rice and sprigs of fresh water cress.