Spicy Lamb Meatballs
Spicy lamb meatballs are easy to make and so delicious I can eat the whole batch-especially if they're cooked in a spicy tomato sauce. This is my favorite spicy lamb meatball recipe. If you love spicy food like I do, make sure to try this one or bookmark it for later. It's easy to add your favorite hot seasonings like fresh chilis, dried chilis, hot sauce, or whatever you like. Read on and I'll explain how to make them.
Ingredients
You'll need ground lamb or goat, breadcrumbs, egg, herbs like cilantro, green onions, and a few spices. The heat can come from a few different places, and you should feel free to experiment. I like to use a combination of cayenne and crushed red pepper flakes for a bold flavor. After the meatballs are formed, the best way to cook them, at least the first time, is to braise them in a simple tomato sauce until tender. While you can bake the meatballs like you would beef or pork, lamb meatballs are a bit more lean and really benefit from being cooked slow until tender, or cooked fast until medium-medium rare in the center, which can be difficult for home cooks to master.
Step-by-Step
First you combine the ground meat, scallions, herbs and spices.
I add spices like cumin, coriander (fennel can be good too) and grated garlic. The meat mixture is mixed by hand, and it's a good idea to use gloves as it's spicy, just in case you have the habit of touching your face while you work, which happens to the best of us. Once the meat is mixed and seasoned, I like to let it rest overnight for the best flavor but you can cook it right away.
Before you cook the meatballs and serve, it's important to cook a small piece to test the seasoning and adjust as needed until it tastes not just good, but perfect to you. It's nothing for me to cook 1, 2, or 3 small test bites when making a batch of meatballs or sausage. Once you're happy with the flavor, roll the meatballs out with lightly oiled hands, brown lightly in a pan, then add a can of pureed tomatoes and simmer until spoon-tender.
You can also fry the meatballs in a pan, just make sure to undercook them a bit. When I saute lamb meatballs, I love serving them with a yogurt sauce and a fresh green salad. They're pictured below with a few garnishes from my yard: caraway leaves, creeping bellflowers, bee balm flowers, and a salad of purslane and lambsquarters.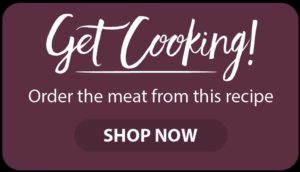 This recipe is by James Beard award-winning Chef Alan Bergo, the Forager Chef. A chef from Minnesota, Alan is a culinary industry veteran, former chef of acclaimed Lucia's Restaurant and the Salt Cellar. Author of The Forager Chef's Book of Flora, he's one of the most respected voices in the world of foraging and wild food. He's best known as the founder of Forager Chef, his website focused on wild ingredients that reaches millions of readers each year. Learn more about Chef Alan and his hunt for mushrooms, wild and obscure foods at foragerchef.com. 
Looking to buy lamb or goat online? Shepherd Song Farm: Grass to table. We raise lambs & goats traditionally, humanely and sustainably. 100% Grass Fed, Pasture Raised, Never Confined, no Hormones, Grains or Animal Byproducts. Born, raised and processed in the U.S.A. Good for you and good for the environment.
Print Recipe
Spicy Lamb Meatballs
Spicy grass fed lamb meatballs braised until spoon-tender in a simple tomato sauce. Makes about 28 small, bite-sized meatballs.
Equipment
2-3 quart sauce pot

1 baking sheet

3 quart mixing bowl
Ingredients
1

lb

ground lamb

1

teaspoon

kosher salt

1

teaspoon

smoked paprika

2

teaspoons

chili powder

½

teaspoon

ground cumin or coriander

½

teaspoon

fresh ground black pepper

1/4 -1/2

teaspoon

cayenne pepper

to taste

1/2

teaspoon

crushed red pepper flakes

1

teaspoon

grated or finely minced garlic

½

cup

sliced scallions

½

cup

sliced cilantro or a mix of herbs

1

large egg

1/3

cup

breadcrumbs

1

tablespoon

mayonnaise

1 32

oz

can whole peeled tomatoes
Instructions
Meatballs
In a bowl, mix the breadcrumbs, egg and mayonnaise. Add the ground lamb and remaining ingredients.

Cook a small piece of the meat mixture. Taste the seasoning and judge whether you think it needs more salt, herbs, or heat. Adjust with a pinch or two of whatever you feel is needed, mix again, and cook another small piece. Repeat this process until the meatballs taste perfect to you.

Refrigerate the meat mixture overnight for the best flavor.

Preheat the oven to 350 F.

Roll out the meatballs using lightly oiled hands. You can make them different sizes, but 1/2 oz meatballs (1 tablespoon) are a good size for appetizers. For entrée portions, I use 2 oz meatballs or larger.

Arrange the meatballs on a parchment lined baking sheet and bake for 10 minutes.
Tomato Sauce
Squeeze the seeds from the tomatoes into a sink or a bowl and discard. Put the tomatoes and their juice from the can in a blender.

Mix the meatballs in a 2-3 quart pot with the tomato puree, bring to a simmer and cook covered for 30 minutes – 45 minutes, or until the meatballs are spoon tender. Double check the seasoning of the sauce for salt, pepper and spiciness and adjust until it tastes good to you.

Serve the meatballs with something to catch the sauce like soft polenta, pasta or mashed potatoes. They can also be served as an appetizer with toothpicks.
Notes
Sauteed Lamb Meatballs with Yogurt Sauce 
The other dish pictured in this post is made by quickly sauteeing the meatballs to medium, then serving on a bed of yogurt sauce with a green salad. It's tricky to get the meatball temperature right and have them not be dry, so save this for after you braise them in the tomato sauce. 
Yogurt Sauce
1 cup thick Greek yogurt
2 oz (1/4 cup) grated cucumber, squeeze of water
Kosher salt, to taste
1 teaspoon grated garlic
Grated zest of one lemon
½ cup chopped fresh cilantro or a mix of herbs
2 tablespoons fresh lemon juice
method 
Mix all ingredients in a bowl, double check the seasoning for salt, pepper and herbs and adjust until it tastes good to you. Quickly brown the meatballs in a heavy pan in a little cooking oil, which should take about 4-5 minutes. The meatballs should be pink inside and are safe to eat undercooked, just like beef. 
Nutrition
Serving:
3
oz
|
Calories:
296
kcal
|
Carbohydrates:
12
g
|
Protein:
16
g
|
Fat:
21
g
|
Saturated Fat:
8
g
|
Polyunsaturated Fat:
3
g
|
Monounsaturated Fat:
8
g
|
Trans Fat:
0.01
g
|
Cholesterol:
83
mg
|
Sodium:
737
mg
|
Potassium:
534
mg
|
Fiber:
2
g
|
Sugar:
4
g
|
Vitamin A:
807
IU
|
Vitamin C:
16
mg
|
Calcium:
85
mg
|
Iron:
3
mg