Spring Goat Chops with Ramp Butter
Winter is over here in Wisconsin, and that means there's a wealth of delicious green things coming from the ground. One thing I love the most about goats is that they're natural foragers, and come springtime both of us are looking around for all kinds of different young green, tender plants.
Surrounded by all the beautiful green plants (and Shepherd Song's beautiful rack of goat) I wanted to make a dish as a tribute to goats and their love of foraging, so I harvested a few wild plants to serve with the rack I cut into chops.
There's a lot of different wild greens you could use here, and I used a big variety to show the possibilities, but even if you just grabbed a few nettles or whatever greens you have available, it will still be good.
If you live in a place where it's hard to access wild greens, or you worry about the locations they grow in from pollution, etc, a mix of sauteed spinach, kale, and a few handfuls of Italian parsley can make a decent substitute.
One of the best parts of the dish is ramp leaf butter-a staple in my house that I make from the young leaves of ramps / wild leeks that thrive in the valleys and hills of Wisconsin near where the lambs and goats of Shepherd Song are raised. Ramp butter is a great thing to eat in and of itself, but if you don't have access to any (check a farmers market or order them online) you can substitute a little melted garlic butter finished with a dash of lemon juice. See my recipe for ramp leaf butter here. Another great vegetable to use you may not have used before are hosta shoots.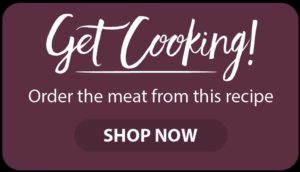 This recipe is by Chef Alan Bergo, the Forager Chef. A chef from Minnesota, Alan is a culinary industry veteran, former executive chef of acclaimed Lucia's Restaurant, and the Salt Cellar. Author of The Forager Chef's Book of Flora, he's one of the most respected voices in the world of foraging and wild food. He's best known as the founder of Forager Chef, his website focused on wild ingredients that reaches millions of readers each year. Learn more about Chef Alan and his hunt for mushrooms, wild and obscure foods at foragerchef.com. 
Looking to buy lamb or goat online? Shepherd Song Farm: Grass to table. We raise lambs & goats traditionally, humanely and sustainably. 100% Grass Fed, Pasture Raised, Never Confined, no Hormones, Grains or Animal Byproducts. Born, raised and processed in the U.S.A. Good for you and good for the environment.
Print Recipe
Spring Rack of Goat with Wild Greens and Ramp Butter
A rack of goat served with wild greens goats might like to eat, and delicious butter made from wild leeks. Serves 2
Ingredients
16

oz

goat rack

2 bones per person, or roughly half a rack

8

ounces

fresh wild spring greens

see note

Kosher salt and fresh ground black pepper

¼

cup

ramp butter

see note

Fresh lemon juice, a few dashes to taste
Instructions
Trim the rack and score
Trim some of the fat from the top of the rack of goat until there's about ¼-1/8 inch, depending on your preference. Flip the rack over and remove the thin membrane from over the rib bones on the underside (optional, but typically done in restaurants).

Score the fat in a ½ inch cross-hatch pattern to help it to render and crisp. Cut the rack of goat in half to make two 2-bone chops, then season each chop all over with salt and pepper and allow to rest in the fridge overnight, uncovered (optional, but gives a richer flavor).
Greens
Wash the greens well and dry them, making sure to look over them for rogue blades of grass or other foreign objects.

If you're greens are very young and are a size that can be twirled easily on a fork, leave them whole, if they are long, consider roughly chopping them.

Prepare a pasta pot or similar with a steaming basket and keep warm.

Preheat an oven to 350 F.
Cook the Chops
Put the goat chops fat-side down in a 10 inch cast iron skillet or similar, and heat on medium-high until the fat starts to render. Drain the fat as necessary (save it for making great fried potatoes, if you like).

Continue cooking the goat chops on the stove until the fat side is golden brown, then gently kiss the sides for a few seconds, then transfer to the oven, fat-side down, and cook for 10 minutes, or until a thermometer inserted in the center reads 135 F.
Finishing and serving
Remove the chops and allow to rest on a paper towel in a warm place for at least 5-10 minutes before slicing.

Meanwhile, steam the greens until just barely tender, trying not to overcook them. Very young greens may cook in 3-4 minutes, or until they're tender and taste good to you.

Melt the ramp butter in a butter warmer or in a container in the microwave and keep warm. Just before serving, add a dash of lemon juice.

To serve, divide the freshly steamed greens between two preheated dinner plates in a mound slightly off center near the top.

Cut each goat chop in half and arrange them, bones pointed up, then drizzle the greens with ramp butter, as well as the chops, garnish with a few sprigs of spring wild flowers if using, and serve with lemon wedges on the side.
Video
Notes
Wild Greens 
I used nettles, campion, watercress, toothwort, dandelions, day lily shoots, and a few other plants, but you can use whatever you like. The garnish is a wildflower named spring beauty. If you don't have access to any wildflowers, it's fine to skip them.