Barnsley Chops with Mustard Sauce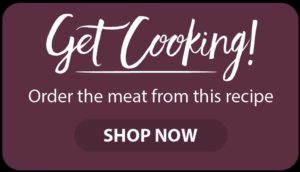 The Barnsley Chop
The Barnsley Chop is a sort of double loin chop made by cutting across the saddle. Think of it like two lamb T-bone steaks put together. They're a great alternative to lamb loin and t-bone chops. They're also easier to cut at home if you do home butchery. If you want to know how to cut your own, take a look at my post: The Barnsley Chop.
The chops are usually broiled or pan-fried and are easy to cook. If you can make a regular lamb chop, you can cook a Barnsley chop. Here I serve them with a spicy mustard barbecue sauce that's a good compliment to any kind of meat.
Tips for success
Cooking Barnsley chops is different from typical lamb chops. You can broil them, but my favorite is starting them fat-side down in a pan
What to serve with Barnsley Chops
You can serve anything you'd usually serve with lamb chops here. A simple saute of vegetables is great. Wilted greens like collards or kale are also very good.
This recipe is by James Beard award-winning Chef Alan Bergo, the Forager Chef. A chef from Minnesota, Alan is a culinary industry veteran, former chef of acclaimed Lucia's Restaurant and the Salt Cellar. Author of The Forager Chef's Book of Flora, he's one of the most respected voices in the world of foraging and wild food. He's best known as the founder of Forager Chef, his website focused on wild ingredients that reaches millions of readers each year. Learn more about Chef Alan and his hunt for mushrooms, wild and obscure foods at foragerchef.com. 
Looking to buy lamb or goat online? Shepherd Song Farm: Grass to table. We raise lambs & goats traditionally, humanely and sustainably. 100% Grass Fed, Pasture Raised, Never Confined, no Hormones, Grains or Animal Byproducts. Born, raised and processed in the U.S.A. Good for you and good for the environment.
Print Recipe
Pan-Fried Barnsley Chops with Mustard Sauce
Double lamb or goat chops with a spicy-sweet mustard sauce.
Equipment
1 heavy based saute pan

such as a cast iron skillet
Ingredients
Chops
Barnsley Chops

I like to serve 2 per person

Kosher salt and fresh ground black pepper

Cooking oil

a small amount for browning the chops

Maple Mustard BBQ Sauce

Makes about 4 cups
Ingredients
2

dried guajillo chilies or 1 T chili powder

this is mostly for color and a touch of heat

1

cup

hot water

1

teaspoon

onion powder

½

teaspoon

salt

1

cup

mustard

such as Dijon or American yellow mustard

2

oz

maple syrup

4

oz

flavorless cooking oil
Instructions
Mustard Sauce
Toast the chilies in a 300F oven until crisp, about 15 minutes. Cool the chilies, break off the stems, remove the seeds and discard.

Crumble the chilies and combine with the hot water in the blender. Puree the chilies and the water to make a smooth puree, then add the remaining ingredients except the oil. Finally, drizzle in the oil, transfer to a container and store.
Barnsley Chops
Season the chops with salt and pepper and allow to rest overnight. The next day, put the chops in a cast iron pan fat side down.

Turn the heat on and bring it up to medium high. Brown the chops on all sides. Remove from the pan and allow to rest in a warm place for a few minutes. Serve with the sauce on the side.

A bowl of wilted collard greens makes a good accompaniment.