Dry-Rubbed Lamb Chops
Cooking a whole rack of lamb or goat is difficult, and having it come out of the oven at finding out that it's overcooked is something I always fear, even when I know that I've cooked them perfectly. If that sounds familiar, you have to try dry-rubbed lamb chops.
To make dry-rubbed lamb chops, I cut a rack of lamb or goat into individual chops, season with salt, apply a dry rub (here I use a rub based on Jamaican curry) and let them sit overnight to marinate. After the chops have marinated for at least 24 hours or longer, you cook them individually, which is much easier than trying to perfectly cook a whole rack. It's also a great option for people who prefer their lamb or goat chops a little more well done, since this will give you chops that are just barely pink on the inside.
Racks aren't the only chops that will be good cooked like this. Our grass-fed lamb and goat loin chops will work fine too, and are typically a little cheaper than buying a whole rack, so consider them as an alternate option.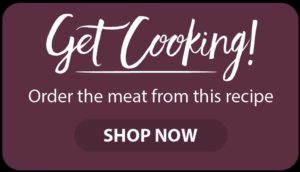 This recipe is by Chef Alan Bergo, the Forager Chef. A chef from Minnesota, Alan is a culinary industry veteran, former executive chef of acclaimed Lucia's Restaurant, and the Salt Cellar. Author of The Forager Chef's Book of Flora, he's one of the most respected voices in the world of foraging and wild food. He's best known as the founder of Forager Chef, his website focused on wild ingredients that reaches millions of readers each year. Learn more about Chef Alan and his hunt for mushrooms, wild and obscure foods at foragerchef.com. 
Looking to buy lamb or goat online? Shepherd Song Farm: Grass to table. We raise lambs & goats traditionally, humanely and sustainably. 100% Grass Fed, Pasture Raised, Never Confined, no Hormones, Grains or Animal Byproducts. Born, raised and processed in the U.S.A. Good for you and good for the environment.
Print Recipe
Dry-Rubbed Lamb Chops
Lamb or goat chops with a Jamaican curry dry rub.
Ingredients
Lamb
1

rack or lamb or goat

Kosher salt
Jamaican Curry Rub
1

Tablespoon

curry powder

1

Teaspoon

onion powder

1

teaspoon

garlic powder

2

teaspoons

allspice

½

teaspoon

cumin seed

¼

teaspoon

cayenne

1

teaspoon

black pepper

1

teaspoon

dried thyme

½

teaspoon

cinnamon

1

teaspoon

sugar
Cucumber Sauce
1

cup

4oz cucumber, peeled, seeded and diced

¼

cup

2 oz thick Greek yogurt

1

small clove garlic

grated

A few scrapes of fresh lemon zest

to taste

Kosher salt

to taste

Pinch

of dried

crumbled oregano
Instructions
Combine all the ingredients for the rub and grind to a find powder in a spice grinder.

French the rack by removing the fat (refer to our post on how to do that). Cut the rack into chops, season lightly on both sides with kosher salt, then sprinkle with the rub, completely coating the chops. Transfer the seasoned chops to a container with a tight-fitting lid or a zip-top bag and refrigerate overnight and up to 72 hours.

Cucumber sauce

For the cucumber sauce, combine the cucumbers and yogurt in a container and buzz with a handblender until thick, alternately you can use a food processor. Add the oregano, lemon zest and salt to taste and reserve.

Finishing and cooking

To cook and finish the lamb chops, heat a large pan or a griddle (griddles are great for cooking a bunch of chops at a time) and grease lightly with oil. Cook the chops until well browned on both sides, about 2-3 minutes each, depending on your preferred doneness, transferring finished chops to rest in a 200F oven until the others are done if needed.

Serve the chops with seasonal vegetables and the cucumber sauce alongside.