Goat Chops with Red Wine Olive Sauce
Goat chops with a quick sauce of red wine, olives and rosemary is a variation of one of my favorite dishes I was taught to make from a chef I worked for from Milan, Italy. At the restaurant, we'd make this dish with pork tenderloins, but it's even better made with goat or lamb chops.
Take a few chops from the loin, either t-bones or rib chops, season them with rosemary, salt and pepper and let them sit overnight, or for at least a few hours, then brown them quickly and make a pan sauce from red wine, olives, shallot, and a splash of goat or lamb demi-glace, which is optional. It's a great, quick way to serve goat or lamb chops, and is also good with mushrooms added, especially chanterelles, black trumpets, or just your favorite from the grocery store.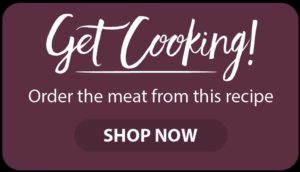 This recipe is by Chef Alan Bergo, the Forager Chef. A chef from Minnesota, Alan is a culinary industry veteran, former executive chef of acclaimed Lucia's Restaurant, and the Salt Cellar. Author of The Forager Chef's Book of Flora, he's one of the most respected voices in the world of foraging and wild food. He's best known as the founder of Forager Chef, his website focused on wild ingredients that reaches millions of readers each year. Learn more about Chef Alan and his hunt for mushrooms, wild and obscure foods at foragerchef.com. 
Looking to buy lamb or goat online? Shepherd Song Farm: Grass to table. We raise lambs & goats traditionally, humanely and sustainably. 100% Grass Fed, Pasture Raised, Never Confined, no Hormones, Grains or Animal Byproducts. Born, raised and processed in the U.S.A. Good for you and good for the environment.
Print Recipe
Goat Loin Chops with Red Wine, Rosemary and Olives
Seared goat loin or lamb chops with a quick pan sauce made from rosemary, olives and red wine. Serves 2
Ingredients
1

tablespoon

lamb fat

1

tablespoon

unsalted butter

2

oz

finely diced shallot

1

teaspoon

chopped rosemary

2

oz

lamb demi glace

2

oz

lamb stock or water

4

oz

dry red wine

½

cup

pitted kalamata olives

halved
Instructions
Season the lamb chops with the rosemary, salt and pepper and allow to rest overnight in the fridge, or for at least a few hours. Heat the lamb fat in a 8-10 inch pan that can accommodate the lamb chops, and brown the lamb chops well on both sides.

Remove the lamb chops and keep warm in a dish with a rim to catch any juice. Add the shallots and butter to the pan, cook for two minutes, then add the flour, stir, and cook a minute more.

Add the olives, wine and demi glace to the pan, along with the stock or water and any juice from the chops, bring to a simmer and cook until thickened, about 3-4 minutes.

Double check the seasoning for salt and pepper, add the lamb chops back to the pan and heat through, then serve the chops with the olives and sauce spooned over them.