Goat Loin Chops with Highbush Cranberry Tkemali
Goat and lamb loin chops make for a great, modest meal depending on how many you serve. Recently Shepherd Song started experimenting with a new cut specification: leaving the tails or a bit of rib meat on the bottom of the chop, and they make for a really great dish.
In America, lamb and goat loin or t-bone chops are almost always sold cut similarly to how you would get a beef or pork t-bone steak, just the two loins separated by the middle bone. With beef and pork these make a very sizeable entree, often 12-16 oz or more depending on how thick they're cut. In Britain they have a similar cut made from two lamb chops put together called the Barnsley Chop.
Lamb and goat are much smaller, so the t-bone chops don't have as much meat on them and it takes more of them to create an entree, so, around the world, (especially in South Africa as I'm told) lamb and goat loin chops are often cut with the "tail" or a small amount of rib meat left on them. Leaving the tail on makes each chop just a little bit bigger, and I really like the cut.
Shepherds Song isn't currently offering them for sale, but if we get enough interest in them, they may go into production. Would you like to see us sell a cut like this? If so, send us a message and let us know. If you want, we can probably set up a special  order for you in the meantime.
Highbush cranberry Tkemali
Besides the meaty goat chops, the other fun part of this dish is a traditional sauce from the Caucuses called Tkemali. A spicy, herby sauce used as a ketchup-like condiment, Tkemali is traditionally made from the tkemali plum found in Georgia and the surrounding area.
Since I don't have access to Georgian tkemali plums, which are very tart, I've been making the sauce from my local, wild highbush cranberries that grow wild in Northern Minnesota and Wisconsin. Highbush cranberry tkemali is an excellent rendition of the classic. If you don't have highbush cranberries, you could make a loose puree from cranberries pureed in a blender that would be a decent substitute.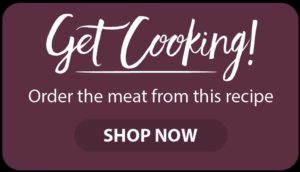 This recipe is by Chef Alan Bergo, the Forager Chef. A chef from Minnesota, Alan is a culinary industry veteran, former executive chef of acclaimed Lucia's Restaurant, and the Salt Cellar. Author of The Forager Chef's Book of Flora, he's one of the most respected voices in the world of foraging and wild food. He's best known as the founder of Forager Chef, his website focused on wild ingredients that reaches millions of readers each year. Learn more about Chef Alan and his hunt for mushrooms, wild and obscure foods at foragerchef.com. 
Looking to buy lamb or goat online? Shepherd Song Farm: Grass to table. We raise lambs & goats traditionally, humanely and sustainably. 100% Grass Fed, Pasture Raised, Never Confined, no Hormones, Grains or Animal Byproducts. Born, raised and processed in the U.S.A. Good for you and good for the environment.
Print Recipe
Grilled Goat Loin Chops with Tkemali Sauce
Grilled goat or lamb loin chops with tkemali sauce made from highbush cranberries.
Ingredients
8 goat loin chops

2 per person

Kosher salt and fresh ground black pepper

Oil for the grill, as needed
Garnishes
Fresh greens, like watercress

Sliced radishes

1

cup

Freshly made or high quality hummus, at room temperature

Fresh mint leaves, to garnish
Instructions
For the goat chops, season the goat chops on both sides with salt and pepper and allow to rest overnight in the fridge, uncovered.

To cook the chops, start a wood fire, then grill them for 2-3 minutes on each side, or until about 135-140 F depending on your preference. Allow the chops to rest for 3-4 minutes in a warm place while you assemble the plates.

Put a large spoonful of hummus off-center on each of four dinner plates, then arrange the chops attractively in the middle. Toss the fresh greens and radishes with salt, pepper, olive oil and lemon juice to taste, as well as a few torn leaves of fresh mint.

Drizzle a thread of olive oil over each chop, along with some of the tkemali around the sides and serve.