Lamb Ragu with Black Trumpet Mushrooms
Our ground lamb and goat are great for pasta sauce, and making a simple ragu of ground lamb or goat to toss with your favorite pasta can make for an easy dinner if you're pressed on time, as long as you think ahead a bit (I like to make sauces like this a day beforehand and reheat them, just like in restaurants).
This lamb ragu is a little different than typical sauces based on large amounts of tomato though, it's a lighter, more delicate sauce made from simmering ground lamb with chopped vegetables and the stars: dried black trumpet mushrooms. Black trumpet mushrooms are one of the best for drying and rehydrating as they keep their subtle texture after rehydrating without getting tough. Dried morel mushrooms are another good example, although much more expensive.
Using stew meat and ground meat
The ragu uses both ground meat and lamb stew meat for a good combination of textures, but you could substitute all of one or the other if you like.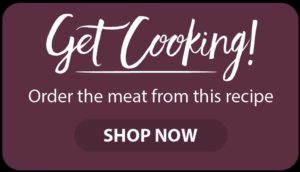 This recipe is by Chef Alan Bergo, the Forager Chef. A chef from Minnesota, Alan is a culinary industry veteran, former executive chef of acclaimed Lucia's Restaurant, and the Salt Cellar. Author of The Forager Chef's Book of Flora, he's one of the most respected voices in the world of foraging and wild food. He's best known as the founder of Forager Chef, his website focused on wild ingredients that reaches millions of readers each year. Learn more about Chef Alan and his hunt for mushrooms, wild and obscure foods at foragerchef.com. 
Looking to buy lamb or goat online? Shepherd Song Farm: Grass to table. We raise lambs & goats traditionally, humanely and sustainably. 100% Grass Fed, Pasture Raised, Never Confined, no Hormones, Grains or Animal Byproducts. Born, raised and processed in the U.S.A. Good for you and good for the environment.
Print Recipe
Lamb Ragu with Pancetta and Black Trumpet Mushrooms
A rich ragu of ground lamb or goat with black trumpet mushrooms tossed with your favorite pasta.
Ingredients
For the ragu
1

lb

ground lamb

1

lb

lamb stew meat

diced ½ inch

1

Small carrot

1

Celery stalk

1

Medium-sized onion

2

large cloves garlic

½

teaspoon

salt

2

tablespoons

tomato paste

All purpose flour or equivalent

as needed

20

grams

Roughly one heaping cup dried black trumpet mushrooms or another dried mushroom you like porcini

1

cup

meat stock such as lamb, or water in a pinch

1

cup

dry white wine

1

cup

milk

4

oz

lamb pancetta

prosciutto, or bacon, diced ¼ inch

1

tablespoon

chopped fresh thyme

optional

Cooking oil or lamb tallow

as needed about 1/4 cup
For serving
Fresh chopped Italian parsley

to taste

4

tablespoons

unsalted butter

Grated parmesan

to taste

Generous amount of fresh ground black pepper

12

oz

dry penne

rigatoni, fusilli, or another short pasta
Instructions
Mushrooms
Soak the dried mushrooms in the milk and stock for 15 minutes, then agitate to remove any grit, squeeze out the liquid and remove to a cutting board. Pick the mushrooms over and remove any pieces of stem that could still include grit. Leave the mushrooms as whole as possible. Strain the soaking liquid, leaving the last tablespoon in the dish and discarding, along with any dirt.
Ragu
If possible, season the stew meat aggressively with salt and pepper and allow to rest, uncovered in the fridge overnight on a tray or plate to dry out for the best sear, which will make the best brown bits to flavor the sauce.

Rough chop the vegetables and garlic, then puree in a blender with the stock and milk. In a wide pan, preferably a dutch oven, heat the oil.

Toss the diced, seasoned meat in the flour and brown deeply, then add the tomato paste and cook for a few minutes more, stirring occasionally to loosen bits from the pan and trying to get as much color on everything as possible.

Add the ground meat slowly in small handfuls, mashing it up with a spoon and cooking off it's water so it browns in the bottom of the pan. Add a splash of wine, scrape up the brown bits, and reduce again until the pan is dry, then repeat 2-3 times to build up a good, dark foundation.

Finally add the remaining wine, thyme and pureed vegetable slurry, bring to a simmer and cook for 1 hour, or until tender. Adjust the seasoning, cool, cover and refrigerate.
Serving
To serve the ragu, heat a heaping half-cup of ragu per person in a wide pan. Meanwhile, cook the pasta until aldente, then toss with the ragu, along with a few tablespoons of cooking water, and the butter. Simmer for a minute to coat the pasta with the sauce, taste and adjust the seasoning, then toss in some parsley and grated parmesan off the heat, and serve.