Goat Larb
Larb, a dish of ground lamb seasoned with things like lime leaves, lemongrass, fish sauce, herbs and hot chili, served with lettuce as a sort of rustic wrap, is one of my favorite quick meals to put together when I have ground meat. Traditionally pork is used to make the dish, but it's even better made with ground lamb, or ground goat as I've used here. All you do is marinate some ground meat, cook it, then eat hot spooned into lettuce cups with a special sauce on the side–that's it.
It's a simple dish that comes together quickly, but for the best version, you'll need to take a trip to your local Asian grocer for a couple key ingredients. There's lots of variations of larb, but I really like mine seasoned with lemongrass and finely chopped lime leaves–those, along with some fish sauce, are really the only things most people might not keep in their pantry. Depending on how busy your local Asian grocer is, lime leaves and lemongrass might be sold fresh (in a busy, urban area) or frozen (rural areas and smaller stores). Either frozen or fresh lime leaves and lemongrass will work just fine here–the most important thing is that they're both finely chopped. I also like a little crunch with mine, so I added some black walnuts, but toasted peanuts are fine too, or you could omit them.
Lemongrass
Lemongrass needs to finely chopped to not taste stringy. Use a heavy knife and finely mince it–just a table spoon is enough to flavor a pound of meat.
Lime leaves
Lime leaves may seem a little tough when you try to chop them with a knife, but it's worth it–the delicious citrus aroma they lend to the dish is incomparable.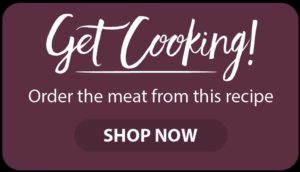 This recipe is by Chef Alan Bergo, the Forager Chef. A chef from Minnesota, Alan is a culinary industry veteran, former executive chef of acclaimed Lucia's Restaurant, and the Salt Cellar. Author of The Forager Chef's Book of Flora, he's one of the most respected voices in the world of foraging and wild food. He's best known as the founder of Forager Chef, his website focused on wild ingredients that reaches millions of readers each year. Learn more about Chef Alan and his hunt for mushrooms, wild and obscure foods at foragerchef.com. 
Looking to buy lamb or goat online? Shepherd Song Farm: Grass to table. We raise lambs & goats traditionally, humanely and sustainably. 100% Grass Fed, Pasture Raised, Never Confined, no Hormones, Grains or Animal Byproducts. Born, raised and processed in the U.S.A. Good for you and good for the environment.
Print Recipe
Larb
Marinated ground goat or lamb with lemongrass, herbs and lime leaves, served in lettuce cups with a special sauce. Inspired by the traditional Thai recipe made with pork. Serves 4
Ingredients
Larb
1

lb

ground lamb or goat

1.5

T

finely chopped kaffir lime leaves

1.5

Tablespoons

finely chopped lemongrass

2

crunbled dried thai chilis

or ¼ teaspoon cayenne pepper or red pepper flakes, or to taste

½

teaspoon

kosher salt

2

Teaspoons

fish sauce

1

medium clove of garlic

2

oz

¼ cup

1 large shallot, finely chopped

½

cup

finely chopped scallions

Fresh cilantro tender stems and leaves

about half a bunch, roughly chopped, with some saved to garnish

2

tablespoons

cooking oil

I like to use a mixture of half walnut/half high heat cooking oil
Sauce
2

Tablespoons

maple syrup

1

teaspoon

sriracha

¼

cup

fresh lime juice

2

tablespoons

fish sauce
Serving
Leaves

of fresh butter lettuce

or other lettuce leaves that will work well for using as a cup/vessel for the meat

A few leaves of fresh mint

or thai basil, torn (optional)

Toasted nuts or seeds such as peanuts or walnuts (optional)

pictured are black walnuts
Instructions
Larb
Combine all the ingredients for the larb and allow to marinate overnight or for at least a few hours for the flavors to meld.
Sauce
Whisk the ingredients for the sauce and reserve.
Cooking and serving
Heat the oil in a 8-10 inch pan. When the oil is warm, but not smoking, add the meat mixture, pressing around with a wooden spoon to break it up. When the mixture is just cooked through, about 5-10 minutes, spoon the meat into a bowl, garnish with the herbs if using, and serve with the lettuce cups alongside, spooning some of the dressing over each serving to taste at the table.