Chili-Rubbed Lamb Leg Steak
Lamb or goat leg steaks dusted with a mildy-spicy chili rub is a good, simple treatment for all kinds of cuts. Everyone should have a good meat rub in their repertoire, and this simple chili rub is one of my favorites.
You can use the rub on all kinds of things. It's good on slow-cooking cuts like lamb shoulder or a whole brisket, as well as quick-cooking cuts like the leg steaks I use here, or even a rack of lamb or a shoulder chop.
Garden salad
This is a great dish to serve with a simple salad of fresh greens. I like to use a contrast of flavor and texture, so I used a few different greens I've been growing including orache, strawberry spinach, wild chard and nasturtium leaves, but feel free to use whatever you have available. I love using wild greens when I can, especially tender tips of purslane / verdolagas and lambs quarters / wild spinach.
The method of dressing the salad simply with good oil and vinegar separately while dressing and mixing is one of my secrets to amazing salads. Bottled dressing is too heavy for me, and once you try dressing a salad my way I think you'll agree.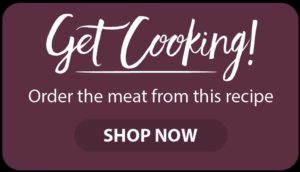 This recipe is by James Beard award-winning Chef Alan Bergo, the Forager Chef. A chef from Minnesota, Alan is a culinary industry veteran, former chef of acclaimed Lucia's Restaurant, and the Salt Cellar. Author of The Forager Chef's Book of Flora, he's one of the most respected voices in the world of foraging and wild food. He's best known as the founder of Forager Chef, his website focused on wild ingredients that reaches millions of readers each year. Learn more about Chef Alan and his hunt for mushrooms, wild and obscure foods at foragerchef.com. 
Looking to buy lamb or goat online? Shepherd Song Farm: Grass to table. We raise lambs & goats traditionally, humanely and sustainably. 100% Grass Fed, Pasture Raised, Never Confined, no Hormones, Grains or Animal Byproducts. Born, raised and processed in the U.S.A. Good for you and good for the environment.
Print Recipe
Chili-Rubbed Lamb Leg Steaks
Lamb or goat leg steaks with a mildy spicy chili rub and a fresh salad of garden greens makes for a nice, easy meal.
Ingredients
Chili Rub (makes enough to season about 4 steaks)
¼

cup

Ancho chili powder

3

T

onion powder

1

tablespoon

garlic powder

1

teaspoon

ground cinnamon

1

teaspoon

fresh ground black pepper

1/2

teaspoon

cayenne pepper

Method

Combine all ingredients and store
Lamb leg steaks
Kosher salt, to taste

2 tablespoons high heat cooking oil, such as grapeseed

2

lamb or goat leg steaks or shoulder chops
Garden Salad (optional)
3

oz

Fresh salad greens, such as nasturtium leaves and other tender baby greens

a few leaves of torn fresh mint, to taste

Extra virgin olive oil or similar, to taste

Kosher salt and fresh ground black pepper, to taste

Balsamic vinegar, to taste
Instructions
Chili rub
For the chili rub, combine all ingredients and mix in a bowl until well-blended. From here the rub can be stored in a pantry until you need it. It can be scaled to make bigger batches.
Leg steaks
Season the leg steaks with salt and allow to rest overnight, or for at least an hour.

To cook the leg steaks, heat the oil in a heavy pan such as cast iron. Dust the steaks with the rub using roughly 1.5 tablespoons per steak, tap off any excess, and brown in the pan on medium-high heat until 145-150F.

Be careful not to get the heat too high which could burn the crust. If the pan threatens to get dark you can finish the steaks by cooking for a few minutes in a 325F oven.
Salad
Immerse the greens in cold water for 5-10 minutes to refresh them. Spin the greens dry or wrap gently in paper towels.

Mix the greens in a bowl, add a few torn mint leaves to taste, then season very lightly with a dash of oil and vinegar to taste. Add a pinch of salt and pepper, mix to combine. Taste the mixture for seasoning and adjust as needed until it tastes good to you. Be careful to not add too much oil which can wilt the greens. It should be lightly seasoned and refreshing.

Put one lamb steak on each of two entree plates. Garnish with some of the salad greens and serve immediately.