Ground Goat Gnocchi with Chanterelle Mushrooms and Favas
Tender gnocchi with mushrooms, fava beans, herbs, pecorino cheese and ground goat is a summer recipe perfect for when you have some ground meat in the fridge and need to feed a crowd.
This recipe does include some ingredients you may need to search for, but it's just an idea. If you don't have fava beans, chanterelles or gnocchi, you can switch out one (or all) of them for something else. I'll list some examples below.
Gnocchi
It's fine to use pre-prepared gnocchi from the store. If you don't want to use gnocchi, or they're unavailable, you can use pasta like gnochetti or penne. If you want, you can also make my gnocchi recipe.
Chanterelle Mushrooms
Chanterelle mushrooms are delicious with fava beans, but if they're unavailable it's fine to use sliced or quartered shiitakes. Black trumpet mushrooms are excellent too.
Fava Beans
Fava beans are delicious, but sometimes hard to find. If you don't have access to them you could use frozen peas or diced zucchini.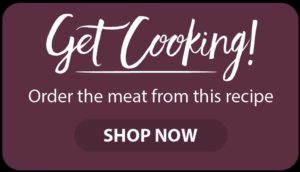 This recipe is by James Beard award-winning Chef Alan Bergo, the Forager Chef. A chef from Minnesota, Alan is a culinary industry veteran, former chef of acclaimed Lucia's Restaurant, and the Salt Cellar. Author of The Forager Chef's Book of Flora, he's one of the most respected voices in the world of foraging and wild food. He's best known as the founder of Forager Chef, his website focused on wild ingredients that reaches millions of readers each year. Learn more about Chef Alan and his hunt for mushrooms, wild and obscure foods at foragerchef.com. 
Looking to buy lamb or goat online? Shepherd Song Farm: Grass to table. We raise lambs & goats traditionally, humanely and sustainably. 100% Grass Fed, Pasture Raised, Never Confined, no Hormones, Grains or Animal Byproducts. Born, raised and processed in the U.S.A. Good for you and good for the environment.
How to make it
Once you have everything the dish is relatively easy to prepare. Cook some mushrooms and ground goat and make a light sauce from them, add the gnocchi, toss to combine, double check the seasoning to make sure it tastes good, and serve.
Pecorino cheese is my preference here since it's made from sheeps milk, but you can use parmesan if you prefer.
Print Recipe
Goat Gnocchi with Chanterelle Mushrooms and Fava Beans
Tender gnocchi with a light sauce of chanterelle mushrooms, white wine, and fava beans with pecorino cheese. Serves 6 as an appetizer or 2-4 as an entrée
Ingredients
8

oz

gnocchi

uncooked

8

oz

chanterelles

1

cup

water

2

teaspoons

oil

1

tablespoon

chopped summer savory or fresh thyme

1

lb

ground goat or lamb

2

tablespoons

butter

¼

cup

grated pecorino cheese

3

oz

finely diced shallot

1

large clove garlic

¼

cup

dry white wine

1

cup

goat or vegetable stock, or water in a pinch

1

tablespoon

ground dried chanterelles

optional

3.5

oz

heaping half cup fava beans

After blanching and removing from their inner shell

Lemon zest

to taste
Instructions
Fava beans
Remove the fava beans from their pods, then blanch in boiling water for 30 seconds and remove to a bowl to cool. Slip each bean from their skin and reserve. Discard the skin.
Chanterelles
In an 10 inch pan, bring the chanterelles to a simmer with the water and a pinch of salt. Cook until the chanterelles are wilted and have given up their juice. Add a pinch of salt. When the pan is nearly dry, add the oil and cook for a few minutes more. Remove the chanterelles to a bowl and reserve.
Goat
Heat 1 tablespoon of the oil and sweat the garlic and shallot for 1 minute in the same pan you cooked the chanterelles.

Add the ground goat and break it up with a spoon. When the goat is cooked, add the wine and reduce by half for a minute. Add the stock and bring the mixture to a simmer, then add the fava beans and chanterelles, along with the mushroom powder and savory.
Finishing and serving
Reduce the mixture by half, seasoning with a pinch of salt and pepper. Finally add the butter and swirl it in to lightly thicken the sauce.

Cook the gnocchi in at least 2 quarts of boiling, salted water until they float.

Add the cooked gnocchi and toss to combine. Add the lemon zest if using. Double check the seasoning for salt, pepper and herbs, adjust until it tastes good to you and serve with parmesan on the side.