Goat Tsigariasto (Goat Cooked with Herbs and Wine)
A famous dish from the Mediterranean, Tsigariasto, also known as Τσιγαριαστό κρέας, is essentially pieces of tender goat or lamb seasoned with oregano and cooked very slowly in a splash of wine with onions. It's a very old dish made from goat or lamb in the Mediterranean, specifically Crete and Greece. It's delicious, easy to make, and only has a handful of ingredients, but it does take a little time to prepare.
Bone-in lamb and goat
The best part, at least in my opinion, is that this is a fantastic way to use the bone-in goat and lamb that Shepherd Song farm sells. Bone-in lamb and goat looks very different from the typical European cuts of lamb and goat that most Americans will be used too, but it's actually how most of the goat and lamb around the world, especially in remote areas where access to a butcher or fresh meat market may not be an option.
As it will include a variety of cuts, bone-in lamb and goat meat is exciting to eat-you might get a piece of shoulder, a chunk of rib, or a tender slice of shank. As the entire animal is cut up into similarly-sized pieces, it makes for an interesting, interactive eating experience. If you haven't cooked with this type of butchery cut before, I highly recommend it for a change of pace.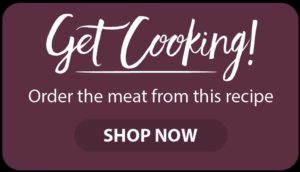 This recipe is by Chef Alan Bergo, the Forager Chef. A chef from Minnesota, Alan is a culinary industry veteran, former executive chef of acclaimed Lucia's Restaurant, and the Salt Cellar. Author of The Forager Chef's Book of Flora, he's one of the most respected voices in the world of foraging and wild food. He's best known as the founder of Forager Chef, his website focused on wild ingredients that reaches millions of readers each year. Learn more about Chef Alan and his hunt for mushrooms, wild and obscure foods at foragerchef.com. 
Looking to buy lamb or goat online? Shepherd Song Farm: Grass to table. We raise lambs & goats traditionally, humanely and sustainably. 100% Grass Fed, Pasture Raised, Never Confined, no Hormones, Grains or Animal Byproducts. Born, raised and processed in the U.S.A. Good for you and good for the environment.
Print Recipe
Tsigariasto (Goat Stewed with Herbs and Wine)
A traditional dish from Crete and Greece, Tsigariasto is a delicious way to prepare bone in lamb and goat meat.
Ingredients
2

lbs

bone-in lamb or goat

¾

teaspoon

kosher salt

½

teaspoon

fresh ground black pepper

½

cup

dry white wine

1.5

Tablespoons

fresh oregano or marjoram

plus a few sprigs for cooking

2

tablespoons

lamb or goat fat

or cooking oil

8

oz

shallots

on the small side, about 12-14 each
Instructions
Season the lamb or goat pieces with the salt, pepper and oregano and allow to sit overnight. The next day, cut ¼ inch off the ends of each shallot.

Bring 2 quarts of lightly salted water to a boil and blanch the shallots for 30 seconds to one minute, then remove, cool, peel and reserve, keeping the shallots whole. In a large skillet, such as a 12 inch cast iron skillet, brown the lamb very well on all sides, then remove to a baking dish wide enough to accommodate them in a single layer.

Add the shallots to the pan and cook for a minute more. Add the wine to the pan, scraping up the browned bits, reduce by half, then pour the liquid and shallots over the lamb.

Lay a few 4-5 inch sprigs of fresh oregano over the top, cover the meat and shallots with a sheet of parchment, top with a lid, then bake at 275 for 2.5-3 hours or until fork-tender, checking on the meat half-way through cooking to make sure the pan doesn't dry out.

The goal is to cook the meat with as little liquid as possible so that is gently cooks in it's own juices and the wine.

To serve, discard the oregano sprigs if using.

Arrange a couple pieces the lamb on plates or large bowls, dividing the shallots evenly between them, spoon over and drippings from the pan (if any) garnish with the chives if using, and serve with a glass of the wine the lamb cooked in.

Serve with a side of cooked bitter greens for a traditional meal.