Smoked Goat Barbacoa
Barbacoa, or tender, shredded smoked goat or lamb leg simmered with dried chilis and spices is a great addition to your summer and fall repertoire the whole family will love. If you've ever had barbacoa beef in a burrito or taco, that is exactly what you'll get here: a nice big pot of shredded, tender, spicy meat perfect for feeding a crowd or a hungry family, just made with lamb or goat instead of beef. As a quick side note, slow cooked meat like this was probably first made in Mexico using lamb or goat before beef was introduced from the Old World, so calling it the original barbacoa probably isn't out of place.
The recipe is easy: smoke a whole leg of lamb or goat over a wood fire or in a smoker (or just skip the smoking if you don't have a way to do so and put it in a crock pot) along with a simple sauce made from lamb or goat stock, dried chilis, onions, and garlic cooked in a dry skillet until charred.
After the meat is smoked and cooked tender enough to pull apart with forks comes the secret: shred the meat and season it with the fat skimmed from the top of the pot, as well as the cooking juices. From there, all you have to do is gather your favorite garnishes and make tacos, burritos, or whatever you like. Use the video for a guide and make the dish your own with what you have available.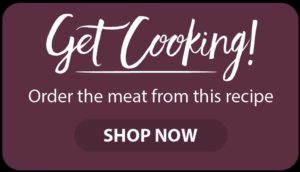 This recipe is by Chef Alan Bergo, the Forager Chef. A chef from Minnesota, Alan is a culinary industry veteran, former executive chef of acclaimed Lucia's Restaurant, and the Salt Cellar. Author of The Forager Chef's Book of Flora, he's one of the most respected voices in the world of foraging and wild food. He's best known as the founder of Forager Chef, his website focused on wild ingredients that reaches millions of readers each year. Learn more about Chef Alan and his hunt for mushrooms, wild and obscure foods at foragerchef.com. 
Looking to buy lamb or goat online? Shepherd Song Farm: Grass to table. We raise lambs & goats traditionally, humanely and sustainably. 100% Grass Fed, Pasture Raised, Never Confined, no Hormones, Grains or Animal Byproducts. Born, raised and processed in the U.S.A. Good for you and good for the environment.
Print Recipe
Smoked Goat or Lamb Barbacoa
Tender, spicy shredded goat or lamb barbacoa simmered with dried chilis-perfect for making tacos and burritos. Serves 8
Ingredients
1

whole goat or lamb leg

about 3-4 pounds

1

tablespoon

kosher salt

1

teaspoon

fresh ground black pepper

2

teaspoons

ground cumin

Chili sauce

5

dried guajillo chilies

1

dried chipotle chili

optional

1

medium yellow onion

6 oz

5

cloves

garlic

1

qt

warm lamb stock

2

dried bay leaves

1

teaspoon

dried Mexican oregano
Instructions
Season the leg
Preferably the night before, season the goat leg all over with the salt and pepper and refrigerate overnight. If you don't have time to let it sit overnight, a few hours will do.
Smoking the lamb
Prepare a wood fire (alternately, you can smoke the lamb at 250 F for an hour or two, or just skip it. Cook the lamb over the wood, making sure the heat doesn't get too hot, and allow it to smoke for at least 1 hour.
Cooking the vegetables
Meanwhile, in a dry skillet, or over the grill grates, toast the chilies until crisp. Cut the onion into ¼'s and cook until slightly charred on one side. Cook the garlic cloves whole, in their skin, until lightly colored. Allow the onion and garlic to cool.
Assembling the sauce and cooking
Break open the chilies, remove the seeds and discard. Peel the onion and garlic.

Put the lamb stock in the bowl of a blender with the onions, garlic, oregano, and chilis, then puree until smooth-ish.

Put the leg of lamb in a slow cooker, along with the chili sauce and the bay leaves, cover, and cook on low heat for 6 hours or until very tender.
Season the lamb
Remove the lamb from the slow cooker to a cutting board, mopping up any juice with towels to keep your work surface clean and dry. Discard the bay leaves. Using two forks, shred the meat coarsely, then transfer to a bowl.

With a spoon, skim as much fat from the lamb stock as you can, and add it all to the meat, along with about 1-1.5 cups of the juice. Mix the meat, season with salt until it tastes good to you, and serve, or allow to cool, then refrigerate or freeze for future meals.
Serving
Serve the warm lamb barbacoa with fresh warmed tortillas heated up directly on a grill or a burner, along with all of your favorite taco accompaniments.