Lamb or Goat Tartare
Tartare, or raw, seasoned meat is a delicious way to prepare lamb or goat, especially in the summer since it's a light dish that doesn't involve turning on a stove. It can be intimidating to make at home, but it shouldn't be: it's one of the easiest things I know how to make as there's no cooking involved. Typically people think of beef when they think of tartare, but lamb and goat are both fantastic and well worth the small amount of effort they take to put together.
There's a few important things to know though, and after making tartare in my restaurants for years, I have a few good tips for you.
Tartare tips
Use a lean muscle, preferably from the leg
You want a lean cut of meat here, with no visible fat. Fat is not desirable in tartare as it doesn't have the same tender mouthfeel as lean meat. This means you'll want to use a muscle from the leg, or a loin. I prefer to use leg muscles as they're cheaper.
Trim the meat of all connective tissue
This is important. You'll want a sharp paring knife to do the trimming as I outline in the video.
Freeze the meat for 30-60 minutes to make dicing it easier
While you can cut the meat fresh, or grind it, I prefer my tartare diced into tiny cubes. Freezing the meat after trimming will make it easier to dice.
Seasoning the tartare
While you can season tartare with just about anything you like, my favorite is the simple vinaigrette that I used to serve at my restaurants, that I learned from a chef I worked for. Some people like mayonnaise-based dressings, and that can work too. Feel free to be creative.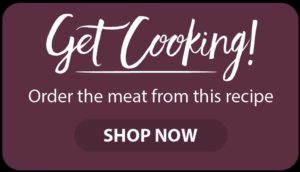 This recipe is by Chef Alan Bergo, the Forager Chef. A chef from Minnesota, Alan is a culinary industry veteran, former executive chef of acclaimed Lucia's Restaurant, and the Salt Cellar. Author of The Forager Chef's Book of Flora, he's one of the most respected voices in the world of foraging and wild food. He's best known as the founder of Forager Chef, his website focused on wild ingredients that reaches millions of readers each year. Learn more about Chef Alan and his hunt for mushrooms, wild and obscure foods at foragerchef.com. 
Looking to buy lamb or goat online? Shepherd Song Farm: Grass to table. We raise lambs & goats traditionally, humanely and sustainably. 100% Grass Fed, Pasture Raised, Never Confined, no Hormones, Grains or Animal Byproducts. Born, raised and processed in the U.S.A. Good for you and good for the environment.
Print Recipe
Goat or Lamb Tartare
Simple lamb or goat tartare with a vinaigrette made from shallots and herbs is easy to make at home, and a good option for warm summer months.
Ingredients
Lamb or goat
8

oz

lamb or goat

in one piece, preferably a muscle from the leg or a loin
Grilled bread
A few tender salad greens

or other garnishes like diced pickled or hard boiled eggs (optional)
Vinaigrette
½

cup

70 grams shallots diced 1/4 inch

¼

cup

55 grams extra virgin olive oil or similar

1

teaspoon

chopped fresh thyme

¼

teaspoon

kosher salt

Pepper to taste

a few cracks of the mill

¼

cup

55 grams apple cider or champagne vinegar
Instructions
Trim the lamb or goat of all sinew, fat, and connective tissue, then wrap in cling film and freeze for 1 hour.

Remove the lamb from the freezer and dice into small ¼ inch cubes.

Meanwhile, mix all the ingredients for the vinaigrette and allow to rest while the meat chills.

To serve, stir the vinaigrette, then mix the diced lamb or goat with 3 tablespoons of it. Double check the seasoning of the tartare for salt, and adjust as needed until it tastes good to you.

Pack the tartare into a ramekin or ring mold, unmold onto a plate, and serve garnished with freshly grilled or toasted bread cut into small triangles, the greens or other garnishes, if using.