Lambs Fry with Bacon and Caramelized Onions
Slot Bet 100 Perak Hadiah Judi Slot Online Jackpot Terbesar pasi hanya ada di slot gacor gampang menang Rajasparta :
======================================================================================================================================
Tender pieces of lamb liver in a rich brown sauce with bacon and caramelized onions? Yes please.
Lambs fry with bacon and onions is a classic Australian recipe that anyone who enjoys liver and onions will love. Outside of Australia and New Zealand, lambs fry isn't well known, in fact, if you were in America and ordered something called "lamb fries" you'd get another part of the lamb entirely (testicles!).
Differences in cultural terminology aside, this is really just a twist on lamb liver and onions at the end of the day. What makes it different than the lamb liver and onions that most people will know in America, is that typical Australian lambs fry is served in a juicy brown gravy–typically flavored with Marmite, a sort of flavor-packed paste made from yeast that's very popular down-under. As Marmite is hard to get in the United States (you can easily order Marmite online though) I recommend using Worcesterchire sauce. While Worcesterchire isn't the same as Marmite, it'll give the gravy some of the depth you want to have in this recipe.
Caramelized Onions
The other thing to note is that I use caramelized onions here. Contrary to popular opinion, caramelized onions aren't some unattainable thing that only chefs can make—they're actually very easy. All you need are yellow onions, a good heavy skillet, and about 20-25 minutes. They're great made in large batches, and leftovers are delicious warmed up and spooned on top of a steak, spooned into a stew or something like lamb curry. As another idea, one of my favorite recipes for Veal Liver with Mushrooms, Onions and Bacon is similar to this, but has a creamy mushroom sauce with sherry. If you like this recipe, you'll like that one too.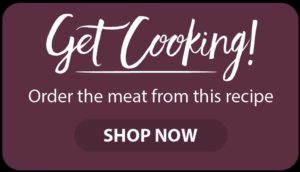 This recipe is by Chef Alan Bergo. A chef from Minnesota, Alan is a culinary industry veteran, former executive chef of acclaimed Lucia's Restaurant, and the Salt Cellar. Founder of the website Forager Chef, he's best known as a respected authority on Midwestern foraging. Learn more about chef Alan and his hunt for mushrooms, wild and obscure foods at Forager Chef®. 
Looking to buy lamb liver online? Shepherd Song Farm: Grass to table. We raise lambs & goats traditionally, humanely and sustainably. 100% Grass Fed, Pasture Raised, Never Confined, no Hormones, Grains or Animal Byproducts. Born, raised and processed in the U.S.A. Good for you and good for the environment.
Print Recipe
Lambs Fry with Bacon and Caramelized Onions
Tender lambs fry with bacon and caramelized onions is an updated twist on an old favorite for lamb liver.
Ingredients
Onions
½

lb

bacon

1

lb

1 large yellow sweet onions
Lambs Fry and Gravy
Milk

to cover the liver (use water in a pinch)

12

oz

lamb liver

1 whole

1

cup

all purpose flour plus 1 teaspoon

separated

1

teaspoon

fresh ground black pepper

1

teaspoon

grated nutmeg

optional

1

teaspoon

fine salt

¼

cup

brandy

1.5

tablespoons

Worcesterchire

or to taste (marmite can be substituted)

1.5

cups

lamb or chicken stock
Serving
4

thick slices of toast

Unsalted butter

Freshly chopped Italian parsley

to garnish
Instructions
Lambs fry should be cooked and served quickly, so read through the entire recipe before proceeding.
Soak the liver
The night beforehand, cut the liver into 1 oz pieces, cover with the milk or water, and refrigerate. When in doubt, cut the liver into larger pieces rather than smaller, since you don't want to overcook the liver, and you'll be eating the dish with a knife and fork.
Caramelized onions
Slice the onion into 1 inch julienne, then cook in a greased 12 inch skillet, stirring occasionally, until dark brown, about 20 minutes. If the pan threatens to get too dark, add a splash of water and stir as needed. Preferences for caramelized onions can vary a bit, so cook them until they have a good color and taste good to you. Reserve the onions—from here they can be prepared a day or two ahead of time. Reserve 4 oz (1/2 cup) for the sauce. Extras are nice warmed up on a steak.
Toast
Butter the bread on both sides and cook golden brown in a skillet or on a griddle while you prepare the liver and sauce.
Cooking the liver
30 minutes before you want to serve, cut the bacon slices into ½ inch pieces then render on medium high heat (you can bake it too if you prefer) until crisp in a 12 inch cast iron skillet or similarly sized pan. Remove the bacon and reserve, and keep the pan hot. You can also prepare the bacon ahead of time and simply reheat it.

Drain the lamb liver well, then toss with the flour. Turn the heat on the pan with the bacon fat to high, then quickly add the pieces of liver, tapping off the excess. Brown the liver quickly over high heat, then transfer the browned pieces to a pan or dish to keep warm while you make the sauce.

Add the teaspoon of flour to the pan, stir, then add the onions and brandy, and cook for 1 minute. Add the stock and Worcesterchire, bring the mixture to a simmer, stir until thick, double check the seasoning, adjust as needed, then add the browned liver back to the pan and stir to coat with the sauce.
Finishing and serving
Add the bacon back to the pan, or save it to garnish the finished plates as pictured. Divide the lambs fry, onions and their gravy between the slices of toast on 4 preheated plates, garnish with the fresh parsley, and serve. Alternately, supply the griddled toast on plates and allow guests to serve themselves from the pan, family style.