Lamb Steak and Kidney Pie with Potato Crust
My girlfriends father and I usually butcher lamb together on the farm, and traditional lamb steak and kidney pie is one of his all-time favorite dishes, so I always make a point of making it for him afterward. This year, I was a little short on time, and I wanted to make a version that was gluten free for the family too, so I combined two classic lamb recipes into one: steak and kidney pie with shepherds pie. It was fantastic. 
Traditional steak and kidney pie usually has a suet crust, but, making a crust takes time, has to be rolled out, and, if it's kneaded too much, can be chewy. Mashed potatoes on the other hand, are cheap, quick to prepare, and, once you taste them baked on top of a rich, meaty stew like I'm presenting here: an indispensable addition to your repertoire.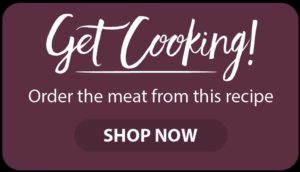 This recipe is by Chef Alan Bergo. A chef from Minnesota, Alan is a culinary industry veteran, former executive chef of acclaimed Lucia's Restaurant, and the Salt Cellar. Founder of the website Forager Chef, he's best known as a respected authority on Midwestern foraging. Learn more about chef Alan and his hunt for mushrooms, wild and obscure foods at Forager Chef®. 
Looking for lamb or goat kidneys online? Shepherd Song Farm: Grass to table. We raise lambs & goats traditionally, humanely and sustainably. 100% Grass Fed, Pasture Raised, Never Confined, no Hormones, Grains or Animal Byproducts. Born, raised and processed in the U.S.A. Good for you and good for the environment.
Lamb Steak and Kidney Pie with Potato Crust
Rich steak and kidney pie with tender lamb, kidneys, and a satiating crust of potatoes.
Ingredients
For the filling
1

tablespoon

chopped fresh thyme or 1 teaspoon dried

1

large yellow onion

(6 oz) diced ½ inch

24

oz

lamb or goat neck

or stewing meat, cut into 1-2 inch pieces

8

oz

lamb or goat kidneys

cut into ½ inch pieces

3

oz

lamb or goat bacon

optional cut into ½ inch dice

Kosher salt and fresh ground black pepper

2.5

cups

lamb stock

water can be substituted since the stew meat will make stock as it cooks

½

cup

all purpose flour or equivalent

for dredging the meat

Melted lard or cooking oil

for browning the meat

¼

cup

dry red wine

optional
Potato Crust
1

large egg

20

oz

2 ¼ cups riced russet potato (see note) *

Splash of heavy cream

a tablespoon or two

4

tablespoons

salted butter
Instructions
Building the meat base
Have two large 12 inch skillets ready* (see note) along with a dutch oven for baking. Warm a few tablespoons of the lard or cooking oil in one pan with the bacon and cook on medium heat to render out it's fat. Remove the bacon to a bowl.

Season the diced meat and kidneys with salt and pepper. Toss the kidneys and meat in flour. Make sure both large skillets are oiled. Using the two large 12 inch skillets (browning in one pan alone will take a long time) brown the meat on high heat, transferring finished, browned meat to the bowl with the bacon. Once the meat has been browned, add the onion to one pan along with some extra oil of the pan is dry, scraping up the browned bits as you stir.

Preheat the oven to 325 F.

Once the onions are cooked (about 5 minutes) deglaze both the pans with the wine and a splash of stock or water, scrape up the browned bits, and put all the browned meat and drippings from both pans into the dutch oven along with the thyme.

Cover the pot and bake for 1 hour.
Chill overnight
Cool the mixture and chill overnight to firm.
Finishing and baking
To bake the pie, pack the cooled filling into a 9 inch pie pan, leaving 1/2 on the top (resist the urge to pack the pie pan full, if you have extra filling.

Mix the riced potatoes with the egg, cream and butter, then spread on the cooled filling.

Use a fork to make lines in the potato crust, which will add dimension and get crisp. Alternately, use a pastry bag with a fluted tip for a fancy presentation. If you can manage, spray the top of the crust with oil (I use a spray bottle--this is optional but makes for a crustier crust.

Preheat the oven to 375F. Put the pie on a baking sheet just in case some of it migrates out while cooking, then bake for 30-45 minutes, increasing the heat to 425-450F at the end to help it brown if needed. Allow to rest for a few minutes before serving and warm guests that it will be hot.
Notes
*Browning the meat
Deeply-browned meat is key to a rich sauce here, and as it's difficult to brown the meat in a cooking vessel it will bake in, I suggest using two large 12 inch skillets, or similar pans. If you don't have two large pans, just brown the meat in batches, keep the bottom of your pan clean, deglazing and scraping up the browned bits you'll save to add to the mix as it bakes. *Riced potatoes
For the potatoes, take 2 large baking potatoes, peel and dice them into 1 inch pieces, then cover with water and bring, bring to a simmer and cook until fork-tender. Drain the potatoes, pass through a potato ricer and cool for a few minutes before adding the egg and other ingredients