Goat Neck Bourgiugnon
Tender pieces of lamb or goat neck braised with red wine, carrots, pearl onions and mushrooms is a delicious dish for the winter or when the weather turns cold. It's inspired by the classic French Beef Bourgiugnon.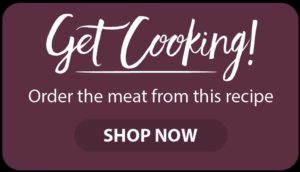 This recipe is by James Beard award-winning Chef Alan Bergo, the Forager Chef. A chef from Minnesota, Alan is a culinary industry veteran, former chef of acclaimed Lucia's Restaurant and the Salt Cellar. Author of The Forager Chef's Book of Flora, he's one of the most respected voices in the world of foraging and wild food. He's best known as the founder of Forager Chef, his website focused on wild ingredients that reaches millions of readers each year. Learn more about Chef Alan and his hunt for mushrooms, wild and obscure foods at foragerchef.com. 
Looking to buy lamb or goat online? Shepherd Song Farm: Grass to table. We raise lambs & goats traditionally, humanely and sustainably. 100% Grass Fed, Pasture Raised, Never Confined, no Hormones, Grains or Animal Byproducts. Born, raised and processed in the U.S.A. Good for you and good for the environment.
How to make the dish
There's a few steps here, but you'll be rewarded by one of the best stews I know of. Here's a few notes on the ingredients and preparation.
Cuts to use
You can use many different cuts here. Shepherd Song Farm sells all the cuts listed below and any of them will work well.
Lamb Neck
Goat Neck
Lamb Stew Meat
Lamb Shoulder
Goat Shoulder
Soaking the Meat
Originally, the meat was soaked overnight in red wine before cooking to flavor it and possibly hide any off aromas. I like to soak my meat overnight fir the special flavor it gives. The tradeoff is that it won't brown quite the same, but the dish will be good if you choose to soak your meat or not.
Cooking the Dish
There's a few steps, but you'll be rewarded with one of the best stews you've had. First the meat is browned. Next pearl onions, carrots and mushrooms are browned. The meat is combined with the vegetables and stock and simmered until tender. At the end, you whisk in some flour kneaded together with butter to thicken it and serve it with mashed potatoes.
What to serve with it
Many stews put potatoes and carrots in with them. Sometimes I like that, but it's easy to overcook the vegetables and make them mushy. The way I serve it in restaurants is by heating up the stew and ladling it over freshly mashed potatoes with a side of roasted carrots. It's not as easy as throwing it in a slow cooker but it's worth the effort.  If you like, y0u can top it with horseradish sour cream. I have a good recipe for making your own in my article on Fresh Horseradish.
Mushrooms
The mushrooms can be fun to add if you like cooking with interesting varieties like I do. Here I used honey mushrooms, but shiitake mushrooms or baby bella mushrooms work fine too. Black trumpet mushrooms add a very special flavor.
More Recipes
Want more delicious ideas for cooking lamb and goat neck from Shepherd Song Farm? Take a look at How to Cook Lamb or Goat Neck, with Recipes.
Print Recipe
Goat Bourgignon
A rich stew of goat in the style of French Beef Burgundy with red wine, mushrooms and pearl onions. Delicious served with mashed potatoes and roasted carrots. Serves 2-4 as an entrée with leftovers
Equipment
1 Wide 10 inch pan with high sides

or a dutch oven.
Ingredients
Flour Paste
1.5

tablespoons

cooking oil or melted lamb fat

1.5

tablespoons

flour
Stew
2.5

lbs

goat shoulder or neck

cut into 3-4 oz pieces

Kosher salt and fresh ground black pepper

2

tablespoons

cooking oil or rendered lamb fat

plus more as needed

1

cup

red wine

2

cups

meat stock

3

oz

bacon

such as lamb bacon

1

teaspoon

chopped fresh thyme

1

large clove garlic

crushed or grated

8

oz

pearl white onions

8

oz

fresh mushrooms
Serving
Mashed potatoes or another starch

Roasted carrots or root vegetables

*see note
Instructions
Flour paste
Mix the oil or melted fat with the flour until it forms a paste and reserve until needed.

Marinate the Meat (optional)

Season the meat all over with salt and pepper and allow to rest overnight. The next day, heat a little oil in a large, heavy pan, such as cast iron. Brown the chunks of meat well all over on high heat, working in batches and taking your time.

When the meat has been browned, transfer it to a plate and reserve.
Cooking
Preheat the oven to 325 F.

In a wide braising pan, such as a satoir or a dutch oven, render the bacon for a few minutes until it begins to crisp. Drain the fat from the bacon and reserve for cooking the onions and mushrooms if you like. Add the garlic to the pan and cook for a minute more.

Add the browned meat, stock, wine and thyme, bring the mixture to a simmer. Put a lid on the pan and bake for 2-2.5 hours, or until the meat is fork-tender.
Vegetables
About 20 minutes before the meat is done, peel the onions and saute in the bacon fat until starting to brown, about 5 minutes. Remove the onions to a bowl to cool. Heat a little more oil in the pan and add the mushrooms, cooking until they've released their juice and threaten to brown.

Remove the pan of lamb from the oven. Skim any fat from the surface and discard.
Flour paste
Add the flour paste and beat it into the cooking liquid with a fork, turning the heat up to medium high. Reduce the sauce until you like the consistency.
Finishing and serving
Add the mushrooms and onions and cook until the onions are tender and taste good to you.

Finally, double check the seasoning for salt and pepper and adjust as needed until it tastes good to you. Serve.
Notes
Roasted Carrots 
My favorite way to make carrots is to roast them whole, which concentrates their sugar. To do it, toss a pound of carrots in 2 teaspoons of cooking oil, season with salt and pepper, spread out on a baking sheet and cook at 425 F for 2o minutes, or until the carrots are starting to color and are just tender when pierced.
Remove the carrots from the oven and cool, then cut into 1 inch pieces. Warm them up gently in a pan before serving.