Mushroom Crusted Goat Chops
Tender goat chops, seasoned with a mixture of fresh thyme, salt, pepper and dried wild mushrooms are a delicious, easy variation to try the next time you have a rack or goat or lamb.
Inspired by the Italian Scottaditti (literally translating to "burn your fingers") this recipe is a little different (and easier) than cooking a whole rack of lamb or goat in the oven. As the chops are cooked quickly and on both sides, it's also a good thing to make if your guests or family prefer their meat a little more on the done-side of things.
It's really easy: take some goat or lamb chops, season them with some chopped fresh thyme, salt and pepper, and, just before cooking, season them on both sides with dried, ground mushrooms. I used some black trumpet mushrooms here as I had some, and I love the flavor they add, but dried porcini mushrooms are also really popular for dishes like this, and you could also use something like dried shiitakes.
Cooking chops on the fat side first
Goat and lamb chops will have a nice layer of fat on the top that I find delicious, but some people may not care for. If you'd prefer to remove the fat from the chops, you can definitely do that. If you leave the fat on, I recommend cooking the chops fat-side down first to get them crisp before browning the other sides.
Vegetable salad with Milkweed and Asparagus
You could serve the chops with whatever vegetable side you like, but during the summer grill season, I often  serve cold vegetable salads that don't involve turning on a burner or the oven for an extended time. In the video I demonstrate a nice cold salad made from milkweed shoots and asparagus. Milkweed shoots are a delicious wild edible, but they do need to be cooked before eating, as eating them raw could give you an upset stomach.
Contrary to the opinions of some, harvesting milkweed shoots as pictured is totally fine, sustainable, and will not in any way harm monarch butterflies. The milkweed shoots will regrow when harvested at the stage pictured, and will continue to make flowers, leaves, and pods for butterflies (and humans) to enjoy.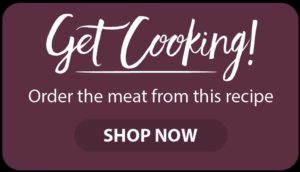 This recipe is by Chef Alan Bergo, the Forager Chef. A chef from Minnesota, Alan is a culinary industry veteran, former executive chef of acclaimed Lucia's Restaurant, and the Salt Cellar. Author of The Forager Chef's Book of Flora, he's one of the most respected voices in the world of foraging and wild food. He's best known as the founder of Forager Chef, his website focused on wild ingredients that reaches millions of readers each year. Learn more about Chef Alan and his hunt for mushrooms, wild and obscure foods at foragerchef.com. 
Looking to buy lamb or goat online? Shepherd Song Farm: Grass to table. We raise lambs & goats traditionally, humanely and sustainably. 100% Grass Fed, Pasture Raised, Never Confined, no Hormones, Grains or Animal Byproducts. Born, raised and processed in the U.S.A. Good for you and good for the environment.
Print Recipe
Mushroom Crusted Goat Chops
Mushroom crusted goat or lamb chops with a fresh salad of milkweed shoots and asparagus.
Ingredients
Goat Chops and Mushroom Rub
Kosher salt and fresh ground black pepper

Chopped fresh thyme

about 1 tablespoon

1/4

cup

finely ground black trumpet or other dried mushrooms

Chives and chive flowers

to garnish, optional
Fresh vegetable salad
Asparagus

Milkweed

Hickory nut oil

or extra virgin olive oil

Fresh mint

basil, dill, or cilantro, or just parsley

Radishes

optional, mostly for color
Instructions
Vegetable Salad
Remove all the leaves from the milkweed shoots except the top upper young leaves. Blanch the milkweed and asparagus in boiling salted water for 30 second to one minute, then transfer to a tray to cool naturally.

Cut the milkweed and asparagus into ½ inch long segments. Halve the radishes if using, then cut into ¼ inch wedges. Combine all the vegetables in a bowl, season to taste with the hickory nut oil, salt, pepper, and mint or other herbs to taste, and set aside or refrigerate.
Lamb or Goat Chops
Cut the rack into single bone chops. Season the chops on both sides with salt, pepper and thyme. Meanwhile, get a large pan hot, such as a 12 inch cast iron skillet. If you don't have a hood vent, consider putting the pan on a grill so the house doesn't get smoky.

When the pan is hot, just before you put the chops in the pan, season the cut sides of the chops with the mushroom flour, resisting the urge to toss or coat them completely since the mushroom powder will burn if it's on the fatty cap portion of the chop.

Put the chops fat cap-side down in a hot pan (or a cast iron pan on a grill if you don't have a hood vent in the house) and cook on medium-high heat until the fat has rendered out and the fat is nicely browned.

Flip the chops over to cook the seasoned sides of the chops until done to your liking, then allow to rest on a cutting board for a few minutes while you toss the salad, adding the lemon juice at the end to taste.

Arrange 4-6 oz (roughly ½ - ¾ cup) of the vegetable salad on each plate, arrange two of the chops with the bones pointing away from the diner, drizzle with a splash of lemon, garnish with the chives and serve.
Video