Mutton Bastirma / Pastirma
Bastirma, sometimes called Pastirma, is a very old, traditional and most importantly, delicious piece of lamb or goat charcuterie from Turkey and Armenia. If you like cured meats like salami and prosciutto, I can guarantee you'll appreciate it.
More or less, it's a chunk of meat (traditionally beef) that's salted for a few days, then soaked in water, rubbed with a paste of spices, and allowed to age. The end product is a salty, aromatic cured meat with an unmistakable aroma  of garlic, fenugreek, and paprika.
While you can make Bastirma at home just using a fridge and a cool, dry basement or a similar environment, my first choice for making most charcuterie at home is using Umai Dry bags. Umai is a company in Minneapolis that makes a fantastic, breathable membrane bag you can use to age all kinds of charcuterie, easily at home. I first talked about their product here in our article on dry-aged lamb, goat, and mutton, although you can also use it to dry age venison. For the Pastirma, you'll want to use one of Umai's large charcuterie bags.
Making lamb or goat bastirma at home will take a comparable amount of time (about 3 weeks) and is well worth the wait.
After the meat has aged, it can be sliced and eaten, preferably using a sharp, long knife to cut it as thin as possible. Traditionally it's eaten on warm buttered toast, or cooked with eggs, as in the omelet recipe included in this post, but it would be perfectly at home on a charcuterie board alongside other cured meats.
Requesting Mutton
I wanted a large piece of whole muscle to cure here, so I requested a leg of mutton from Larry and Judy at Shepherd Song. While mutton isn't specifically mentioned in the products on this site, Larry and Judy do their best to accommodate special requests, so mutton and hogget are occasionally available-just send us a message and let us know what you'd like!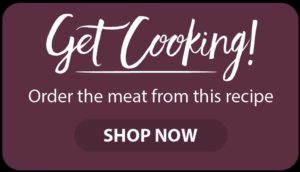 This recipe is by Chef Alan Bergo, the Forager Chef. A chef from Minnesota, Alan is a culinary industry veteran, former executive chef of acclaimed Lucia's Restaurant, and the Salt Cellar. Author of The Forager Chef's Book of Flora, he's one of the most respected voices in the world of foraging and wild food. He's best known as the founder of Forager Chef, his website focused on wild ingredients that reaches millions of readers each year. Learn more about Chef Alan and his hunt for mushrooms, wild and obscure foods at foragerchef.com. 
Looking to buy lamb or goat online? Shepherd Song Farm: Grass to table. We raise lambs & goats traditionally, humanely and sustainably. 100% Grass Fed, Pasture Raised, Never Confined, no Hormones, Grains or Animal Byproducts. Born, raised and processed in the U.S.A. Good for you and good for the environment.
Print Recipe
Lamb, Goat, or Mutton Bastirma
Dry-cured lamb, goat, or mutton in the style of Bastirma: rubbed with a spicy, aromatic paste of garlic, paprika, and fenugreek.
Equipment
Large Umai Dry Charcuterie Bag
Ingredients
Umai Dry Charcuterie Bag
1

large

Charcuterie Bag

2

lbs

mutton, lamb or goat, in one large roast

a trimmed roast from the leg

6

oz

kosher salt

½

teaspoon

instacure no 2
Spice paste
5

garlic cloves

¼

cup

filtered water

2

tablespoons

fenugreek

¼

cup

paprika

1

teaspoon

chili

½

teaspoon

pepper

¼

teaspoon

salt

1

teaspoon

cumin
Instructions
Mix the salt and instacure and cover the roast, then refrigerate, turning occasionally, for 1 week.

Drain the meat and soak for in cold water to cover by1 inch, changing the water at least 4 times, for at least 12 hours.

Pat the meat dry and reserve.

For the spice paste, grate the garlic cloves or mash to a paste, then mix with the water. Grind all the spices in a spice grinder, mix with the water-garlic paste, then rub all over the meat.

Put the salted meat in a small (roast size) Umai dry bag, seal with a vacuum sealer and refrigerate on a cooling rack to encourage good circulation for another two weeks.

After 2 weeks of curing, you can slice and enjoy the meat (cut it as thin as possible). Traditionally it's enjoyed on buttered toast, or with eggs, as in the omelet recipe in this post.

After cutting into the meat, it should be wrapped in cling film and stored as you would ham or salami. It will last for a month, or longer.
Print Recipe
Mutton Bastirma Omelet
A simple omelet made with eggs, thinly sliced Bastirma, and herbs served with a salad of wild greens.
Ingredients
3

large eggs

beaten with a splash of stock or water

1

oz

bastirma

2

tsp

Ghee

as needed for cooking, about 2 teaspoons

Pinch

of crushed red pepper flakes

to taste, or serve with a dash of hot sauce at the table

4-5

large leaves of fresh mint

finely sliced

Fresh greens, to garnish

pictured are chickweed and a few daylily flower petals (optional)
Instructions
Slice the bastirma into ¼ inch slices, then ¼ inch ribbons and reserve.

Beat the eggs with a splash of stock as for scrambled eggs.

Heat the ghee in a 8 inch non-stick pan or similar, then add the bastirma and cook until lightly colored, a minute or two.

Add the beaten eggs, and mint, stir, cook for a couple minutes until the eggs are set to your liking, then turn the heat off and cover the pan, or slip it into a warm oven for a few minutes until it's just set.

Slip the omelet onto a cutting board, cut into wedges, garnish with the greens if using and serve. As the omelet is on the thin side I may serve two-three slices per person.